February 10, 2008
11:44 PM
|
Edit Post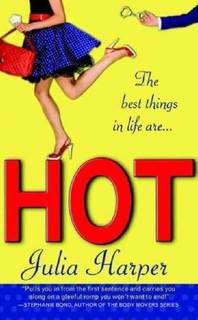 A Woman With a Plan
For most people, being held at gunpoint by inept bank robbers disguised as Yoda and SpongeBob SquarePants would make for a bad day. For local librarian Turner Hastings, it's an opportunity. Using the distraction to pull a little heist of her own, she dives into a new life... on the run.

A Cop on a Mission
FBI Special Agent John MacKinnon always gets his man... or woman. After watching Turner Hastings dump the contents of a safety deposit box into her purse on a surveillance tape, he knows this case won't be run of the mill. What he doesn't expect is how the cell phone contact between him and his bounty is about to blur the line between professional ambition and personal desire. When bullets from a hired hitman start flying in Turner's direction, giving weight to her claims of injustice, John is willing to cross any line to save her life...even if it means losing his own.
When town librarian Turner Hastings, the person most unlikely to commit a crime, turns a bank robbery into her own heist in the name of personal revenge, the chase to capture her ends up being as unconventional and surprising as the act of the heist itself. Special Agent John MacKinnon, the FBI agent in charge of the case, finds himself capturing a lot more than he bargained for and Turner in the end doesn't mind being captured by this intriguing agent at all.

Both John and Turner are characters you can easily identify yourself with, their feelings are normal and everyday feelings and their motivations are ones that aren't that far-fetched although they find themselves in less everyday situations, thrown in an unusual and extreme setting. Their sanity and logic are a big contrast with the almost over the top stupidity and insanity of secondary characters of the bank robbers Fish and Nald.

But still as normal as John and Turner might be they are not average characters. They both have something special that comes to life in their interactions. John doesn't seem very alpha male but when he talks to Turner or is with her he has something utterly appealing.
Turner is a woman with a mission, a mission to right a wrongdoing committed a long time ago. She's waited for the perfect moment to execute her revenge and nothing is going to stand in her way. She has her hang-ups and complexes but with John she forgets all about them and relaxes into a heroine who's focused and determined but sometimes also very headstrong.

Under the pseudonym of Julia Harper, historical romance writer Elizabeth Hoyt has gone in a very different direction and I found it a refreshing and witty one although I also must be honest and say I liked her historicals more.

In this book humor has the upper hand, sarcastic humor, laugh-out-loud humor, witty bantering, slapstick humor. You name it and this book has it, especially in the first half where the focus is almost purely on the plot and less on the romance/relationship between John and Turner. The love story gradually picks up though, evolving more after the first real contact between hero and heroine, be it on the phone. After that the perspective alternates between, Turner on the run and John chasing her down, the emotional interactions between John and Turner on the phone and later in the flesh and the slapstick, almost absurd scenes of the fleeing bank robbers.

I found it difficult to classify this book into one particular genre. There was a bit of suspense, a bit of action, a bit of comedy, a bit of romance and a bit of drama. This is definitely a contemporary with many layers to it.
I was able to discern to different parts in the book, the first half being witty, funny and hilarious, focusing more on the robbery and the chase. The second part being more emotional and intense, focusing more on the relationship between Turner and John. But you are able to see the slow build up in the first half towards the second half. It starts out seeming a funny story about a robbery but underneath you know there's something more waiting to come out.

There's something very down-to-earth and straightforward to this book that appeals to me despite it not being extremely intense or mind-blowing. I can't pinpoint exactly why but it somehow got to me on a whole other level than other contemporary novels I've read. I do think the small twists in the plot, the witty bantering, the unusual characters, both primary and secondary certainly contributed to this feeling.

I enjoyed Ms Harper's first contemporary romance even though it wasn't the emotional rollercoaster I prefer my romances to be.
She was able to turn an average small-town robbery into a story of revenge, justice and companionship, spiked with romance, wit and a main couple who both give as good as they get. She has this cunning talent of getting away with bringing together plots, characters and emotions that seem irreconcilable, in a very easy and believable way.
Quote:
There was something essentially erotic about his need to pursue. To capture and reveal her. He was the predator, and she was his wily, seductive prey.

Nice to meet you!
Pearl

Netherlands
39, married to my real life romance hero, addicted to TV shows, reading romance novels and Twitter. I'm a chronic (e)book hoarder and my absolute favorite genres within romance fiction are contemporary romance and romantic suspense, but I don't shy away from historical, paranormal or erotic romance either. Even the occasional (urban) fantasy romance, futuristic and sci fi romance may make it to my Mount TBR. This is my corner of the world wide web where I let you know what books I'm hoarding, reading and reviewing.
View my complete profile

My Book-Providers
Reviews by Rating

Reviews by Genre
Reviews by Type

Reviews by Publisher

Fellow Bloggers


GR Reading Challenge
Pearl
has read 10 books toward her goal of 50 books.

On My TBR Shelf
Unforgivable - Laura Griffin
Snapped - Laura Griffin
Darkness at Dawn - Elizabeth Jennings
Sizzle and Burn - Alexis Grant
No Mercy - Lori Armstrong
Animal Magnetism - Jill Shalvis
Crazy for Love - Victoria Dahl
Kink - Saskia Walker/Sasha White
So Sensitive - Anne Rainey
Dark Taste of Rapture - Gena Showalter
The Darkest Secret - Gena Showalter
Vampire in Atlantis - Alyssa Day
Vampire Dragon - Annette Blair
Captive Spirit - Anna Windsor
Chosen by Blood - Virna DePaul
Rebel - Zoe Archer
Stranger - Zoe Archer
A Taste of Desire - Beverley Kendall
Mistress by Midnight - Maggie Robinson
To Desire a Devil - Elizabeth Hoyt
To Tame a Dangerous Lord - Nicole Jordan

Digital TBR Next
Driven - Jayne Rylon (reread)
Shifting Gears - Jayne Rylon
Beg Me - Shiloh Walker
Tempt Me - Shiloh Walker
Jazz Baby - Lorelie Brown
Playboy Prankster - Pamela Britton
Just Like That - Erin Nicholas
Sweet Inspiration - Penny Watson
Breathe - Donna Alward
My Gigolo - Molly Burkhart
Scent of Persuason - Nikki Duncan

Blog Archive