February 17, 2008
5:08 PM
|
Edit Post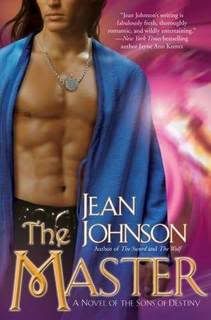 Eight brothers, born in four sets of twins, two years apart to the day-they fulfill the Curse of Eight Prophecy. To avoid tempting their destiny, the brothers are exiled to the Isle of Nightfall, where women are forbidden. But when the abducted third-born brother is taken by a powerful and beautiful mage, he wonders if she is his own Prophesied Disaster, his foretold wife-to-be

Kidnapped from the Isle of Nightfall, taken captive by slavers, Dominor is sold to a lovely mage, who promises freedom. But Lady Serina has plans for him; she needs another powerful mage to re-enact a mating ritual, to help reverse a Tantric spell cast centuries ago. Agreeing to help her, Dominor doesn't suspect the secret she holds back from him: there is more to this magical mating than the Arithmancer has revealed.

Once the ritual is complete, he will be returned to Nightfall. But when that secret finally shatters, baring the truth behind the misunderstandings now separating them, Dominor is determined to retake possession of the woman who is his Destiny.
The third book in the series and a fresh set of twins, starting with Dominor whose destiny will unfold first.

The story of his kidnapping by the Mandarites continues in his own book. Picking up where we left of in the Sword, Dominor suffers being bound and shackled, being captured as a war prize and being sold off on a slave-market. Luckily for him he's bought by Lady Serina, his Prophesied bride. With the purchase of Dominor starts a lovely story of trust and love, sprinkled with magic and passion.

Dominor is proud, competitive, self-assured and a just that bit arrogant he pulls it of without being annoying. He appreciates the finer things in life and he knows what he has to offer, whether it's to his family or to his destined bride.
Serina is intelligent, bossy, logical, practical and headstrong. She tends to lose herself in her calculations and projects creating a wonderful absentminded contrast to her intelligence. It also makes her very endearing.

I truly enjoyed myself reading their story. They are perfect for each other, complementing the other one and at the same time challenging each other, both in intelligence and in passion. Dominor shows Serina there is much more in life than mathemagics and arithmancy and Serina shows Dominor he has more to offer than competition and dominance.

I liked that the story was mainly focused on Dominor and Serina with their relationship and their part in the whole puzzle but of course I was happy to get reacquainted with the eight gorgeous brothers and to new meet new secondary characters such as Mariel and her son Mikor.

Jean Johnson knows how to write compelling characters, both primary and secondary. Each one has its big or small part in the recurring plot. They are only waiting to be placed in the right spot at the right time. Little by little she reveals more of the ongoing and intriguing plot of the curse, surprising me with twists and turns I really didn't see coming. I admire the way she can spread it out over such an amount of books and still keep it fresh and surprising. Small hints are given to where Evanor's (Dominor's twin) story is heading to but they are so subtle it's intriguing and enticing without disturbing the focus on Dominor and Serina.

I also thought it was nice to see the story taken to other scenery besides the Isle of Nightfall. I really liked reading about the people of Natallia, the nuns of Koral-Tai and the customs of The Moonlands, where Serina originally comes from. But the developments on the Isle of Nightfall are just as intriguing, seeing how they are building their own kingdom under the rule of Queen Kelly.

Jean Johnson has created a complete and fascinating magical world of fantasy mixing known and unknown concepts together. She makes unknown concepts easy to understand because of her simple and accessible writing style, but she also manages to cover everyday things such as lock picking, showers, mathematics and science in a magical blanket that makes them feel extraordinary.

With the Sons of Destiny Jean Johnson has created an enticing and intriguing world in which you effortlessly submerge because of its ease and simplicity.
You're lured into a new world full of unknown and known concepts in a different context and you easily embrace them all because of the way Johnson describes them.
A world that's complete and fascinating and seriously arouses the imagination.
Quote:
Dominor: " I find intelligence in a woman to be very arousing. Your little dissertation on your projects just now was very...stimulating. You have maybe a minute before I throw you on that desk and do my best to sexually nail you to it."

Nice to meet you!
Pearl

Netherlands
39, married to my real life romance hero, addicted to TV shows, reading romance novels and Twitter. I'm a chronic (e)book hoarder and my absolute favorite genres within romance fiction are contemporary romance and romantic suspense, but I don't shy away from historical, paranormal or erotic romance either. Even the occasional (urban) fantasy romance, futuristic and sci fi romance may make it to my Mount TBR. This is my corner of the world wide web where I let you know what books I'm hoarding, reading and reviewing.
View my complete profile

My Book-Providers
Reviews by Rating

Reviews by Genre
Reviews by Type

Reviews by Publisher

Fellow Bloggers


GR Reading Challenge
Pearl
has read 10 books toward her goal of 50 books.

On My TBR Shelf
Unforgivable - Laura Griffin
Snapped - Laura Griffin
Darkness at Dawn - Elizabeth Jennings
Sizzle and Burn - Alexis Grant
No Mercy - Lori Armstrong
Animal Magnetism - Jill Shalvis
Crazy for Love - Victoria Dahl
Kink - Saskia Walker/Sasha White
So Sensitive - Anne Rainey
Dark Taste of Rapture - Gena Showalter
The Darkest Secret - Gena Showalter
Vampire in Atlantis - Alyssa Day
Vampire Dragon - Annette Blair
Captive Spirit - Anna Windsor
Chosen by Blood - Virna DePaul
Rebel - Zoe Archer
Stranger - Zoe Archer
A Taste of Desire - Beverley Kendall
Mistress by Midnight - Maggie Robinson
To Desire a Devil - Elizabeth Hoyt
To Tame a Dangerous Lord - Nicole Jordan

Digital TBR Next
Driven - Jayne Rylon (reread)
Shifting Gears - Jayne Rylon
Beg Me - Shiloh Walker
Tempt Me - Shiloh Walker
Jazz Baby - Lorelie Brown
Playboy Prankster - Pamela Britton
Just Like That - Erin Nicholas
Sweet Inspiration - Penny Watson
Breathe - Donna Alward
My Gigolo - Molly Burkhart
Scent of Persuason - Nikki Duncan

Blog Archive