February 3, 2008
12:05 AM
|
Edit Post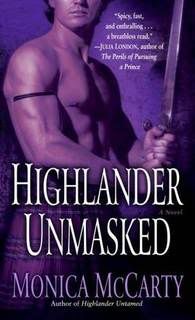 Meg Mackinnon knows she has to find a loyal, trustworthy husband to support her simple brother as chief. Her father has entrusted her with the decision, and letting him down is not an option. So she leaves for court begin her search. The dark, mysterious outlaw who rescues her on her way meets none of her criteria, but arouses her passions in a way that Meg cannot ignore.

Alex MacLeod claims to be a mercenary, a man with no loyalties. But soon Meg suspects that Alex is not what he seems and she must learn to trust her heart, or risk losing the right man forever.
Driven by the demons of his past, Alex fights against the king's injustice. But when he uncovers the details of a royal plot to colonize the Highlands with Lowlanders, the last thing he needs is to be distracted by a lass who interferes with his mission at every turn. Thrust into a web of deadly intrigue, which binds him and Meg ever closer together, Alex soon faces the ultimate battle between love and duty.
When Meg MacKinnon goes to the king's court to find a husband to ensure the future of her clan, she sets out to find the right man for her clan but she never thought she would find the man who would capture her heart and soul.
Alex McLeod is at the king's court for his personal mission of redemption and for his mission only. There is no room for a love in his life so he tries to resist the alluring attraction to the lovely Meg, but this is one battle he's sure to lose...

Alex is the brother of Rory, the hero in book 1 of this trilogy and he also made an appearance in book 1 but to be honest I didn't pay much attention to him then and now I wish I had. He turned out to be an amazing character and a hero to die for. He's a mercenary and warrior to the backbone. He is compelling, honorable and intelligent.

Meg McKinnon is the epitome of a Highland lass: dutiful and brave, but also pragmatic and outspoken. She is blown away by Alex's fierceness and masculinity. She approaches everything with logic, but logic goes right out the window when she meets Alex. She is a lovely heroine you have no choice but to sympathize with.

Meg and Alex are very alike though you wouldn't say so at first glance. They both put their duty to their clan above anything else, including their own happiness. Until they discover that love is not only stronger than duty but is also empowering, giving them the strength to do their duty.

The attraction between them is instant and sizzling and can't be denied. But their story is one of the choice between love duty and love against the background of the battle between the Highlanders and the Lowlanders. A story of treason and loyalty laced with Highland politics and schemes

The characters, both primary and secondary are top-notch. Intense, emotional, charming and entrancing. Every connection falling into place along the way and every character has his or her role in the plot. And still despite every character being appealing Alex and Meg are the stars of the show. They carry the plot and book in a formidable way. Nonetheless I'm hoping for books on the Campbell siblings Jamie and Elizabeth. They made quite an impression and I hope they will be featured in McCarty's new trilogy coming in the beginning of 2009.

The sensual tension is build up gradually and slowly but nevertheless with intensity that make the beautifully written love scenes sensual and seductive, emotional and touching. McCarty has real talent for describing the feeling and emotions so vividly it just comes of the pages, holding your attention in a tight grip.

The book is character based with the focus on their feelings but still the emphasis is very much on the mix of a character based love story and the historical plot. Neither outweighing the other but rather contributing to the perfect balance. The alternation between the characters and their feelings and the plot is more present than in book 1 but this didn't bother me at all, it all blends perfectly together.

Again this is not an action driven plot, which absolutely doesn't mean there is no action in it. On the contrary: The battle scenes are enthralling with the battle on the Isle of Lewis as the breathtaking climax. McCarty knows how to write these scenes with so much intensity and accuracy it left me with a pounding heart and holding my breath.

With this trilogy (and I have yet to read book 3) McCarty has definitely put her stamp on the genre of Scottish historicals. Both the romance and the historical background are captivating and fascinating.
This trilogy is another hidden treasure on my bookshelves! Thoroughly researched and masterfully written again I was taken to the Highlands of King James in the 17th century. McCarty's thorough research makes her settings and characters utterly real and believable.
Quote:
His pulse hitched and then broke out in a full race when a slow, sensual grin played across her lips. "Now it's my turn," she said. "I wonder if I can make you beg?"

Nice to meet you!
Pearl

Netherlands
39, married to my real life romance hero, addicted to TV shows, reading romance novels and Twitter. I'm a chronic (e)book hoarder and my absolute favorite genres within romance fiction are contemporary romance and romantic suspense, but I don't shy away from historical, paranormal or erotic romance either. Even the occasional (urban) fantasy romance, futuristic and sci fi romance may make it to my Mount TBR. This is my corner of the world wide web where I let you know what books I'm hoarding, reading and reviewing.
View my complete profile

My Book-Providers
Reviews by Rating

Reviews by Genre
Reviews by Type

Reviews by Publisher

Fellow Bloggers


GR Reading Challenge
Pearl
has read 10 books toward her goal of 50 books.

On My TBR Shelf
Unforgivable - Laura Griffin
Snapped - Laura Griffin
Darkness at Dawn - Elizabeth Jennings
Sizzle and Burn - Alexis Grant
No Mercy - Lori Armstrong
Animal Magnetism - Jill Shalvis
Crazy for Love - Victoria Dahl
Kink - Saskia Walker/Sasha White
So Sensitive - Anne Rainey
Dark Taste of Rapture - Gena Showalter
The Darkest Secret - Gena Showalter
Vampire in Atlantis - Alyssa Day
Vampire Dragon - Annette Blair
Captive Spirit - Anna Windsor
Chosen by Blood - Virna DePaul
Rebel - Zoe Archer
Stranger - Zoe Archer
A Taste of Desire - Beverley Kendall
Mistress by Midnight - Maggie Robinson
To Desire a Devil - Elizabeth Hoyt
To Tame a Dangerous Lord - Nicole Jordan

Digital TBR Next
Driven - Jayne Rylon (reread)
Shifting Gears - Jayne Rylon
Beg Me - Shiloh Walker
Tempt Me - Shiloh Walker
Jazz Baby - Lorelie Brown
Playboy Prankster - Pamela Britton
Just Like That - Erin Nicholas
Sweet Inspiration - Penny Watson
Breathe - Donna Alward
My Gigolo - Molly Burkhart
Scent of Persuason - Nikki Duncan

Blog Archive