February 22, 2008
3:43 PM
|
Edit Post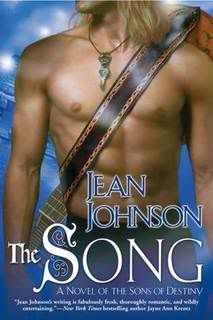 Eight brothers, born in four sets of twins, two years apart to the day—they fulfill the Curse of Eight Prophecy. To avoid tempting their destiny, the brothers are exiled to Nightfall Island, where women are forbidden. This presents a challenge for the brother whose magic has been destroyed…

Evanor, fourth-born of the Sons of Destiny, lost his voice—and with it, his powers—in the violent battle that freed his family from their greatest enemy. Thankfully, with the safe return of his twin, Evanor now knows precisely who can bring his songs back to life.
She is the enchanting widow Mariel, a Healer brought to Nightfall to help the brothers in their hour of need. For Mariel and her young son, that means leaving their beloved homeland for the unfamiliar island of Nightfall and its still-forbidden shores…and with it, risking the passion she stirs in her intriguing patient's heart.

But a new danger looms when the Council of Katan learn there might be women on the Isle…
Finally...Evanor's story has arrived. From the first book his character intrigued me. The musical twin who was happy to take care of the household.
And I can say his story was beyond my expectations. Jean Johnson has the knack for surprising her readers. Just when I thought that I had an idea of where she was taking us in the previous book, she came, saw and conquered with unexpected and very original turns in the plot and the romance between Evanor and Mariel.

The Song brings us the story of Evanor, where we return to the Isle of Nightfall, the problems with Katan and the Curse.
Evanor has a hard time dealing with the loss of his voice and his magic, drawing more and more towards depression. But his salvation comes in the form of Mariel. The Healer who brings him hope and is destined to be his Prophesied bride.
I adored both Evanor and Mariel. Evanor is capable and romantic. He melted my heart with both his sweetness and his determination. I liked him in the other books but I loved him in his own. Mariel is very much like Evanor. A gifted healer, lovely and outspoken.
They are both down to earth and realistic despite their magic abilities, wanting to have simple things in life, the things all people want: happiness and love. I closed them in my heart easily and throughout the book I wished for their happiness, knowing they both deserve it.
Mariel's son Mikor was endearing. A true nine-year-old boy. Blunt, direct and with an inquiring mind. He put a smile on my face several times.
The brothers and their wives were as magnificent as before. Bit by bit we get to know them all, especially the ones who haven't found their destined brides yet. I'm anxiously anticipating their stories.

This time we also get more information on the mysterious Council of Mages from Katan. The veil was lifted from the people who exiled the brother to Nightfall. It's very nice how in every book more and more of this magical world is unveiled, how the plot thickens and how it takes new and unexpected turns. I really look forward to what the stories of the remaining brothers will bring.

The world building Jean Johnson does is detailed and exquisite. Both in the magical and mundane things. The way the Isle of Nightfall is evolving into an independent and self-sufficient kingdom is described in an intriguing and amazing way. But also the way Jean Johnson describes how the Nightfallers take 21st century concepts like the concept of cell phones and turn them into magical artifacts, or the way the concept of religion is explained. I was really amazed by the way this was blended with the love story. This is only possible because of Ms Johnson's extraordinary writing talents.
This talent also stretches to the love scenes. They were absolutely spine tingling. The sensual tension between Evanor and Mariel is built up gradually in a formidable way. I was just as wooed by Evanor as Mariel was.

With The Song Jean Johnson has only made me more eager for the following installment so I can explore this magical fantasy world she has created with it's delicious twins, their wonderful women and the never-seize-to-amaze-me plots.
Quote:
Eyes shut, body melting, Mariel tried not to let herself drool too much. The man had the hands of a god, and he was using them to do utterly delicious things to her body.

Nice to meet you!
Pearl

Netherlands
39, married to my real life romance hero, addicted to TV shows, reading romance novels and Twitter. I'm a chronic (e)book hoarder and my absolute favorite genres within romance fiction are contemporary romance and romantic suspense, but I don't shy away from historical, paranormal or erotic romance either. Even the occasional (urban) fantasy romance, futuristic and sci fi romance may make it to my Mount TBR. This is my corner of the world wide web where I let you know what books I'm hoarding, reading and reviewing.
View my complete profile

My Book-Providers
Reviews by Rating

Reviews by Genre
Reviews by Type

Reviews by Publisher

Fellow Bloggers


GR Reading Challenge
Pearl
has read 10 books toward her goal of 50 books.

On My TBR Shelf
Unforgivable - Laura Griffin
Snapped - Laura Griffin
Darkness at Dawn - Elizabeth Jennings
Sizzle and Burn - Alexis Grant
No Mercy - Lori Armstrong
Animal Magnetism - Jill Shalvis
Crazy for Love - Victoria Dahl
Kink - Saskia Walker/Sasha White
So Sensitive - Anne Rainey
Dark Taste of Rapture - Gena Showalter
The Darkest Secret - Gena Showalter
Vampire in Atlantis - Alyssa Day
Vampire Dragon - Annette Blair
Captive Spirit - Anna Windsor
Chosen by Blood - Virna DePaul
Rebel - Zoe Archer
Stranger - Zoe Archer
A Taste of Desire - Beverley Kendall
Mistress by Midnight - Maggie Robinson
To Desire a Devil - Elizabeth Hoyt
To Tame a Dangerous Lord - Nicole Jordan

Digital TBR Next
Driven - Jayne Rylon (reread)
Shifting Gears - Jayne Rylon
Beg Me - Shiloh Walker
Tempt Me - Shiloh Walker
Jazz Baby - Lorelie Brown
Playboy Prankster - Pamela Britton
Just Like That - Erin Nicholas
Sweet Inspiration - Penny Watson
Breathe - Donna Alward
My Gigolo - Molly Burkhart
Scent of Persuason - Nikki Duncan

Blog Archive