June 1, 2008
11:36 AM
|
Edit Post
Again it was a good reading month with lots of wonderful books, almost all by familiar authors.
I finished the
Kresley Cole's MacCarrick Brothers Trilogy
, I read
Kenyon's DREAM CHASER
, caught up with
McCray's Magic Series
right up to
SHADOW MAGIC
which will be read next month and I started Elizabeth Hoyt's new series with but the big bang was at the end of the month with an overdose of delicious and dominant alpha men when I started
Lora Leigh's Breeds Series
with
TEMPTING THE BEAST
and
Shannon McKenna's Anthology ALL ABOUT MEN
This month I also started an experiment with reading both a printbook and an e-book at the same time. Maybe this way I can somewhat reduce my enormous TBR-pile of printbooks and the big TBR-list of e-books. I only started this towards the end of the month but it's definitely working out for me.
I also had a fun month of buying books, found the two last installments of
Rebecca Hagan Lee's Free Fellows Series
I had been looking for for a very long time so I now have the series complete. I read this series in Dutch and enjoyed them so much I wanted to have the original English versions on my shelves.
Since reading the Anthology SHIFTER last month and having had a taste of Lora Leigh's Breeds I started collecting the whole series, part in print, part in e-book and I only have one to go:
AIDEN'S CHARITY
I also found a new hardcover books seller to replace the purchases made with I seller I don't use anymore and received the first shipment of hardcovers within a month of ordering so now the Lara Adrian's Midnight Breeds and Monica McCarty's McLeods grace my bookshelves in hardcover. And I have also ordered Gena Showalter's Lords of the Underworld in hardcover
In the ARC-department there was a lot of activity, not neccesarily so much in the reading as in the posting and publishing. THE DARKEST NIGHT (Gena Showalter) and SEASON OF STRANGERS (Kat Martin) were both published on the
REALMS ON OUR BOOKSHELVES
website.
I received, read and reviewd THE DARKEST PLEASURE (Showalter) and received
MASTER OF SURRENDER
(Karin Tabke) but the latter will be read the coming month.
New books, series or authors were not found in abundance this month but new to me was the Legend of the Four Soldiers Series by Elizabeth Hoyt. The first book,
TO TASTE TEMPTATION
, was great in my eyes, a very promising beginning of a new series by one of my absolute favorite authors, it didn't dissapoint and I thorougly enjoyed the book, needless to say I'm looking forward to the second book in the series, coming this fall!
And let's not forget Lora Leigh's Breeds. I really wish I had started this series sooner!
I wrap this summary up with an author to keep your eye out for (I certainly am) is
Jessica Andersen
with the debuting novel in a new paranormal romance series.
NIGHT KEEPERS
is the first book in the
Final Prophecy Series
by this author who is highly recommended by J.R. Ward
I leave you with the blurb of NIGHT KEEPERS
As a Miami narcotics detective, Leah Daniels never knows how her day will turn out. But she certainly never expected to be strapped to a stone altar, the human sacrifice in an ancient Mayan ritual meant to coax up a demon from the underworld. Or that she'd be saved by a handsome warrior-priest king who claims to recognize her from his visions...

Jaguar Strike wishes he hadn't made the mistake of reuniting his fellow warrior priests, or broken the law by saving their chosen human sacrifice. Now, he has no choice but to join forces with Leah and invoke dangerous magic in a death-defying race against the end of time.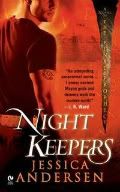 Nice to meet you!
Pearl

Netherlands
39, married to my real life romance hero, addicted to TV shows, reading romance novels and Twitter. I'm a chronic (e)book hoarder and my absolute favorite genres within romance fiction are contemporary romance and romantic suspense, but I don't shy away from historical, paranormal or erotic romance either. Even the occasional (urban) fantasy romance, futuristic and sci fi romance may make it to my Mount TBR. This is my corner of the world wide web where I let you know what books I'm hoarding, reading and reviewing.
View my complete profile

My Book-Providers
Reviews by Rating

Reviews by Genre
Reviews by Type

Reviews by Publisher

Fellow Bloggers


GR Reading Challenge
Pearl
has read 10 books toward her goal of 50 books.

On My TBR Shelf
Unforgivable - Laura Griffin
Snapped - Laura Griffin
Darkness at Dawn - Elizabeth Jennings
Sizzle and Burn - Alexis Grant
No Mercy - Lori Armstrong
Animal Magnetism - Jill Shalvis
Crazy for Love - Victoria Dahl
Kink - Saskia Walker/Sasha White
So Sensitive - Anne Rainey
Dark Taste of Rapture - Gena Showalter
The Darkest Secret - Gena Showalter
Vampire in Atlantis - Alyssa Day
Vampire Dragon - Annette Blair
Captive Spirit - Anna Windsor
Chosen by Blood - Virna DePaul
Rebel - Zoe Archer
Stranger - Zoe Archer
A Taste of Desire - Beverley Kendall
Mistress by Midnight - Maggie Robinson
To Desire a Devil - Elizabeth Hoyt
To Tame a Dangerous Lord - Nicole Jordan

Digital TBR Next
Driven - Jayne Rylon (reread)
Shifting Gears - Jayne Rylon
Beg Me - Shiloh Walker
Tempt Me - Shiloh Walker
Jazz Baby - Lorelie Brown
Playboy Prankster - Pamela Britton
Just Like That - Erin Nicholas
Sweet Inspiration - Penny Watson
Breathe - Donna Alward
My Gigolo - Molly Burkhart
Scent of Persuason - Nikki Duncan

Blog Archive