June 5, 2008
8:35 PM
|
Edit Post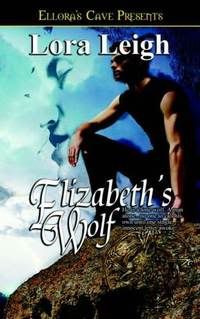 She brought him back from death and made him live again.
Dash thought himself alone, a soldier, a fighting machine and no more.
Elizabeth made him realize he was a man.

Danger surrounds the woman his soul marked as his mate, death and blood and a treachery that goes beyond even his worst nightmares. But he will protect her and what she claims as her own. He was created to kill, trained to do it efficiently, and only a man bound to her, heart and soul, will have the strength to save Elizabeth and her prized possession.

He is a lone wolf. A man alone. No pack, no family, no one to call his own until one single, innocent letter awoke Elizabeth's wolf.
Wolf Breed Dash Sinclair is with Special Forces, but a missile-attack brings his whole team down and he ends up in the hospital recuperating for months. During his hospital stay he starts receiving heartwarming letters from a little girl, Cassie, who tells him of her and her mother's life. Her letters are the incentive he needs to hang on to life and they stir his will to live. Then when he's almost recovered he receives devastating news of their deaths and he sets out to exact revenge and find justice for the only two people he's ever let get under his skin. But he soon learns that they live and that Cassie is the target of a powerful drug dealer. He rushes to find them and protect them against the people after them.

The beginning of this book had me in a gripping emotional knot immediately and I didn't come out of it until I read the last page. It's a book of unconditional love, loyalty and passion.

Not Dash, not Elizabeth, but Cassie starred in this book! Her letters to Dash were heart-wrenching honest and pure. She was the glue that kept this book together from start to finish
Cassie's interactions with Dash are endearing and heartwarming. She's such a true little girl, devious and mischievous. She has been through so much but never loses her spirit or her childlike enthusiasm despite all the horrors she has witnessed in her young life. Horrors a little girl shouldn't have went through.
I cried at a certain part of the book...an erotic romance and I actually cried...cried for a little girl in fear, fear of rejection, fear of abandonment. This little girl really touched a place in my heart and made this book unforgettable for me. One moment she had me teary-eyed, the next smiling at her childlike logic and accurate reading of people.

Elizabeth has been through so much protecting her child. She is on the verge of a breakdown, not being able to trust anyone for fear of betrayal. She can only rely on herself. In Dash she finds a strong protector whom she can lean on but she has to learn to trust him first.
Dash is such a fierce and honorable hero in this book! His hunger for Elizabeth is eating away at him but he keeps it on a tight leash, first ensuring Cassie and Elizabeth's safety. But there is no doubt in his mind that Elizabeth is his mate and he will convince her of that.

Both the story and sexual tension are built up along the same line. Feeding me little bits at a time, giving me small amounts to process before going to the next stage. The sex-scenes again are explicit and graphic but very in sync with the whole story and the relationship developing between Dash and Elizabeth.
I've said this before about Shannon McKenna and now I'm also saying it about Lora Leigh. Her way of describing feelings and sensations, both emotional and physical, both of the heart and sexually is truly outstanding.

There are some great secondary characters in Dash's friends and the infamous Simon (I heard about him even before I started reading this series) makes an impressive entrance in this book. He's mysterious, he's a smooth talker, he's gorgeous and he has a harem of female soldiers whom he calls "his Ladies".... Need I say more?
Brooding and intriguing Kane Tyler also makes an appearance. With every book he intrigues me more. He and the Feline Pride play a small but important role in this Wolf Breed book, tying books 1 and 2 of the Breeds to this installment.

This story had some more plot and body to it than the previous story and not just because it had a slightly higher page count. There was a bit more suspense and a little less focus on the Breeds mating frenzy...certainly in the first part of the book.
One thing bothered me a bit in the beginning: Everything I learned in the previous books on the mating frenzy didn't come back in this book.
Dash kissed Elizabeth but there was no hormone induced mating frenzy as with the Lion Breeds. I didn't get that. Wasn't this a given for Breeds and their mates or didn't this go for Wolf Breeds? Later in the book fortunately it's explained, partially by the characteristics of Dash specifically...and the Wolf Breeds have a unique specific twist concerning the mating thing but it is totally different than the Feline Breeds.


Again Lora Leigh managed to surprise me with twists and turns...not only in the story of Cassie, Elizabeth and Dash but also in the whole Breed storyline. Giving me more thing to ponder and more questions popping in my head, questions I wanted answers to and luckily I found most of the answers in this book, but I know some will be answered in future books.
The impact of certain disclosures in the plot and concerning Cassie had my mind reeling and I really didn't see them coming. I'm truly amazed at how authors, in this case, Lora Leigh, not only have the imagination to come up with great plots and storylines like this, but also are able to give them shape in a perfect, well-dosed, mind-blowing way.

With every book I learn more about the characteristics, origin of these fascinating Breeds and still I hunger for more...more knowledge to satisfy the craving started with the first book of this series.
Quotes
"When I get you beneath me, I'm going to devour you," he told her harshly as her finger slid from his mouth. "Every inch of your body, Elizabeth, I'll make burn for me."

"Elizabeth." He caught her against him as she moved to step beneath the spray, staring down at her with those golden eyes that never failed to make her breath catch. "I love you because you hold my soul," he told her simply. "I've always loved you. I just haven't always known you."

Nice to meet you!
Pearl

Netherlands
39, married to my real life romance hero, addicted to TV shows, reading romance novels and Twitter. I'm a chronic (e)book hoarder and my absolute favorite genres within romance fiction are contemporary romance and romantic suspense, but I don't shy away from historical, paranormal or erotic romance either. Even the occasional (urban) fantasy romance, futuristic and sci fi romance may make it to my Mount TBR. This is my corner of the world wide web where I let you know what books I'm hoarding, reading and reviewing.
View my complete profile

My Book-Providers
Reviews by Rating

Reviews by Genre
Reviews by Type

Reviews by Publisher

Fellow Bloggers


GR Reading Challenge
Pearl
has read 10 books toward her goal of 50 books.

On My TBR Shelf
Unforgivable - Laura Griffin
Snapped - Laura Griffin
Darkness at Dawn - Elizabeth Jennings
Sizzle and Burn - Alexis Grant
No Mercy - Lori Armstrong
Animal Magnetism - Jill Shalvis
Crazy for Love - Victoria Dahl
Kink - Saskia Walker/Sasha White
So Sensitive - Anne Rainey
Dark Taste of Rapture - Gena Showalter
The Darkest Secret - Gena Showalter
Vampire in Atlantis - Alyssa Day
Vampire Dragon - Annette Blair
Captive Spirit - Anna Windsor
Chosen by Blood - Virna DePaul
Rebel - Zoe Archer
Stranger - Zoe Archer
A Taste of Desire - Beverley Kendall
Mistress by Midnight - Maggie Robinson
To Desire a Devil - Elizabeth Hoyt
To Tame a Dangerous Lord - Nicole Jordan

Digital TBR Next
Driven - Jayne Rylon (reread)
Shifting Gears - Jayne Rylon
Beg Me - Shiloh Walker
Tempt Me - Shiloh Walker
Jazz Baby - Lorelie Brown
Playboy Prankster - Pamela Britton
Just Like That - Erin Nicholas
Sweet Inspiration - Penny Watson
Breathe - Donna Alward
My Gigolo - Molly Burkhart
Scent of Persuason - Nikki Duncan

Blog Archive