June 8, 2008
10:16 PM
|
Edit Post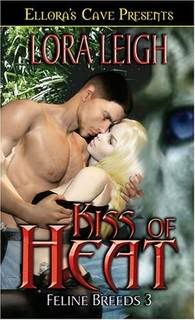 They've waited a decade to come together. Long years filled with unbearable pain, and soul-wrenching torment that have changed them both. Left wounds that have laid their souls bare. Wounds that stand one chance of healing — if only they could stop fighting each other long enough for the truth to work its healing balm.

Kane, a relentless warrior, lost more than his heart to Sherra in a night of mating passion that marked them both for life. But news of her death ripped his soul apart. For years he has fought to avenge the death of the woman he loved more than his own life, by revealing the deceit and cruelty of the Council that created the Breeds.

But Sherra didn't die. In a cruel and evil twist she was convinced by her sadistic handlers that the man she had given her body, heart and soul to had betrayed not only her, but the child she carried - and lost.
Amid the rapidly escalating violence against the Feline Breeds, Kane and Sherra learn that there's more to mating than just the "heat", just as there's more to love than just the sex…
Kane Tyler is very familiar with the Council and the Breeds. He was once a soldier in the Council's labs. In one of those same labs he found his mate, Sherra. But scientists and a Breed traitor on a power trip betrayed them both, causing a separation that has left Sherra hating Kane for what she thinks he did to her and Kane thinking he had lost Sherra in the destruction of the labs.
Now circumstances and fate have brought them back together. Kane is unknowing of the tragedies Sherra went through since he left her and must now face her hatred. Sherra has no knowledge of the tortures Kane went through and the pain he suffered thinking she was dead. But no pain, anger or hate can be more powerful than the bond between two destined mates or the Breeds' mating frenzy.

The scenery for Sherra and Kane's story is the hunt for the Breeds and the attempts on their lives and attacks on their compound, Breed Sanctuary. Attacks by the Council as well as the Purist Society, a group of fanatics who believe the Breeds are not to be considered human and are abominations that have to be eliminated. But the Breeds will tolerate it no longer and there will be a shift in how they react to the attacks. Where they would hold back and go to the authorities for justice, they now make a decision to put Breed Law into action and fight back when needed against both the Purists and the Council.

Sherra is torn between her resentment (she believes he betrayed her) and her passion (he is her destined mate and she is in heat) for Kane. She wants to hate him and really tries to, but fails miserably because of their strong emotional bond. She knows she loves Kane but will not admit it because she fears admitting it will be a sign of weakness and leave her defenseless and vulnerable, open to be hurt if she ever lost him again.

Kane is a hardened soldier; he has no need for the emotional rollercoaster Sherra has him in. He fights his emotions and feelings with snappy, provoking insults and tough behavior. It is his defense mechanism against vulnerability he doesn't want to feel but he knows deep inside he eventually will have to admit and submit to his feelings. There's a contradiction in Kane. On one hand he's arrogant, strong and tough. On the other hand he needs and wants Sherra and her love so much, he almost seems desperate in his need for it. These contradictory feelings do make him into the deliciously dominant and protective alpha he is, as fierce and compelling as any Breed male could be.

Both of them have suffered a lot because of the deceit and betrayal. They individually fight their hunger and attraction to each other, hoping to escape a fate that has been set from the beginning but they also both know it's undeniable and inevitable. They struggle with themselves, they battle each other for dominance, and even their kisses are battles. I thought I'd read intensity between the mates in the previous books but that was nothing compared to these two.

The Feline Pride from the first two books again plays a big part as secondary characters. Though the focus stays on Sherra and Kane, the other characters do enrich the story and complement the relationship between the main couple.

There are some fascinating and intriguing revelations made about Cabal (briefly mentioned in book 2) and Tanner (Callan's Pride brother), causing me to have speculating thoughts about Tanner's book now. This marks a great author in my eyes. Lora Leigh knows how to build up a series in a way I haven't experienced before, revealing provoking tidbits on future main characters at precisely the right time, causing a need to read that character's book. It happened to me with Kane/Sherra and now it's happening again with Tanner and Cabal (Cabal's book is not on the radar yet, unfortunately but hopefully will be in the near future). Another set up for a future book is made with a scene/some scenes of Dawn and Seth Lawrence who is Roni's half-brother (Roni is the heroine of book 2) and turns out to be Dawn's mate.
Cassie from EW makes an appearance too and that little girl again pulled at my heartstrings, despite her age she's wise and knows so much. She has also taken a liking of Kane and is very protective of him, even against Sherra.

Sherra and Kane's story has been taunting and tempting me from their first hostile but passionate interaction in TEMPTING THE BEAST. They have a history and I was eager to explore this history and see how they would deal with their future. I must say I was not disappointed. Definitely not disappointed...I would recommend this book if just for the dialogues, spiced with innuendo and provoking insults, between Sherra and Kane. And I'm not even talking about the sexually charged dialogues between them.

After a slightly different approach in the previous book (ELIZABETH'S WOLF), in this book we go back to the original Feline Breeds and the hormone-induced mating frenzy, with the only difference in the change of gender, the Breed being female instead of male like in the first 2 books. This difference gives a whole other dimension to the concept. I knew the effect of the hormone on human females but the effect on males...that's something else!

Lora Leigh has the talent to write intense stories, both in the emotional and the sexual aspects. She combines this intensity with a writing style that reads like a hot knife going through butter, smooth and easy. She has created an interesting new world of humans with animal DNA and all the problems that go with it in a perfect mix of fast-paced action, a little suspense, lots of great dialogues, and amazing sex scenes that only underline the intensity I mentioned before.
She also manages to keep you coming for more of her books by giving teasing and very intriguing tidbits of future main characters. Revealing just enough to make you yearn for the full stories to come.
Quotes:
"I'm a strong man, Sherra," he whispered, his breath caressing her neck as she felt his head lower toward her. "I've lived when I wanted to die without you. I fought for you, even when I thought you were dead. (...) His voice echoed with the building, blinding lust she could feel ripping her insides apart. (...) "Kane, please…" she whispered the plea, desperation thickening her voice.
"I'll please you, Sherra," he growled. "I'll please you until you beg me to stop. I swear. Here. Now . Wherever, however you want me.

"Dammit, Kane." She drew herself up straight from the boxes she had been going through. "I have work to do here. I don't have time for this."
(...)"Snapping and hissing as always," he said mockingly, allowing his lips to tilt into the sarcastic grin he knew she hated. "I prefer that sweet little purr you make when I touch you."
(...)"I do not purr." She looked horrified by the thought.
"Oh, yes you do." He watched her instinctive need to retreat, hiding his smile as she halted it, fighting to stand up to him, to best him. "You have the sweetest little purr when I touch you, Sherra. I remember it. Low and soft, resonating with pleasure."

Nice to meet you!
Pearl

Netherlands
39, married to my real life romance hero, addicted to TV shows, reading romance novels and Twitter. I'm a chronic (e)book hoarder and my absolute favorite genres within romance fiction are contemporary romance and romantic suspense, but I don't shy away from historical, paranormal or erotic romance either. Even the occasional (urban) fantasy romance, futuristic and sci fi romance may make it to my Mount TBR. This is my corner of the world wide web where I let you know what books I'm hoarding, reading and reviewing.
View my complete profile

My Book-Providers
Reviews by Rating

Reviews by Genre
Reviews by Type

Reviews by Publisher

Fellow Bloggers


GR Reading Challenge
Pearl
has read 10 books toward her goal of 50 books.

On My TBR Shelf
Unforgivable - Laura Griffin
Snapped - Laura Griffin
Darkness at Dawn - Elizabeth Jennings
Sizzle and Burn - Alexis Grant
No Mercy - Lori Armstrong
Animal Magnetism - Jill Shalvis
Crazy for Love - Victoria Dahl
Kink - Saskia Walker/Sasha White
So Sensitive - Anne Rainey
Dark Taste of Rapture - Gena Showalter
The Darkest Secret - Gena Showalter
Vampire in Atlantis - Alyssa Day
Vampire Dragon - Annette Blair
Captive Spirit - Anna Windsor
Chosen by Blood - Virna DePaul
Rebel - Zoe Archer
Stranger - Zoe Archer
A Taste of Desire - Beverley Kendall
Mistress by Midnight - Maggie Robinson
To Desire a Devil - Elizabeth Hoyt
To Tame a Dangerous Lord - Nicole Jordan

Digital TBR Next
Driven - Jayne Rylon (reread)
Shifting Gears - Jayne Rylon
Beg Me - Shiloh Walker
Tempt Me - Shiloh Walker
Jazz Baby - Lorelie Brown
Playboy Prankster - Pamela Britton
Just Like That - Erin Nicholas
Sweet Inspiration - Penny Watson
Breathe - Donna Alward
My Gigolo - Molly Burkhart
Scent of Persuason - Nikki Duncan

Blog Archive