June 23, 2008
6:46 PM
|
Edit Post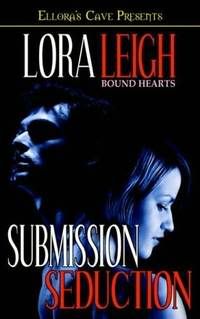 SUBMISSION (book 2)
In her desperation to repair the rift between herself and her daughter, Ella moves back to Virginia, and agrees to allow the ghost of her past back into her life.

As a favor to her daughter, she allows James Wyman, Jesse's twin, to stay the week in her new home. James. Dominating. Sexy. Younger. The man that has filled her most secret fantasies, her most forbidden desires. And James is determined Ella won't escape him again. This time, she will submit…
Ella Delacourte has moved from her familiar surroundings to be near to her daughter (Tess from book 1) and friends. She has also moved back to the danger called, James Wyman. The only man who can make her fantasize and who can make her lose her self-imposed control. And to make matters worse she has volunteered to let him stay at her house, waiting for a house he has bought. How can she resist temptation when temptation is determined to break her control?
James has waited five years to break Ella's control, to have her admit to her deepest desires and now he has the chance. A chance he is definitely going to take. A chance to share his feelings with the woman he has loved for five years. The only woman who has the power to make him lose his own control.

Ella has always controlled, denied her inner desires. Knowing that she would not be able to handle losing control she has kept them under a tight leash. She has always condemned her ex-husband and daughter's sexual tastes but deep down she has those same tastes, she just doesn't want to give in to them because she can't reconcile them with her concepts of love and marriage. This inability was fed by her own marriage. She and her husband were not compatible sexually and this has had a big impact on her. They married out of obligatory feelings. The divorce left Ella bitter and lonely. When James makes her lose her precious control she lashes out to him but in fact she is fighting herself.
James is a bit younger than Ella but he's determined to show her that he is the right man for her. That what her ex-husband wanted from her is not the same as he wants from her. James is confident and dominating, he doesn't let Ella crawl back into her safe little hiding place. He taunts her, tempts her, and challenges her.
A turning point toward acceptation of her feelings and her needs is reached when Ella tries to get James to lose control and she unleashes something in him, something she wants from him without consciously knowing it.

Another "pack" of men is thrown my way with this book. They are called the Trojans, known for their dominance and their sexual habits. Their need to give their women the ultimate pleasure in the form of a ménage but only until the third in their play finds his own woman.
The third with Ella and James is Saxton (Sax), his role in the book was purely being the third but he will have his own story further along in the series.

Once again I'm starting to sound like a broken record but I really like Lora Leigh's style. She writes in a lively, humorous way and still it's intense and emotional. She is a master in the erotic parts of the book but even if I would leave those parts out of the overall story I would have an enjoyable read. But combined with her dialogues, the interaction and connection between the main couple, the secondary characters, they all strike the right chord with me.
I must mention that the erotic parts are really explicit. More than in her Breeds series. They include ménage, toys and bondage so if you are not into these kinds of reads, don't start this series because the sex takes a more prominent place. It forms a big part of the story's dynamic, next to the strong emotions.
I'm not as much in awe of this series as I am with the Breeds but Lora Leigh stays on my favorite author-list because of her ability to write stories that mesmerize me and keep my attention at all times even when some of the concepts aren't as much in the comfort zone as some would like. To enjoy this series you must be open-minded to some of the things that happen. Things that aren't weird but they also aren't found in mainstream romance.

This is a story of mutual needs and desires, of controlled determination and defiance and ultimately of a very passionate bond of trust and love.
Quotes:
She was out of control. She, who had kept her control wrapped about her like a mantle of protection, had fallen as easily to this man as a virgin with no knowledge of the heartache awaiting her.

"No, Ella. I would never put you in the middle of an orgy," he promised her smoothly. "What I will put you in the middle of is more pleasure than you've known could exist. Pleasure I know you want. Need. Even now, after the past three days, you aren't satisfied. You climax until you nearly pass out with the pleasure of it, but you need more. And, by God, tonight I'll make sure you have what you need, or I won't bother trying anymore. I love you, Ella. Love you until my heart breaks with it, but I won't beg you, and I won't let you deny either of our needs. Now think about that."

SEDUCTION (book 3)
Jesse Wyman knows Terrie's reluctance to accept the desires that are a natural part of him. Desires he sees lurking in the darkest depths of her eyes. But Terrie must accept those needs herself. In a bold and risky turn, Jesse dares her to seduce him. Challenges her to accept her needs, to push her own boundaries. She must convince him. She must be willing to risk her heart, her very soul, for the ultimate prize. But is Terrie more daring than even Jesse knew?
Jesse Wyman has had his eye on Terrie for years. He decides he's waited long enough and sets things into motion by daring Terrie to seduce him.
Terrie chose to deny her inner desires and her fear of Jesse's sexual needs lead to her marrying the "safe" Wyman brother, but now, 3 years after his death, her deepest, hidden desires have come back to haunt her in the form of a challenge put out by Jesse.

Jesse was the third (the addition to the couple in the ménage) in book 1 and he's is James' (hero in book 2) twin brother.
Terrie is Ella's (heroine in book 2) best friend and the widow of James and Jesse's older brother Thomas. Her marriage to Thomas left her broken and insecure. He left no opportunity unused to point out her faults and sexual deficiencies. Her fear for Jesse's sexuality and needs drove her to a man with a cruel side that was far more dangerous to her than Jesse's need for sexual dominance and submission. Someone who almost destroyed her zest for life and its pleasures. Almost because she despite her insecurities, certainly where Jesse is concerned, she still has enough fire in her to give Jesse a run for his money. Taunting and defying him every chance she has.
I liked the chemistry and interactions between Jesse and Terrie a lot. For me it was better than with Ella and James in book 2. They flash from anger to sexual tension, to caring, to comfort, to passion, to dominance. It sizzled and sparkled and Jesse definitely has a personality and demeanor that appealed to me on every level. Terry is bold, despite the insecurities, imposed on her by her husband, this shows in small things but it's definitely there.
Jesse is as drool worthy as any hero can be. Masculine, self-confident, exuding raw male energy and ready to take the woman he has loved and wanted for years, head on.

I truly liked Tally, Terrie's friend and Jesse's secretary. She's as defiant and fiery as Terrie is. She is the heroine of the next book and if her part in this one is anything to go by, it's going to be fireworks all the way. The third in this book was an intriguing character I'm looking forward to reading more about. And my wish will come true because he and Tally are main characters of the next book. As in secondary characters this was it and it fitted the book. The story doesn't give way to secondary characters and they are not needed. The main focus is Terrie and Jesse's emotional connection and their sexual journey.

In every next installment of this series LL has had a bigger page-count and it shows in the stories. They get more elaborate and there is more depth next to the sexual plot of ménage and the emotional love story.
What made this book even better for me was that the relationship between hero and heroine is more equal. Terrie gives as good as she gets and is more on the same level with Jesse than Tess and Ella were with Cole and James. I loved a little twist in the story I really wasn't expecting, a twist that shows just how much of Terrie's fiery self survived her husband's cruelty.
I kept on reading their sensual byplay with breathless anticipation. Eager to know what would happen next in their challenging game of seduction. For me there was a big difference between this book and the two previous ones. With this book I connected with the characters and story much more than with books 1 and 2. The series is taking form on an emotional level that's very intense and with every book I am more fascinated and intrigued to know more. I have good hope that Lora Leigh will continue this upward spiral and keep me captivated with this unconventional series.
Readers should take in account that these books are explicitly and graphically erotic. If you don't like to come out of your comfort zone in that aspect, it's better to pass these books by. But if you are open to it and don't mind the explicitness there is a wonderful emotional story of need, mutual pleasure and true bonding and love that enriches the sexual part of the book. For me it's kind of yin and yang, they complement each other and neither would be as good without the other. This trademarks and attracts me in Lora Leigh's writing. It puts her on my A-list and makes her one of my favorite erotic romance authors.
Quotes:
"You think you're so brave," he said, his voice gentle. So gentle, so filled with obvious affection, that she felt her throat tighten with emotion. He could do that to her so easily. Have her furious, ready to flay him alive, then turn so soft, so incredibly tender she wanted to melt into a puddle of arousal at his feet.

His cry was torn from his very soul as the pleasure rocked him, shuddered through him, left him gasping in an aftermath so intense he wondered if he would ever truly recover.

Nice to meet you!
Pearl

Netherlands
39, married to my real life romance hero, addicted to TV shows, reading romance novels and Twitter. I'm a chronic (e)book hoarder and my absolute favorite genres within romance fiction are contemporary romance and romantic suspense, but I don't shy away from historical, paranormal or erotic romance either. Even the occasional (urban) fantasy romance, futuristic and sci fi romance may make it to my Mount TBR. This is my corner of the world wide web where I let you know what books I'm hoarding, reading and reviewing.
View my complete profile

My Book-Providers
Reviews by Rating

Reviews by Genre
Reviews by Type

Reviews by Publisher

Fellow Bloggers


GR Reading Challenge
Pearl
has read 10 books toward her goal of 50 books.

On My TBR Shelf
Unforgivable - Laura Griffin
Snapped - Laura Griffin
Darkness at Dawn - Elizabeth Jennings
Sizzle and Burn - Alexis Grant
No Mercy - Lori Armstrong
Animal Magnetism - Jill Shalvis
Crazy for Love - Victoria Dahl
Kink - Saskia Walker/Sasha White
So Sensitive - Anne Rainey
Dark Taste of Rapture - Gena Showalter
The Darkest Secret - Gena Showalter
Vampire in Atlantis - Alyssa Day
Vampire Dragon - Annette Blair
Captive Spirit - Anna Windsor
Chosen by Blood - Virna DePaul
Rebel - Zoe Archer
Stranger - Zoe Archer
A Taste of Desire - Beverley Kendall
Mistress by Midnight - Maggie Robinson
To Desire a Devil - Elizabeth Hoyt
To Tame a Dangerous Lord - Nicole Jordan

Digital TBR Next
Driven - Jayne Rylon (reread)
Shifting Gears - Jayne Rylon
Beg Me - Shiloh Walker
Tempt Me - Shiloh Walker
Jazz Baby - Lorelie Brown
Playboy Prankster - Pamela Britton
Just Like That - Erin Nicholas
Sweet Inspiration - Penny Watson
Breathe - Donna Alward
My Gigolo - Molly Burkhart
Scent of Persuason - Nikki Duncan

Blog Archive