June 11, 2008
6:30 PM
|
Edit Post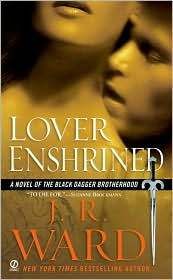 In the shadows of the night in Caldwell, New York, there's a deadly war raging between vampires and their slayers. And there exists a secret band of brothers like no other—six vampire warriors, defenders of their race. And now, a dutiful twin must choose between two lives...

Fiercely loyal to the Black Dagger Brotherhood, Phury has sacrificed himself for the good of the race, becoming the male responsible for keeping the Brotherhood's bloodlines alive. As Primale of the Chosen, he is to father the sons and daughters who will ensure that the traditions of the race survive and that there are warriors to fight those who want all vampires extinguished.

As his first mate, the Chosen Cormia wants to win not only his body but his heart for herself- she sees the emotionally scarred male behind all his noble responsibility. But while the war with the Lessening Society grows more grim, and tragedy looms over the Brotherhood's mansion, Phury must decide between duty and love.
I am truly at a loss for words and not in the positive sense. To say I'm feeling ambiguous after reading the sixth book in the Black Dagger Brotherhood Series is putting it very, very mildly.
For every good thing I have to say about the book there is a contradicting but... and in every bad thing I have to say about the book there is a slightly positive undertone. And even then I can't truly pinpoint the why, or give arguments that explain this ambivalence but I will try to explain as well as I can.

The first few chapters of the book had me irritated, annoyed and the feeling of emotional numbness took the upper hand over any excitement I had before starting the book. I missed the lively, humorous exciting vibe Ward's books always have had for me. I missed the emotional, intense connection with both the supposedly main characters and the secondary characters in the subplots. The most important reason for this is that there actually were no real main characters. The distinction between main and secondary characters was totally gone in LOVER ENSHRINED and none of the characters had the ability to speak to my emotions.

I saw a depressing Phury, an addict with a voice in his head, pining after his brother's mate. This was so not the Phury I had gotten to know in the previous books. I never had any real fascination with Phury, other than seeing him as the perfect gentleman; always ready to put other's needs before his own. This little connection I had with him was completely wiped away in about 4/5 of the book. Same goes for Cormia, true there were some scenes were she endeared me with her discovery of the world and her wish for individuality but she was not a heroine I could indentify myself with emotionally. The Phury-Cormia match also didn't convince me; I didn't feel any connection to or even between them until the very last part of the book. I missed chemistry and intensity and I missed the strong bond, which has been there in previous books. Even in LOVER UNBOUND I had the feeling V and Jane had a thing going, even if it wasn't the thing I would have liked to see.

After the first few chapters I started to get into the story better, mainly because of the subplots, they were fascinating and interesting but not even these could give me that emotional attachment I was looking for. The Rehv plot, the Omega/Lesser plot, the Blay/Qhuinn/John Matthew plot, none of them gave me that feeling I want in the books I read, that feeling I did have in the previous BDB-books, be it in various degradations: being swept into the story to the point of distraction, almost inhaling the pages just to get to the next twist in the story.
And still it was hard to let go of the book. I wanted to keep on reading. This is something I must applaud J.R. Ward for, her writing style, even without the emotional connection, has the ability to keep you reading until the end.

One other thing that kept bothering me throughout the book was how Phury was being portrayed: a hardcore drug addict. There were some things that just didn't add up in his development as a character. Things that just didn't stroke with the picture given of Phury in previous books. Had I been prepared for some things they would have been easier to accept in this book. I had the feeling that, because of these inconsistencies, Ward had to give his story the swirl she did in this book and it didn't feel good and some things just weren't believable. In my opinion if you choose to insert a certain concept, such as drug-addiction, in a book, take it all the way and don't just brush only the aspects than come in handy for the story.

There was a point in the book were I just felt that Phury has to be the most tormented brother of them all, more than Z, more than V. He has suffered the most without the support of others to pull him through it. And still he cares for others and tries to put other's need above his. This was where the hope of some kind of connection kindled, but it died down soon enough because of the inconsistent drug addict thing and the distractions of the other (sub)plots making Phury's story take the backseat in this book.
Every time I thought Ward was going to close the deal on Phury and Cormia, finally focus on them and their story and give me that scene I was waiting for, she switched POV and went to other characters/storylines. Breaking the momentum, leaving me empty-handed because when she would return, scenes later, the moment would be lost and she had to start over again. This happened too often for my taste. The switching of POV's is no problem when there is one strong plot arc that carries the book, be it a romance or another kind of plot, but that was missing in this one and that's my biggest problem with this book.

Now that I've commented on what bothered me in LOVER ENSHRINED I will wrap this review up on a positive note and recite what I did like about it.

The shift that began with LOVER UNBOUND has taken definite form. A shift towards a new generation of Brothers. A shift in leadership within the Vampires and the Lessers. A shift in the war with the Lessers, which is becoming more challenging, more dangerous and more gruesome.
This is something that J.R. Ward is setting up in a way I have to admire. I just hope that if she is turning away from the romance, she will make-up for it by sticking to this new road she has taken.

Oddly enough the last 100 pages or so gave me a glimpse, be it a small one, of what I needed in the book. There I found a shimmer of emotions, a hint of intensity in the characters and a lot of intriguing set-ups for the next phase in this series. A phase that has a totally different touch and feel. A phase in which the foundations and known facts from the first 4 books are altered.
The game has changed, more players and a whole new set of rules are introduced and I really can't tell if this is a good or a bad thing. Time and future books will have to tell.

I can't say the book was bad, but I also can't have a truly satisfied feeling having read the last page and closed it. On the contrary, for the first time I closed a J.R. Ward book glad to have finished it so I can move on to other books on my TBR-pile.

I am sad to say that I can only describe this book with the explanation of the amount of stars I rated it with: Interesting, but not quite there yet!

Nice to meet you!
Pearl

Netherlands
39, married to my real life romance hero, addicted to TV shows, reading romance novels and Twitter. I'm a chronic (e)book hoarder and my absolute favorite genres within romance fiction are contemporary romance and romantic suspense, but I don't shy away from historical, paranormal or erotic romance either. Even the occasional (urban) fantasy romance, futuristic and sci fi romance may make it to my Mount TBR. This is my corner of the world wide web where I let you know what books I'm hoarding, reading and reviewing.
View my complete profile

My Book-Providers
Reviews by Rating

Reviews by Genre
Reviews by Type

Reviews by Publisher

Fellow Bloggers


GR Reading Challenge
Pearl
has read 10 books toward her goal of 50 books.

On My TBR Shelf
Unforgivable - Laura Griffin
Snapped - Laura Griffin
Darkness at Dawn - Elizabeth Jennings
Sizzle and Burn - Alexis Grant
No Mercy - Lori Armstrong
Animal Magnetism - Jill Shalvis
Crazy for Love - Victoria Dahl
Kink - Saskia Walker/Sasha White
So Sensitive - Anne Rainey
Dark Taste of Rapture - Gena Showalter
The Darkest Secret - Gena Showalter
Vampire in Atlantis - Alyssa Day
Vampire Dragon - Annette Blair
Captive Spirit - Anna Windsor
Chosen by Blood - Virna DePaul
Rebel - Zoe Archer
Stranger - Zoe Archer
A Taste of Desire - Beverley Kendall
Mistress by Midnight - Maggie Robinson
To Desire a Devil - Elizabeth Hoyt
To Tame a Dangerous Lord - Nicole Jordan

Digital TBR Next
Driven - Jayne Rylon (reread)
Shifting Gears - Jayne Rylon
Beg Me - Shiloh Walker
Tempt Me - Shiloh Walker
Jazz Baby - Lorelie Brown
Playboy Prankster - Pamela Britton
Just Like That - Erin Nicholas
Sweet Inspiration - Penny Watson
Breathe - Donna Alward
My Gigolo - Molly Burkhart
Scent of Persuason - Nikki Duncan

Blog Archive