June 15, 2008
8:00 AM
|
Edit Post
This book was released on May 27th and I reviewed it for REALMS ON OUR BOOKSHELVES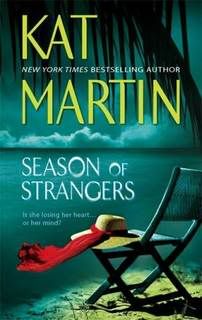 Dedicated, driven real estate agent Julie Ferris is enjoying a day at the beach with her sister Laura when a strange, almost undetectable charge fills the air. Then under the hot Malibu sun, time stops altogether.
Neither sister can explain their "lost day" --nor the blinding headaches or horrific nightmares that follow-- but Julie chalks it up to the stress she's been under since her boss' son took over Donovan Real Estate.

Patrick Donovan would be a real catch if not for his notorious playboy lifestyle and matching attitude. But when a cocaine-fueled heart attack nearly kills him, Patrick makes an astonishingly fast --and peculiar-- recovery. Julie barely recognizes the newly sober Patrick as the same man she once struggled to resist. Maybe it's the strange beach experience fueling her paranoia, but she can't help sensing something just isn't...right.
As Julie's feelings for Patrick intensify, she's about to discover how that day at the beach links her newfound happiness with her wildest suspicions...
Julie Ferris has always been attracted to Patrick but because of his destructive way of life and his playboy behavior she has never given into those feelings.
One day when they are on the beach, aliens abduct Julie and her sister Laura without being aware of it. The only consequences of the experience are their nightmares, Julie's migraines and Laura's paranoid behavior.
Not long after their abduction Patrick Donovan has a heart attack and his body is taken over by Val in order to investigate why Julie resists the alien tests and examinations
Julie discovers that with the "new and improved" Patrick, she has more and more trouble resisting him.

It was interesting to see how Val deals with Patrick's memories, sensations and experiences and at the same time it's difficult at first to discern what feelings are Patrick's and what are Val's. Reading I was wondering how Val was going to pull it of and how he was going to explain everything to Julie and what twist Kat Martin was going to give it. The way everything came out was a little predictable but still a very believable one.
For me Val was the most engaging character of the book. The other characters were rather kept on the surface. I didn't get to know and understand them as much as I would like. There is background information that hints about certain things but it didn't go far enough for me to truly empathize or relate to them as much as I wanted to.

The book started quite slowly paced and didn't pull me right in, but gradually I did get into the story and I learned to appreciate the writing style even though the subject wasn't one of my personal favorites.
The book was not intense as some other paranormals or suspense books, but in retrospect it didn't need intensity to keep the reader interested in the outcome of the story. There is some minor suspense plot and some romance but the focus is on the paranormal, the extraterrestrials and alien abduction plot
In the beginning it wasn't able to keep my attention and had a bit of trouble getting into the first few chapters.
I think this has mostly to do with my personal taste because it was well-written with an original concept but I'm not really into the whole alien abduction thing and that is what the book basically came down to.
But after the first half the story started to grow on me more and I really loved last few chapters of the book, where emotions and feelings came more into the story and gave it more of what I like in my books, the stirring of my own emotions.

This paranormal was more realistic than what I'm used to and it was a nice change for all the fantasy escapism I'm used to and which I prefer in the paranormal genre. It focuses more on the realistic possibilities of the existence of otherworlders and the skepticism believers in alien existence have to deal with.
While reading I noticed Kat Martin did extensive research into UFO's, close encounters, alien abduction and space travel. I have to applaud this because it gave the book that realistic feel.

For me it's difficult to rate this book because although the subject/concept isn't to my personal taste, the writing, the characters and plot are quite good.
The alien abduction plot is the main plot and for me the characters weren't strong enough, with the exception of the last few chapters, to carry the story without the need for a plot more to my personal taste with a bit more action or suspense.

When a writer knows how to intrigue me with a subject that is not to my taste I can't but applaud her and her writing. Kat Martin was able to do this with Season of Strangers and I can recommend this book to everyone who is interested in a well-written and well-researched romance novel in this genre.
Quote
But of course his heart wasn't fine at all. It was broken. He had read the term and now he understood it, and it was even more painful than the words implied. His heart had been sliced in two by a fiery little redhead with the courage to confront him with the truth.

Nice to meet you!
Pearl

Netherlands
39, married to my real life romance hero, addicted to TV shows, reading romance novels and Twitter. I'm a chronic (e)book hoarder and my absolute favorite genres within romance fiction are contemporary romance and romantic suspense, but I don't shy away from historical, paranormal or erotic romance either. Even the occasional (urban) fantasy romance, futuristic and sci fi romance may make it to my Mount TBR. This is my corner of the world wide web where I let you know what books I'm hoarding, reading and reviewing.
View my complete profile

My Book-Providers
Reviews by Rating

Reviews by Genre
Reviews by Type

Reviews by Publisher

Fellow Bloggers


GR Reading Challenge
Pearl
has read 10 books toward her goal of 50 books.

On My TBR Shelf
Unforgivable - Laura Griffin
Snapped - Laura Griffin
Darkness at Dawn - Elizabeth Jennings
Sizzle and Burn - Alexis Grant
No Mercy - Lori Armstrong
Animal Magnetism - Jill Shalvis
Crazy for Love - Victoria Dahl
Kink - Saskia Walker/Sasha White
So Sensitive - Anne Rainey
Dark Taste of Rapture - Gena Showalter
The Darkest Secret - Gena Showalter
Vampire in Atlantis - Alyssa Day
Vampire Dragon - Annette Blair
Captive Spirit - Anna Windsor
Chosen by Blood - Virna DePaul
Rebel - Zoe Archer
Stranger - Zoe Archer
A Taste of Desire - Beverley Kendall
Mistress by Midnight - Maggie Robinson
To Desire a Devil - Elizabeth Hoyt
To Tame a Dangerous Lord - Nicole Jordan

Digital TBR Next
Driven - Jayne Rylon (reread)
Shifting Gears - Jayne Rylon
Beg Me - Shiloh Walker
Tempt Me - Shiloh Walker
Jazz Baby - Lorelie Brown
Playboy Prankster - Pamela Britton
Just Like That - Erin Nicholas
Sweet Inspiration - Penny Watson
Breathe - Donna Alward
My Gigolo - Molly Burkhart
Scent of Persuason - Nikki Duncan

Blog Archive