June 22, 2008
10:45 PM
|
Edit Post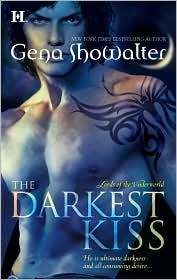 He is Death, destined to be her executioner.
Ordered by the gods to escort the tempestuous Anya's soul to hell, Lucien is an immortal warrior torn between duty and desire. For Anya sparks the flames of passion inside him as no one else ever has.
She is Anarchy, as beautiful as she is deadly.
There is nothing Anya wants more than to be Lucien's lover. His half-hearted attempts to kill her are exhilarating. His kisses – electrifying.

They should have been enemies but they become allies, traveling the world to find and destroy an ancient relic of the gods before it can be used against him -- separating them for eternity.
Against a background of the battle between the Lords of the Underworld and the Hunters who want them destroyed, a story of an unlikely romance and love unfolds while the search for Pandora's box intensifies and takes a new turn. In this second installment of the Lords of the Underworld Series, Lucien and Anya will not only battle their own demons and curses, but also an arrogant King of Titans, Cronus, Hunters who are trying to find Pandora's box in order to get rid of the Lords for once and for all and they have to overcome the issues they have with love and affection.

Lucien was a character who snuck up on me. Before reading this book and in the first half of the book he was an enigma and it was hard for me to figure out what kind of character he really was. He and Death were so different from the other Lords and their demons. In the first book he didn't appeal that much to me but in this one, his own, he really grew on me and I loved him as the hero and in the way he dealt with Anya and his feelings for her.

Anya was a character who rubbed me the wrong way in the other books but she totally and utterly redeemed herself in her own book. Getting to know her background and her motivations I could sympathize with the way she had to deal with life in order to live and survive in the independence she craves so much. She was the breeze of humor that kept the book entertaining and funny. A true counterpart to Lucien's intensity and seriousness.

Lucien and Anya are two ultimate opposites, I have hardly read about two characters more different than these two, but still Gena Showalter makes it work between them in a wonderful way. Anya is the embodiment of Anarchy. She is fiery, chaotic, cheeky and lively. Lucien is disciplined, contained, brooding and serious.
Anya is witty and vibrant where Lucien is scarred, both inside and out. Anya is life to Lucien's death in multiple ways, both literally and metaphorically. I really enjoyed the interactions between Lucien and Anya.

Again strong secondary characters that played their part when needed, enriched the story and though they were crucial in some parts they never stole the spotlight from Anya and Lucien.
I was treated to a powerful, manipulative and arrogant King of Gods, Cronus, whom I loved to hate but still even he intrigued me. I can't shake the feeling that Cronus has some ulterior motive that doesn't necessary have to be an evil motive. I think it's something totally different than what his actions are leading the reader to believe at this moment. Behind every demand or order from him there is something that drives him, but what? This will probably (and hopefully) be disclosed further in the series.
I loved the camaraderie and bantering between the Lords.
The tidbits of the other Lords like Paris, Reyes, Aeron and Gideon are very interesting and I know that when the whole series is complete I will be one happy reader.

Gena Showalter has written an enthralling, endearing and touching installment in a series that is at the top of my favorite list. Every book has it's own vibe, it's own feel and still the recurring plot that is taking on a solid form links them all together to form a great whole. In every book just enough information on the plot is revealed to answer some questions the reader has, but at the same time provides a non-spoiler set-up for the next book or even books after that.

This book was perfectly dosed, mixing heart-stirring romance, fast-paced action, fascinating mythology, great humor and amazing characters in a way only Gena Showalter can do it for me.

Nice to meet you!
Pearl

Netherlands
39, married to my real life romance hero, addicted to TV shows, reading romance novels and Twitter. I'm a chronic (e)book hoarder and my absolute favorite genres within romance fiction are contemporary romance and romantic suspense, but I don't shy away from historical, paranormal or erotic romance either. Even the occasional (urban) fantasy romance, futuristic and sci fi romance may make it to my Mount TBR. This is my corner of the world wide web where I let you know what books I'm hoarding, reading and reviewing.
View my complete profile

My Book-Providers
Reviews by Rating

Reviews by Genre
Reviews by Type

Reviews by Publisher

Fellow Bloggers


GR Reading Challenge
Pearl
has read 10 books toward her goal of 50 books.

On My TBR Shelf
Unforgivable - Laura Griffin
Snapped - Laura Griffin
Darkness at Dawn - Elizabeth Jennings
Sizzle and Burn - Alexis Grant
No Mercy - Lori Armstrong
Animal Magnetism - Jill Shalvis
Crazy for Love - Victoria Dahl
Kink - Saskia Walker/Sasha White
So Sensitive - Anne Rainey
Dark Taste of Rapture - Gena Showalter
The Darkest Secret - Gena Showalter
Vampire in Atlantis - Alyssa Day
Vampire Dragon - Annette Blair
Captive Spirit - Anna Windsor
Chosen by Blood - Virna DePaul
Rebel - Zoe Archer
Stranger - Zoe Archer
A Taste of Desire - Beverley Kendall
Mistress by Midnight - Maggie Robinson
To Desire a Devil - Elizabeth Hoyt
To Tame a Dangerous Lord - Nicole Jordan

Digital TBR Next
Driven - Jayne Rylon (reread)
Shifting Gears - Jayne Rylon
Beg Me - Shiloh Walker
Tempt Me - Shiloh Walker
Jazz Baby - Lorelie Brown
Playboy Prankster - Pamela Britton
Just Like That - Erin Nicholas
Sweet Inspiration - Penny Watson
Breathe - Donna Alward
My Gigolo - Molly Burkhart
Scent of Persuason - Nikki Duncan

Blog Archive