June 14, 2008
11:30 PM
|
Edit Post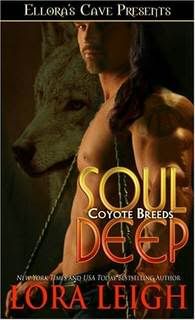 Mother Nature has a way of making the most unlikely couples 'fit'. And what could be more unlikely than a sassy, independent President's daughter who doesn't know when to keep her mouth shut and a loner Coyote Breed with a hunger for a cute rosebud mouth that he's determined to still.

The vote for Breed Law is coming down the pike. Kiowa's job is to watch Amanda, the President's daughter—look, but not touch. Just make sure the Goof Troop, the Secret Service detail assigned to protect her, do their job until the law is passed.
But when they don't and the bad guys move in to take her out, Kiowa reluctantly slips in to the rescue, snatching her away to safety. But she isn't going to come easy and it takes more than smooth talking to make her see his point of view.

For a man who's had nothing, Amanda Marion is food for the hunger that has tortured him, the reality to every dream Kiowa never dared believe in. What he feels for her is more than heat, more than love. She breathes life into his hardened heart, melting the icy chill that has protected him all his life, and touches a part of him that he thought had died—his soul. And now he'll kill anyone who tries to take her away from him.
But the one person he can't fight is Amanda, and when she wants to leave…
When the President is about to pass the Breed Law, a law enforcing the Breeds to take action against the attacks on their compound and ensure safety for themselves and their mates, the Purists try to influence him by attempting to kidnap his daughter, Amanda Marion. But they didn't count on Kiowa, a Coyote Breed, assigned to keep an eye on her just because the Breeds suspected this action by the Purists.
Little does Amanda know that her savior will pose a different kind of danger to her, a danger for her emotions and her independence.

Kiowa is who he is. What you see is what you get. He is not gentle, direct, blunt and exudes raw masculinity. But he grew up to be this way. His past is heart wrenching, growing up all by himself, with no one to take care of him or to give him the love and guidance a child needs. Everything he knows and has he has procured by himself.

And then there's Amanda, a young woman who's strong, smart and headstrong. She craves independence, the freedom to do as she pleases and to live her dreams. She's happy with her life and the way she's used in as a pawn in the "war" between the Purists and the Breeds combined with the freedom of choice being taken away from her by Kiowa and the mating frenzy (or the mating heat as it is called in this book), spikes her anger.
She needs this freedom and that's why she fights the mating heat and doesn't want to accept the relationship with Kiowa.

In this fifth installment of the Breeds a new Breed is introduced: the Coyote Breed. This is the Breed that is said to be ruthless, without any conscience or soul; the ones who came the closest to the ideal killers the Council intended the Breeds to be.
They don't fit the picture of the Felines and the Wolves; they were created to be jailors to the other Breeds, aiding the Council scientists in the labs.
But Kiowa doesn't fit in this description, he does have a conscience and a soul, even when he was a little boy, all on his own, but he realizes it only when he meets the woman who touches his soul.

First I want to say I again I thoroughly enjoyed reading this Breed story with glimpses of former main characters and their lives, the Breeds' struggle for acceptance and the way a new community is created. But...there is a little point of criticism.
Kiowa and Amanda didn't touch me emotionally as much as the main characters in the previous books did. They each individually had their emotional baggage I could empathize with but their interactions weren't as sparkling as I'm used to in this series and the development of their relationship felt a bit rushed and forced. They were more tuned into their own personal emotions than into each other's emotions and this was what mesmerized me in the previous books.

This installment for me wasn't as mind-blowing as the previous ones. Where in books 1-4 there was a lot of intensity and emotional rollercoaster, this one was focused a bit more on the eroticism than the other ones. Where in the other books the sex fitted smoothly into the emotional storyline, in this one it seemed like it were two parts of the book that were just combined together, especially in the first part of the book. Towards the end it got better and the emotions and the erotic scenes were more in sync, so for me it's another great Breed book. Even though it was a bit less intense than the others it still was a story of rejection and acceptance, freedom of choice and passionate desire.

One other thing that kept bothering me was that the mating heat in Amanda seemed to be so much stronger than in the women mated to the Felines (Merinus from book 1 and Roni from book 2). Nowhere in the book is explained why and I really would have liked to have an explanation for it. They did discover some other, intriguing things considering the mating heat. The whole Breeds World is getting more interesting with every book when many discoveries are made and the Breeds community grows in number and power.
Quotes
Kiowa: "I can smell your heat, Manda," he whispered then, causing her eyes to fly open in alarm. "It smells like honey syrup. And I'm really partial to honey."

Amanda: "I'm supposed to be resisting you." she whispered huskily. "You aren't supposed to be the answer to all my sexual fantasies and make my heart ache at the same time, Kiowa."

Nice to meet you!
Pearl

Netherlands
39, married to my real life romance hero, addicted to TV shows, reading romance novels and Twitter. I'm a chronic (e)book hoarder and my absolute favorite genres within romance fiction are contemporary romance and romantic suspense, but I don't shy away from historical, paranormal or erotic romance either. Even the occasional (urban) fantasy romance, futuristic and sci fi romance may make it to my Mount TBR. This is my corner of the world wide web where I let you know what books I'm hoarding, reading and reviewing.
View my complete profile

My Book-Providers
Reviews by Rating

Reviews by Genre
Reviews by Type

Reviews by Publisher

Fellow Bloggers


GR Reading Challenge
Pearl
has read 10 books toward her goal of 50 books.

On My TBR Shelf
Unforgivable - Laura Griffin
Snapped - Laura Griffin
Darkness at Dawn - Elizabeth Jennings
Sizzle and Burn - Alexis Grant
No Mercy - Lori Armstrong
Animal Magnetism - Jill Shalvis
Crazy for Love - Victoria Dahl
Kink - Saskia Walker/Sasha White
So Sensitive - Anne Rainey
Dark Taste of Rapture - Gena Showalter
The Darkest Secret - Gena Showalter
Vampire in Atlantis - Alyssa Day
Vampire Dragon - Annette Blair
Captive Spirit - Anna Windsor
Chosen by Blood - Virna DePaul
Rebel - Zoe Archer
Stranger - Zoe Archer
A Taste of Desire - Beverley Kendall
Mistress by Midnight - Maggie Robinson
To Desire a Devil - Elizabeth Hoyt
To Tame a Dangerous Lord - Nicole Jordan

Digital TBR Next
Driven - Jayne Rylon (reread)
Shifting Gears - Jayne Rylon
Beg Me - Shiloh Walker
Tempt Me - Shiloh Walker
Jazz Baby - Lorelie Brown
Playboy Prankster - Pamela Britton
Just Like That - Erin Nicholas
Sweet Inspiration - Penny Watson
Breathe - Donna Alward
My Gigolo - Molly Burkhart
Scent of Persuason - Nikki Duncan

Blog Archive