June 26, 2008
6:05 PM
|
Edit Post
This story is part of the anthology HOT SPELL.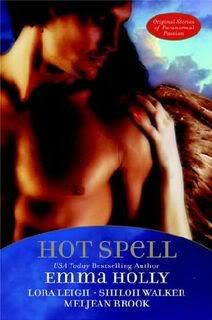 Lyra's neighbor can't be for real. A man that stares at home baked bread like he's never tasted it. Who chops his lawn up with the powerful weed eater and lawn mower he has. A man that makes her hormones stand up and scream every time she sees him. He cut down her rosebush, and he's breaking through her reserve to invade her dreams at night.

But Tarek Jordan is much more than he seems. A Breed Enforcer with a plan. First, find the Council Trainer he's tracked to Fayetteville, Arkansas, and second, claim the woman he knows belongs to him alone. Until the danger that shadows his life begins to shadow hers as well, and then Tarek knows, he can't wait to claim the woman his heart and soul burns for. His next-door neighbor will have to accept him as he is, and now on his terms, rather than hers.
Lyra is the perfect Breed heroine. She's feisty, headstrong, passionate and doesn't take any crap from Tarek. She's used to handling arrogant and dominant men like Tarek, having three brothers who meddle in her life constantly.
Tarek is a Lion Breed on assignment for the Feline Pride. He's a bounty hunter and assassin on the hunt for a Trainer who used to work in the Council's Labs. He is scarred both physically and emotionally, almost broken by his upbringing in the labs, but that doesn't prevent him from wanting and longing for "human" things like love, affection and happiness. Tarek is unpolished and not the social type but still he possesses the code of honor all the Breed males have naturally.

As with most of the anthology-stories there is no real room for many secondary characters. In this one Jonas (head of Feline Enforcer Affairs) makes a brief appearance and Braden is just mentioned but I know he is the hero of the next Breed book (MEGAN'S MARK). Lyra's father and brothers also make a brief but impressive appearance.

This story gripped me emotionally from the prologue down to the last chapter. The opening sentence was enough to launch me into the emotional world of Breeds and their mates I have come to know and love. After the prologue it starts right away with fireworks between the neighbors Lyra Mason and Tarek Jordan arguing over landscaping skills. Their bantering is fast, fun and hot, laced with sexual undertones you know will be explored before half of the story is reached.

This installment in the Breeds takes us a bit further in time, taking place seven years after the end the first book. But Lora Leigh also takes it a step further plot wise with a Breed World that's getting more self-sufficient and powerful with rules, leaders, enforcers and political power to go after the scientists and trainers who tormented them in their labs. There is a first real confrontation, be it a very small one, between Breed and Council in the form of Tarek and the Trainer he's after. It was very intriguing and left me wanting more of these scenes, more insight into the conflict between them.

Even if I hadn't known I could have guessed the change in publishers for this story. In comparison with the Ellora's Cave installments (which all the previous books were), the sex is subtler. Don't get me wrong because it's still explicit but the focus is a bit more on the emotions and the more intricate plot developments. Next to the intense emotional and sexual moments there were plenty of dialogues that put a smile on my face. Lora Leigh mixes humor effortlessly with intensity and sexuality, creating a nice vibe to the whole story.

Within the Breeds Series I really have a strong preference for the Felines over the Wolves, with the exception of ELIZABETH'S WOLF (that was the best one in the whole series so far for me). The character and plot developement of the Feline-books are immensely appealing to me, at least until this 6th part. I still have some Wolf Breeds to read further along in the series.

For me this story was just too short. I would have loved a full-length book on Lyra and Tarek but I had to make due with the about 90 pages it had. I can say Lora Leigh made the pages count, delivering another great installment of the Breeds. I can't wait to start with the full-length books that I have ahead of me in the Series. I suspect these short stories were just the appetizers and I'm in for a meal fit for kings!

The following two quotes show exactly the perfect blend of eroticism and emotion Lora Leigh masters like few other authors can.
Quotes:
"Now is not the time to be nice, Tarek," she snapped, infuriated at him. "But I want to be nice to you." (...)"I want to be very nice to you, Lyra. I want to lay you down on that couch, spread your pretty legs, and show you just how nice I can be to you. Wouldn't you like that, baby?"

Velvet darkness enclosed her as the words whispered free, her heart expanding as her soul seemed to lift, shudder and open to accept a part of him that she knew not even death could steal.

Nice to meet you!
Pearl

Netherlands
39, married to my real life romance hero, addicted to TV shows, reading romance novels and Twitter. I'm a chronic (e)book hoarder and my absolute favorite genres within romance fiction are contemporary romance and romantic suspense, but I don't shy away from historical, paranormal or erotic romance either. Even the occasional (urban) fantasy romance, futuristic and sci fi romance may make it to my Mount TBR. This is my corner of the world wide web where I let you know what books I'm hoarding, reading and reviewing.
View my complete profile

My Book-Providers
Reviews by Rating

Reviews by Genre
Reviews by Type

Reviews by Publisher

Fellow Bloggers


GR Reading Challenge
Pearl
has read 10 books toward her goal of 50 books.

On My TBR Shelf
Unforgivable - Laura Griffin
Snapped - Laura Griffin
Darkness at Dawn - Elizabeth Jennings
Sizzle and Burn - Alexis Grant
No Mercy - Lori Armstrong
Animal Magnetism - Jill Shalvis
Crazy for Love - Victoria Dahl
Kink - Saskia Walker/Sasha White
So Sensitive - Anne Rainey
Dark Taste of Rapture - Gena Showalter
The Darkest Secret - Gena Showalter
Vampire in Atlantis - Alyssa Day
Vampire Dragon - Annette Blair
Captive Spirit - Anna Windsor
Chosen by Blood - Virna DePaul
Rebel - Zoe Archer
Stranger - Zoe Archer
A Taste of Desire - Beverley Kendall
Mistress by Midnight - Maggie Robinson
To Desire a Devil - Elizabeth Hoyt
To Tame a Dangerous Lord - Nicole Jordan

Digital TBR Next
Driven - Jayne Rylon (reread)
Shifting Gears - Jayne Rylon
Beg Me - Shiloh Walker
Tempt Me - Shiloh Walker
Jazz Baby - Lorelie Brown
Playboy Prankster - Pamela Britton
Just Like That - Erin Nicholas
Sweet Inspiration - Penny Watson
Breathe - Donna Alward
My Gigolo - Molly Burkhart
Scent of Persuason - Nikki Duncan

Blog Archive