June 1, 2008
9:19 PM
|
Edit Post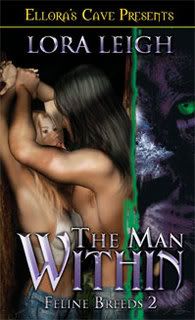 He had protected her as a child, filled all her teenaged fantasies and stole her womanly heart, only to break it.

Now, fifteen months later, the news has released. The man she loves is one of the genetically altered Feline Breeds who have shocked the world with their presence. He's also her mate. The mark on her neck attests to that. The fire that rages in her heart and in her body further proves it. But he hadn't wanted her then; does he really want her now?

Deceit and treachery, born in the past, now haunt the present as Taber and Roni fight to make sense of a sudden bonding. The mating of heart, body and soul as the man and the beast within merge; both battling the forces raging against the union and dominance over the woman he claimed.
Veronica (Roni) Andrews has loved Taber Williams since she was a girl, not able to fully understand what loving someone entailed. When she thinks she has him where she wants him, he leaves and she is devastated, crushed with the knowledge that Taber doesn't want her.
Roni is a real spitfire, taking life in stride, until her love for Taber almost brings her down, but she picks herself up and goes on. More than a year later he reappears in her life to once again rescue her, only now from the mess he got her into and even though she can't forget or forgive him his betrayal she knows she can't deny the attraction between them and the love that never really went away. What they do not know is that their separation is a caused by deception outside of their reach.
Since the Breed came forward and made themselves known to the world in book 1, many more Breeds than just Callan's group were discovered and rescued from the Council. This has only angered the Council and they have upped the ante, hunting and murdering them more openly and aggressively than ever before.
But not only the Council is after them, there are more players who have joined this hunting game with the purpose of annihilating the Breeds, their mates and their future children.

The dynamics between Roni and Taber are very different from Merinus and Callan's. Where Merinus fought the frenzy in the beginning out of unfamiliarity and soon gave into her feelings for Callan, Roni has a hard time with the Taber's alleged betrayal and abandonment which really fires up her resistance, rejection and defiance both toward Taber as toward the frenzy and the consequential conception. But the more Roni pushes Taber away, the more protective and possessive he becomes, determined to prove his feelings and worth to her.

In the supporting characters we get reacquainted with some of the characters from book 1: the Feline Breeds Callan, Sherra, Tanner and Dawn and Merinus and Kane from the Tyler family from book 1 and introduction of new characters: there is mention of the Wolf Breeds, Feline Breeds Cabal St Laurens and the intriguing Mercury and some non-Breed characters who have much more in them than this first glance allows us to see.

I found out more about the mating frenzy in this book. It does not have to be triggered by kissing alone. A love bite also does the trick, though in a less intense way than a kiss does. It's nature's way of ensuring survival of the Breeds.
Again the snappy interactions, this time between Taber and Roni, in contrast with the fierce sexual attraction and the submission to the mating frenzy hit the right note with me! And not only their interactions were fun to read, Lora Leigh has the talent to combine fun bantering with intense and explicit passion, giving me two things I like to read in erotic romance.

The intensity levels of book 1 and 2 are pretty much the same but still this second book has its own unique feel. The basics are the same but there is new information added to the initial excellent world building of book 1. And even though the mind-blowing effect of learning about the Breeds for the first time had dimmed down a bit it was still it was just as intense, emotional and passionate.

I know these stories qualify as erotica because of the explicit language in the love scenes but in my opinion they lift this genre to a high level, if only for the intriguing plotlines and the intense emotions portrayed in both the main and secondary characters.

The last chapters provide answers to some questions that were raised in the few chapters before but at the same time other questions pop up, setting up the next storyline in the series. The book ends with another tantalizing tidbit about Sherra and Kane, leaving me even more desperate for their story. Just one to go and then I'll get to them. I'm also really looking forward to the moment I'll be diving into the full-length books since I met some of the main characters who will be featured in those books now and they look so very promising!

After reading three stories now of the Breeds Series I'm truly hooked. Lora Leigh has me dangling and with each installment she pulls me in a bit further and I'm very willing to be reeled in.
Quotes
Taber: "Cats love cream, Roni," he whispered wickedly. "And I bet you have the sweetest cream in the whole damned world."

Roni: "I swear to God, Taber. I may not be woman enough for you, but if you leave me after this, I'll make you pay. I'll cut your black heart from your chest myself and I'll carve your c**k into so many pieces you'll never find them all."

Nice to meet you!
Pearl

Netherlands
39, married to my real life romance hero, addicted to TV shows, reading romance novels and Twitter. I'm a chronic (e)book hoarder and my absolute favorite genres within romance fiction are contemporary romance and romantic suspense, but I don't shy away from historical, paranormal or erotic romance either. Even the occasional (urban) fantasy romance, futuristic and sci fi romance may make it to my Mount TBR. This is my corner of the world wide web where I let you know what books I'm hoarding, reading and reviewing.
View my complete profile

My Book-Providers
Reviews by Rating

Reviews by Genre
Reviews by Type

Reviews by Publisher

Fellow Bloggers


GR Reading Challenge
Pearl
has read 10 books toward her goal of 50 books.

On My TBR Shelf
Unforgivable - Laura Griffin
Snapped - Laura Griffin
Darkness at Dawn - Elizabeth Jennings
Sizzle and Burn - Alexis Grant
No Mercy - Lori Armstrong
Animal Magnetism - Jill Shalvis
Crazy for Love - Victoria Dahl
Kink - Saskia Walker/Sasha White
So Sensitive - Anne Rainey
Dark Taste of Rapture - Gena Showalter
The Darkest Secret - Gena Showalter
Vampire in Atlantis - Alyssa Day
Vampire Dragon - Annette Blair
Captive Spirit - Anna Windsor
Chosen by Blood - Virna DePaul
Rebel - Zoe Archer
Stranger - Zoe Archer
A Taste of Desire - Beverley Kendall
Mistress by Midnight - Maggie Robinson
To Desire a Devil - Elizabeth Hoyt
To Tame a Dangerous Lord - Nicole Jordan

Digital TBR Next
Driven - Jayne Rylon (reread)
Shifting Gears - Jayne Rylon
Beg Me - Shiloh Walker
Tempt Me - Shiloh Walker
Jazz Baby - Lorelie Brown
Playboy Prankster - Pamela Britton
Just Like That - Erin Nicholas
Sweet Inspiration - Penny Watson
Breathe - Donna Alward
My Gigolo - Molly Burkhart
Scent of Persuason - Nikki Duncan

Blog Archive