August 19, 2008
11:02 PM
|
Edit Post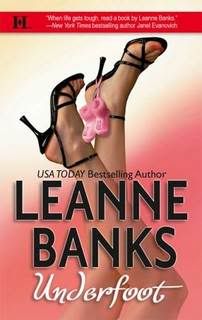 Back Cover:
Bellagio, Inc. public relations genius Trina Roberts had been a bad, bad girl when she'd gone to bed with a recently jilted groom and wound up pregnant. She knew Walker Gordon wasn't looking for forever—at least not with her. So when he took a job overseas, she sort of neglected to tell him about the baby on the way.
Well, now he's back... and he's just figured out the truth.

Walker had been reeling from a very public breakup when Trina had offered solace he couldn't deny. He'd never expected the result would make him somebody's daddy! Trina claimed not to need anything from him, but he was determined that his child have a father; he just didn't know if it should be him. Because a father's shoes...well, those he wasn't sure he could fill.
This book starts where book 1 ended: Walker Gordon being dumped at the altar. Walker was about to marry Brooke Tarantino; great-niece of the owners of Bellagio and Bellagio designed her wedding shoes. At the last minute Brooke decides to do the runaway bride-act and literally left the groom standing at the altar.

Trina Roberts, who works in the PR department at Bellagio's, has had a crush on Walker but he was off-limits because he was engaged.
After an alcohol-induced one-night-stand between them on the night of the cancelled wedding, Walker goes to Europe to recover from the embarrassment and Trina finds out she's pregnant. She knows Walker never wanted to be a father so she keeps it from him.

Then Walker returns to secure the Bellagio-account for his advertising company and finds out he has a daughter. He accepts his financial responsibilities but he also offers Trina to help find a man for her who will also be a good dad to their daughter. He has more trouble executing this offer than he anticipated and they find out Walker is more daddy material than he would have thought.

I loved Trina in this book! She is a heroine who knows she can't change her situation so she makes the best of it. She was witty and independent. I loved the scenes with her and Maddie, her daughter.
Walker is caring, responsible and a goal getter. He was practically invisible in book 1 but really stepped up to the plate in his own.
The chemistry between them is tangible throughout the entire book and I loved the way they grew toward each other. They went from a one-night-stand to two people who genuinely cared for each other.

The people surrounding Walker and Trina were lovely secondary characters. They complemented both them and the storyline perfectly.
I loved Walker's uncle Harry and his brother BJ and the little storyline concerning BJ and his girlfriend. Trina's mother was a bit of an annoying character at first but she quickly redeems herself by doing something very unexpected and nice.
And I got to "see" how Jenny and Marc from book 1 were doing which was a nice extra treat.


I liked book 1 in this trilogy but I loved this one. Both the storyline and the characters suited my taste and spoke more to me than the previous book.
It was funny and fast-paced but still it followed a believable pace considering the storyline. I had laugh-out-loud moments, but there were also some scenes that had me teary-eyed. The end was great. It had the emotions I seek in romance novels so I was fully satisfied after turning the last page.

I love Leanne Banks' writing style. It's fluent and easy-to-read. She creates characters you can't but like and empathize with, characters that have their flaws like we all have. It was a very nice read and I'm diving right into the third and last book of this trilogy. In this book the heroine of that one is introduced as a secondary character and I like her already.

If you like contemporary stories with a hint of chick-lit, Leanne Banks is the author to have on your bookshelves. I know that when I need a light, fun and recognizable read, I can grab one of her books anytime.

Nice to meet you!
Pearl

Netherlands
39, married to my real life romance hero, addicted to TV shows, reading romance novels and Twitter. I'm a chronic (e)book hoarder and my absolute favorite genres within romance fiction are contemporary romance and romantic suspense, but I don't shy away from historical, paranormal or erotic romance either. Even the occasional (urban) fantasy romance, futuristic and sci fi romance may make it to my Mount TBR. This is my corner of the world wide web where I let you know what books I'm hoarding, reading and reviewing.
View my complete profile

My Book-Providers
Reviews by Rating

Reviews by Genre
Reviews by Type

Reviews by Publisher

Fellow Bloggers


GR Reading Challenge
Pearl
has read 10 books toward her goal of 50 books.

On My TBR Shelf
Unforgivable - Laura Griffin
Snapped - Laura Griffin
Darkness at Dawn - Elizabeth Jennings
Sizzle and Burn - Alexis Grant
No Mercy - Lori Armstrong
Animal Magnetism - Jill Shalvis
Crazy for Love - Victoria Dahl
Kink - Saskia Walker/Sasha White
So Sensitive - Anne Rainey
Dark Taste of Rapture - Gena Showalter
The Darkest Secret - Gena Showalter
Vampire in Atlantis - Alyssa Day
Vampire Dragon - Annette Blair
Captive Spirit - Anna Windsor
Chosen by Blood - Virna DePaul
Rebel - Zoe Archer
Stranger - Zoe Archer
A Taste of Desire - Beverley Kendall
Mistress by Midnight - Maggie Robinson
To Desire a Devil - Elizabeth Hoyt
To Tame a Dangerous Lord - Nicole Jordan

Digital TBR Next
Driven - Jayne Rylon (reread)
Shifting Gears - Jayne Rylon
Beg Me - Shiloh Walker
Tempt Me - Shiloh Walker
Jazz Baby - Lorelie Brown
Playboy Prankster - Pamela Britton
Just Like That - Erin Nicholas
Sweet Inspiration - Penny Watson
Breathe - Donna Alward
My Gigolo - Molly Burkhart
Scent of Persuason - Nikki Duncan

Blog Archive