August 10, 2008
6:25 PM
|
Edit Post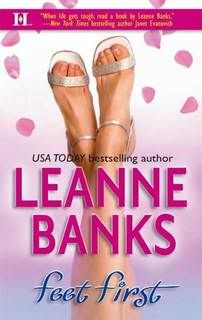 Back cover:
Designing footwear is Jenny Prillaman's life, so getting the plum assignment to create a socialite's wedding shoes is a dream come true. Dealing with the heiress is another story. So is staying away from her dreamy new boss, a man too hot to deny for long, despite Jenny's best intentions of keeping her business away from his pleasure.

Making Bellagio, Inc. and international success is executive Mark Waterson's career ambition. But his life's desire is to find the right woman and settle down. Too bad Jenny would rather follow in his corporate footsteps than try on the glass slipper of a company wife.
At least Mark's got one thing going for him--the way to a woman's heart is through a really great pair of shoes!
Jenny Prillaman is the assistant for one of Bellagio's main shoe designers. She has a secret crush on Bellagio's Vice-President and dreams of being a real designer some day. When her boss is incapacitated by circumstances she gets her big break in designing wedding shoes for Atlanta's high society wedding of the year.

Bellagio's VP Marc Waterson is happy with his life but he does want to settle down with a wife and family. In order to find said wife he has drawn up a plan to find the perfect woman. He has a whole list of rules and requirements and Jenny certainly doesn't meet any of them.
But when Jenny and Marc are thrown together working on the big wedding, one thing leads to another. They decide to have a secret affair, but both didn't count on the affair growing into something much more than that.

Jenny and Marc are the proverbial opposites that attract.
Marc is orderly and has a plan of action for everything he does, both in business and in his personal life. He is the textbook control freak.
Jenny is the total opposite. Spontaneity rules her life and she doesn't plan. She goes through life winging it and taking it day by day.
But as different as they are, they both are attracted to the qualities in the other that they don't have.

Both Jenny and Marc are down-to-earth and lifelike characters. They have their flaws like everyone has and are very easy to identify with and relate to.
Jenny was like a fresh breeze throughout the book. She was funny, realistic, kind and compassionate. She lacks any presumptions or pretentions and I liked her best.
Marc annoyed me a bit in the beginning, for instance by constantly not remembering Jenny's name and calling her all kinds of variations to her name (Jenna, Ginger, Jerri, Jill, Gena). This was funny in an endearing way the first two times but after that it started to bother me. Fortunately it stopped after a few chapters.
And Marc's plan at the end to win Jenny's heart really salvaged his character and made up for the annoyance in the beginning.

The focus of the book was on Marc and Jenny. But there were some secondary characters that were fun to read. They supported both Marc and Jenny in their blossoming relationship but didn't poke their nose in everything.

This was an easy and light read. For me it was a nice change to some intense books I've been reading lately. It was fun and endearing with recognizable situations. Things that could happen to you and me and everyday issues we all deal with.

I did like the second half better than the first because that was where Marc stepped to the plate, let go of his find-the-perfect-wife plan and gave Jenny a real chance.
It's hard to describe why but the book didn't wow me. It's a nice book when you don't want some heavy reading and you're in the mood for some relaxation. This was the right book to wind down with.
Nothing more and but certainly nothing less either because even if it's simple and not mind-blowing it's still a very well-developed and well-written story with believable contemporary characters whose flaws make them very likeable.

The perfect book when you want an uncomplicated and warm story to spend some pleasurable reading hours with.

Nice to meet you!
Pearl

Netherlands
39, married to my real life romance hero, addicted to TV shows, reading romance novels and Twitter. I'm a chronic (e)book hoarder and my absolute favorite genres within romance fiction are contemporary romance and romantic suspense, but I don't shy away from historical, paranormal or erotic romance either. Even the occasional (urban) fantasy romance, futuristic and sci fi romance may make it to my Mount TBR. This is my corner of the world wide web where I let you know what books I'm hoarding, reading and reviewing.
View my complete profile

My Book-Providers
Reviews by Rating

Reviews by Genre
Reviews by Type

Reviews by Publisher

Fellow Bloggers


GR Reading Challenge
Pearl
has read 10 books toward her goal of 50 books.

On My TBR Shelf
Unforgivable - Laura Griffin
Snapped - Laura Griffin
Darkness at Dawn - Elizabeth Jennings
Sizzle and Burn - Alexis Grant
No Mercy - Lori Armstrong
Animal Magnetism - Jill Shalvis
Crazy for Love - Victoria Dahl
Kink - Saskia Walker/Sasha White
So Sensitive - Anne Rainey
Dark Taste of Rapture - Gena Showalter
The Darkest Secret - Gena Showalter
Vampire in Atlantis - Alyssa Day
Vampire Dragon - Annette Blair
Captive Spirit - Anna Windsor
Chosen by Blood - Virna DePaul
Rebel - Zoe Archer
Stranger - Zoe Archer
A Taste of Desire - Beverley Kendall
Mistress by Midnight - Maggie Robinson
To Desire a Devil - Elizabeth Hoyt
To Tame a Dangerous Lord - Nicole Jordan

Digital TBR Next
Driven - Jayne Rylon (reread)
Shifting Gears - Jayne Rylon
Beg Me - Shiloh Walker
Tempt Me - Shiloh Walker
Jazz Baby - Lorelie Brown
Playboy Prankster - Pamela Britton
Just Like That - Erin Nicholas
Sweet Inspiration - Penny Watson
Breathe - Donna Alward
My Gigolo - Molly Burkhart
Scent of Persuason - Nikki Duncan

Blog Archive