August 12, 2008
10:01 PM
|
Edit Post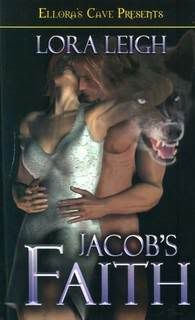 Back cover:
They are a new breed, a new race. Engineered rather than born, trained rather than raised, and their unique genetics have created more than one surprise…
Jacob left Faith six years before, unaware that the mark he left on her also left her in an agony of sexual heat that never dimmed. Now Jacob and Faith are together again, but surprises lurk around every corner and dangers as dark and deadly as their very creation surround them in more ways than one.
Six years ago Faith was given to Jacob in the Council labs. Jacob had always had feelings for the young Faith but knowing the scientist could use any weakness against him he did not show his feelings. Faith is drugged with a powerful aphrodisiac that brings forth an arousal that causes a need deep within Jacob to dominate her. In the process of their mating and after he marks her, the Labs explode and the Breeds, including Jacob and Faith, escape.

Since then Jacob has been avoiding Faith giving her time to grow and forgive him for that night but he is not aware that the mark he left on her has left her in an agony of need for him until she is sent to him and danger threatens her.
Marked and then abandoned for over six years by her mate, Faith welcomes him with anger and defiance when he finally returns to claim her.
And who can blame her, she's been in heat for six years and Jacob has left her hanging.

At first it wasn't clear to me why Jacob did this and why he waited so long to claim Faith as his mate but later in the story it was made clear that he felt extremely guilty about what he did to Faith in the Labs. He is afraid his animal instinct to dominate will prevent him from being gentle and tender with her and he is afraid that being with him will bring her life in danger because the Council is still hunting the Breeds they have lost control over.
But Faith never felt that way and always waited for him to come back. She became bitter and angry towards Jacob for leaving her.

In this Breeds book I was introduced to a new combination: two Breeds who mate instead of a Breed and a human.
Both of them want the other but they have their reasons for resisting. Jacob because of his guilt. Faith because of her fear he will leave her again. However, this resistance doesn't show in the sexual aspect of their relationship. They go at it like rabbits, and normally this doesn't bother me but in Jacob and Faith's relationship it just didn't fit with the emotional struggle they were having with themselves and each other.
Faith challenges and taunts Jacob until he stops seeing her as the fragile and delicate girl from the Labs. She has grown into a strong and independent woman who knows how to handle him and his primal desires. But Jacob keeps pushing her away, claiming he doesn't want to hurt her.

I had trouble getting into the story in the first half of this book. There was just a lot of sex scenes and very little plot and Jacob kept annoying me with his guilt and the denial of his feelings towards Faith under the cloak of not wanting to hurt her, but it just came down to the fact that he was afraid of his feelings and he was acting like a coward. He didn't see that he was actually hurting her more by abandoning her and pushing her away every time.
I kept this feeling of detachment throughout the whole story despite the fact that I did like Faith's character. She was feisty, mouthy and didn't let Jacob get away with his behavior. But I did not experience the searing emotional highs I normally do when reading an installment in the Breeds series. It just felt off somehow.

I think the Wolf Breeds are not my cup of tea. I can't relate to their stories and characters as much as I do the ones of the Feline Breeds. It just didn't click with me like the Feline books do.
It seems like a totally different world, both in characterization as in writing. Of the Wolf Breeds I've read the focus is mainly on the heat between the hero and heroine and there is a small, but very thin, plot. In this book this was also the case.

But there were also positive things about the book. It's still of high quality within the erotic romance genre even if the focus was a little towards the erotic side this time around.
The second part of the book was much better than the first. Jacob started behaving more like the mate he was supposed to be and he opened up to Faith and let her into his heart. His concern and protectiveness were still there but it was dosed in a more acceptable way.
The verbal sparring between Faith and Jacob certainly kept me entertained. Faith doesn't keep quiet because Jacob is an Alpha Enforcer. She defies and negotiates for what she wants and gives as good as she gets.
The plot was thin but with intriguing revelations about the Council and a new kind of Breed besides the Wolves, Felines and Coyotes. Also in this book I got more insight as to what actually happened in the Council's Labs and the effect that has on the Breeds. This is something that isn't covered as extensively in the Feline books so far.
And again the end of this book holds promise for the next book. The epilogue can be read as an introduction of the hero and heroine of the next book and again it offers potential but I'm careful in saying that because so did Jacob and Faith at the end of the previous book and for me their story didn't answer that promise.
Quotes:
Some lowlife in a bar and Faith:
"You readee to play, leetle gurl?" He asked her in halting English.
Faith barely managed to keep from rolling her eyes. Oh yeah, she really wanted to play, her life's ambition was to play with a King Kong wannabe with the brains of a gnat.

Her voice was soft, so gentle and sweet it destroyed him. And in it, he heard her love. As though her soul had opened and from it the nectar of an emotional banquet poured. It washed over him. It seeped into scars and wounds he never knew he had, deep within his own soul.

Nice to meet you!
Pearl

Netherlands
39, married to my real life romance hero, addicted to TV shows, reading romance novels and Twitter. I'm a chronic (e)book hoarder and my absolute favorite genres within romance fiction are contemporary romance and romantic suspense, but I don't shy away from historical, paranormal or erotic romance either. Even the occasional (urban) fantasy romance, futuristic and sci fi romance may make it to my Mount TBR. This is my corner of the world wide web where I let you know what books I'm hoarding, reading and reviewing.
View my complete profile

My Book-Providers
Reviews by Rating

Reviews by Genre
Reviews by Type

Reviews by Publisher

Fellow Bloggers


GR Reading Challenge
Pearl
has read 10 books toward her goal of 50 books.

On My TBR Shelf
Unforgivable - Laura Griffin
Snapped - Laura Griffin
Darkness at Dawn - Elizabeth Jennings
Sizzle and Burn - Alexis Grant
No Mercy - Lori Armstrong
Animal Magnetism - Jill Shalvis
Crazy for Love - Victoria Dahl
Kink - Saskia Walker/Sasha White
So Sensitive - Anne Rainey
Dark Taste of Rapture - Gena Showalter
The Darkest Secret - Gena Showalter
Vampire in Atlantis - Alyssa Day
Vampire Dragon - Annette Blair
Captive Spirit - Anna Windsor
Chosen by Blood - Virna DePaul
Rebel - Zoe Archer
Stranger - Zoe Archer
A Taste of Desire - Beverley Kendall
Mistress by Midnight - Maggie Robinson
To Desire a Devil - Elizabeth Hoyt
To Tame a Dangerous Lord - Nicole Jordan

Digital TBR Next
Driven - Jayne Rylon (reread)
Shifting Gears - Jayne Rylon
Beg Me - Shiloh Walker
Tempt Me - Shiloh Walker
Jazz Baby - Lorelie Brown
Playboy Prankster - Pamela Britton
Just Like That - Erin Nicholas
Sweet Inspiration - Penny Watson
Breathe - Donna Alward
My Gigolo - Molly Burkhart
Scent of Persuason - Nikki Duncan

Blog Archive