August 22, 2008
10:28 PM
|
Edit Post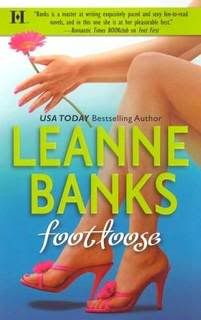 Back Cover:
Think working for a leading international shoe company sounds like a dream job? Not if you're Amelia Parker, an overworked, downtrodden temp working for Bellagio, Inc.'s grand dame, Lillian Bellagio. But things are looking up for Amelia. She's just been given the assignment of accompanying Ms. Bellagio to her estate in the Keys. Trading pumps for flip-flops and a cell phone for a conch shell—could be worse, right?

Especially when life on the island includes her very own mystery man—one Jack "The Shark" O'Connell, dashing venture capitalist. He dares Amelia to use this time to do something wild: drink a hurricane, go skinny-dipping...have an affair with a dangerously attractive man. Now Amelia will have to decide whether to step into that glass slipper.
They meet on the Keys where Jack O'Connell is combining a vacation with business he wants to conduct with the grand dame of Bellagio Inc., Lillian Bellagio. Amelia Parker has temporarily been sent to the Keys as Lillian's personal assistant. She uses this assignment to get over the breakup with her fiancé.
Amelia has always accommodated her ex in everything: school, career, behavior, and appearance. She constantly put his wishes first but when he breaks up with her for the second time in a few weeks and tells her he has fallen in love with someone else, something inside her breaks and she's determined to never fall in love again.
But what starts as a holiday fling, soon becomes more and they realize that they have feelings for each other that go much deeper than some holiday affair.

Jack is a self-made man. He has worked himself up to the man he is now, driven to escape his sad and difficult childhood. He yearns for a sense of belonging, even if he has a hard time acknowledging this desire.
His connection to the Bellagio family is a surprising one and one I didn't see coming until it was revealed in the plotline.

Professionally Amelia can plan and organize everything and anyone without batting an eye but arranging her own personal life proves to be more of a challenge to her. After Will she has trouble finding her own individuality and making her own choices again.

Jack challenges and inspires Amelia to come out of her comfort zone and do things she normally wouldn't. I loved the chemistry between Jack and Amelia. They were perfect together. They both start a little on the negative side because Jack is using Amelia for information on Bellagio. Jack's motives for chatting up to Amelia aren't quite without ulterior (business) motives when he finds out she works for Bellagio. And Amelia is a little bit too hung up on her ex. But throughout the story they redeemed themselves magnificently. They both grew emotionally during the book.

The dynamics were a bit different than I'm used in the romance novels I read. For a change it was Jack who is first to realize that his feelings for Amelia were more than some vacation fling. Usually it's the heroine who is aware of this first and tries to make more of the relationship but Amelia was determined at first to see Jack as her guilty pleasure to get over Will and nothing more than a passionate past-time during her stay on the Keys. Even when they continue their affair at home she wants to keep it under wraps and doesn't want other people, especially her colleagues at Bellagio, to know they are an item.

The supporting cast is a mix of previous main couples and recurring secondary characters from the two previous books in the trilogy. But a few new secondary characters also make an appearance. I liked Amelia's mother and sisters and there's a scene concerning Amelia's sister's bachelorette party that's really hilarious.
There are slightly bigger secondary roles for Marc Waterson (hero book 1) and Brooke Tarantino (the runaway bride from book 1). We get acquainted with Brooke again and she is still the quintessential spoiled, selfish and irresponsible brat. She is used to getting what she wants and attracts trouble like a magnet.

I'm sad that the trilogy has ended because I enjoyed the Bellagio books and would have been happy to see more stories in this setting.
But I'll have to make do with Leanne Banks' other books, which will hopefully provide as delightful reading as these ones did.
I can't decide which book I liked better, this one or book 2. They were both wonderful reads with many laughs but also heart in the throat-moments. Each couple and their story is unique and a combination of fun and emotions. This book was a bit more sensual than the previous two. I think this was because of Jack's character. He was a different hero than Walker and definitely different from Marc. He was more spontaneous and less inhibited. He really brought out Amelia's sensual side too.

I haven't read much contemporary romance but I know Leanne Banks is going to be one of my favorites. Every book has its own vibe and feel. The connecting factor is the Bellagio shoe company. In this trilogy she combines fun, emotions and every-day situations into fast-paced and enjoyable books.

Nice to meet you!
Pearl

Netherlands
39, married to my real life romance hero, addicted to TV shows, reading romance novels and Twitter. I'm a chronic (e)book hoarder and my absolute favorite genres within romance fiction are contemporary romance and romantic suspense, but I don't shy away from historical, paranormal or erotic romance either. Even the occasional (urban) fantasy romance, futuristic and sci fi romance may make it to my Mount TBR. This is my corner of the world wide web where I let you know what books I'm hoarding, reading and reviewing.
View my complete profile

My Book-Providers
Reviews by Rating

Reviews by Genre
Reviews by Type

Reviews by Publisher

Fellow Bloggers


GR Reading Challenge
Pearl
has read 10 books toward her goal of 50 books.

On My TBR Shelf
Unforgivable - Laura Griffin
Snapped - Laura Griffin
Darkness at Dawn - Elizabeth Jennings
Sizzle and Burn - Alexis Grant
No Mercy - Lori Armstrong
Animal Magnetism - Jill Shalvis
Crazy for Love - Victoria Dahl
Kink - Saskia Walker/Sasha White
So Sensitive - Anne Rainey
Dark Taste of Rapture - Gena Showalter
The Darkest Secret - Gena Showalter
Vampire in Atlantis - Alyssa Day
Vampire Dragon - Annette Blair
Captive Spirit - Anna Windsor
Chosen by Blood - Virna DePaul
Rebel - Zoe Archer
Stranger - Zoe Archer
A Taste of Desire - Beverley Kendall
Mistress by Midnight - Maggie Robinson
To Desire a Devil - Elizabeth Hoyt
To Tame a Dangerous Lord - Nicole Jordan

Digital TBR Next
Driven - Jayne Rylon (reread)
Shifting Gears - Jayne Rylon
Beg Me - Shiloh Walker
Tempt Me - Shiloh Walker
Jazz Baby - Lorelie Brown
Playboy Prankster - Pamela Britton
Just Like That - Erin Nicholas
Sweet Inspiration - Penny Watson
Breathe - Donna Alward
My Gigolo - Molly Burkhart
Scent of Persuason - Nikki Duncan

Blog Archive