August 17, 2008
6:27 PM
|
Edit Post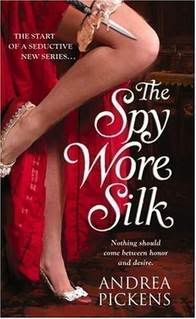 Back Cover:
They were once orphans from London's roughest slums. Now they are students of Mrs. Merlin's Academy for Select Young Ladies, learning the art of spying and seduction. Bold, beautiful, and oh-so-dangerous, they are England's ultimate secret weapons...

A DUEL BETWEEN DUTY...
The most skilled of Merlin's Maidens, Siena must unmask a traitor lurking among an exclusive club of book collectors. Armed with only her wits, her blades, and her sultry body, she joins the gentlemen at a country house party. But her prime suspect, disgraced ex-army officer Lord Kirtland proves as enigmatic as he is suspicious-and sinfully sensuous.

AND DESIRE.
Kirtland's instincts tell him the enticing "Black Dove" is hiding more than a luscious body beneath her fancy silks. Yet as he starts to plumb her secrets, a cunning adversary lays plans to destroy them both. To live, Siena must end her tantalizing dance of deception and desire-and decide whether to trust her head or her heart...
Siena is a student of Madame Merlin's Academy of Select Young Ladies. A school that takes in orphaned girls from the streets with no future and train them in marital arts, use of all kinds of weapons and seduction.
When a traitor is smuggling information to the French with the use of rare, priceless books, Siena gets the chance to prove herself in her first assignment. She infiltrates The Gilded Page Club, a gentlemen's club of book collectors. She poses as a courtesan looking for her next protector among them but in fact she's looking for the traitor.
All the members of the Club are willing to undergo her challenges to be her protector, except Julian Henning, Earl of Kirtland. He is an officer who was court-martialed for insubordination and the victim of gossip from the "ton."
He suspects there is more to Siena than she is trying to make them believe and doesn't trust her.

Kirtland is dark and brooding, both in character and appearance. After his dismissal from the Army he has isolated himself from Society except for his book club. He has an almost obsessive love for (rare) books. He is headstrong, outspoken and convinced of the rightness of his actions and decisions. He's a man of principles and sometimes doesn't know when to compromise. He seems cold but Siena brings out the man behind the mask and thaws his stubborn heart.

Siena is a bit suspicious of other people's motives and intentions because of her past in the streets. She depends only on herself and her skills. Sometimes she came across as a bit insecure but she was a feisty heroine with a big heart.

There are many secondary characters who play a role in this book: Siena's fellow students, especially Shannon, Kirtland's fellow book collectors who are all suspects and the illustrious and mysterious Russian Alexandr Orlov. Sometimes some of them even took the focus away from Siena and Kirtland and this is something I don't applaud in books. I think the main characters should have centre stage. Also the set up for future books is made with the introduction of some of these secondary characters. You just know their books are lingering in the future somewhere.

I love historical romances set in this time period, the time of Napoleon. And I love female spies so this book should have been right up my alley. But unfortunately it wasn't that entirely. I absolutely liked it but I had expected more.

It starts very promising but somewhere along the story the dynamics change. It's as if the tension is being built up and then it just flattens out. In my opinion the cause for this is with Siena. She trusts and confides in Kirtland out of the blue while he is still a suspect. She has no reason whatsoever to believe he is innocent and still she trusts him with the truth about who she is and what she is doing.
This made the first part great but the second part of the book couldn't keep that same amount of quality.
Combined with the occasional dominance of some secondary characters it made this book a nice read for me instead of a great one.

Nice to meet you!
Pearl

Netherlands
39, married to my real life romance hero, addicted to TV shows, reading romance novels and Twitter. I'm a chronic (e)book hoarder and my absolute favorite genres within romance fiction are contemporary romance and romantic suspense, but I don't shy away from historical, paranormal or erotic romance either. Even the occasional (urban) fantasy romance, futuristic and sci fi romance may make it to my Mount TBR. This is my corner of the world wide web where I let you know what books I'm hoarding, reading and reviewing.
View my complete profile

My Book-Providers
Reviews by Rating

Reviews by Genre
Reviews by Type

Reviews by Publisher

Fellow Bloggers


GR Reading Challenge
Pearl
has read 10 books toward her goal of 50 books.

On My TBR Shelf
Unforgivable - Laura Griffin
Snapped - Laura Griffin
Darkness at Dawn - Elizabeth Jennings
Sizzle and Burn - Alexis Grant
No Mercy - Lori Armstrong
Animal Magnetism - Jill Shalvis
Crazy for Love - Victoria Dahl
Kink - Saskia Walker/Sasha White
So Sensitive - Anne Rainey
Dark Taste of Rapture - Gena Showalter
The Darkest Secret - Gena Showalter
Vampire in Atlantis - Alyssa Day
Vampire Dragon - Annette Blair
Captive Spirit - Anna Windsor
Chosen by Blood - Virna DePaul
Rebel - Zoe Archer
Stranger - Zoe Archer
A Taste of Desire - Beverley Kendall
Mistress by Midnight - Maggie Robinson
To Desire a Devil - Elizabeth Hoyt
To Tame a Dangerous Lord - Nicole Jordan

Digital TBR Next
Driven - Jayne Rylon (reread)
Shifting Gears - Jayne Rylon
Beg Me - Shiloh Walker
Tempt Me - Shiloh Walker
Jazz Baby - Lorelie Brown
Playboy Prankster - Pamela Britton
Just Like That - Erin Nicholas
Sweet Inspiration - Penny Watson
Breathe - Donna Alward
My Gigolo - Molly Burkhart
Scent of Persuason - Nikki Duncan

Blog Archive