August 6, 2008
9:00 PM
|
Edit Post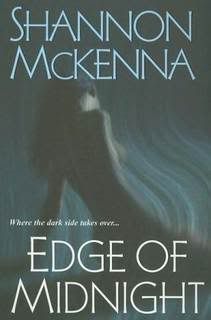 Back cover:
Shannon McKenna creates characters readers never forget--and in her latest novel, Sean McCloud must protect the woman he has never stopped loving: Liv Endicott. Years ago, Sean had to send Liv Endicott away to save her life. Now he has to keep her closer, very close--for the same reason . . .

THE BREAKING POINT
On the very day an arsonist burns down Liv's bookstore in a small town in the Washington mountains, she finds fate has another shock in store for her. Amid the smoke, rubble and tears, Sean McCloud appears, calling her name. He's every inch the man he always was--the man she kept on wanting. But wanting is not the same as trusting, and she doesn't dare let him get too close. Yet a ruthless killer is gunning for Liv, and she'll die unless they join forces to unearth a chilling truth--and come together in a blaze of searing passion . . .
I was only able to write this review after picking myself up from the melted puddle I turned into while reading this book. Sean McCloud's story didn't just tug on my heartstrings; it ripped them out with the force of a heat-seeking missile. This is one of the few times a book leaves me in total awe, not able to get my brain cells to form a coherent thought. It was an experience I won't soon forget.

It had all of the things I like about McKenna's books and then some more just to dazzle me. And she really took me by surprise this time. Toning things down in Davy's book (the one preceding this one) just to deliver the fatal blow with Sean. Easygoing, womanizing, bantering, provoking and teasing Sean who turned out to be one heck of a hero. He had me laughing and crying at the same time.
And he had a heroine to match because Olivia "Liv" Endicott rocked it! She's my favorite McKenna heroine to date.

I'm really enjoying the change and development McKenna's heroines have gone through compared to the first two books in this series. While Raine and Erin had to grow throughout the book into the strong and determined women they were deep down, Margot and Liv kick right into gear from the very start and don't take any nonsense from their McClouds.

Liv was the fierce, sassy and brave heroine who knew how to save herself when needed. She doesn't let anyone get the better of her and takes everything in stride: her parents, her life, her stalker and even Sean. She is the only woman who could turn Sean into a caveman going for his woman with the subtlety of a rabid bull. If I hadn't been sitting down while reading, I would have gone to my knees at these scenes.
But it was so much more than Sean and Liv.

It was the plot which was so fast-paced and action-packed I couldn't let go of the book until I finished it. And when I was finished I felt both satisfied and sad. It was an amazing read, but it was over. No more Liv, no more Sean, no more Tam, no more Davy and Connor, no more Miles and Cindy. No more blood chilling evil mad scientist and his crazy assassin.

McKenna is a master at plotting. She moves, shuffles, spins and turns secondary plots and characters until they form a perfectly connected whole, coming together with the primary plot in a heartrending, nail biting and tear jerking concluding climax. There were so many scenes that touched my senses. Whether they were funny, sad, antagonizing or just plain scorching hot, every scene did something to me and that's exactly how I like my reads.

To say I loved this book is the understatement of the century. This ultimate combination of erotic romance and suspense was the best McCloud book for me yet! The characters (both primary and secondary), the dialogues, the interactions and dynamic between the characters, the love scenes (Man! The love scenes...), the suspense plot, the secondary storylines, it all fit together like pieces of a perfect puzzle. The plot twist at the end has me confused and curious. Could it really be? No! McKenna is really not going there, is she?

And it was the secondary characters that complemented the plot and main characters to a tee.
The McCloud brothers were plenty present in this installment, giving Sean the backup he needed, but also putting him in his place when needed. It was great to have a look in the lives of the McClouds with their wives. The verbal fights, I can hardly call it conversations, between Sean and his brothers and Miles were hilarious and had me laughing out loud. McKenna knows how to do brotherly bantering, teasing and lecturing like no one else. But you could also feel the love between them. It oozes from practically every scene with more than one McCloud in it.

The secondary storyline of Cindy and Miles that started in Connor's book (STANDING IN THE SHADOWS) takes a nice turn in this one and I hope it will be continued in the following books of this series. Though I still think Cindy is a bit too shallow and superficial McKenna has done an excellent job in giving her more depth but it's doubtful she will turn out to be heroine material. Hence the secondary storyline I guess.

But you never know, who would have guessed Tam was going to have her own book when she first appeared in the series? Not me.
Speaking of Tam. All the secondary characters were great but she was amazing. Where in the previous books she just made brief but memorable appearances in this one she caught and really held my attention. Tough as nails but you feel the hurt and vulnerability underneath. I can't wait to read her book to see who is going to be the man able to tame her alpha, take-no-prisoners, and cynical personality.

Liv's mother annoyed the daylights out of me. Really she was so antagonizing I wanted to take that woman out of the pages and strangle her until she would just shut up. She is the classic example of the terrible, stuck up, interfering mother in law.
And the villains, I thought Marcus and Faris (from OUT OF CONTROL, previous book) were bad, well they were nothing next to Chris and Gordon, who literally made my stomach turn with some of their actions. McKenna's bad guys are really frightening and I would love to pick her brain on where she comes up with them and their horrible intentions.

It was also the love scenes that were so steamy I'm considering using this book as my personal heater during cold winter nights. I thought with reading Elizabeth Amber and Lora Leigh I had broadened my sexual horizon quite a bit, but in comes McKenna and stretches it just a bit more
Now McKenna is known for her extremely hot and erotic scenes but there was one love scene with acts I haven't encountered anywhere else. Nothing depraved or weird, just new to me and totally different. Her books should come with a warning of spontaneous combustion.

I hate to use clichés but Shannon McKenna rules! She's superior in the erotic romantic suspense genre and leaves all others behind. She has been on auto-buy before I even read a single book by her hand, just her back cover blurbs and excerpts did it for me and that proves my book-buying instincts work splendidly and I should always trust them when I'm ordering my books.
Quotes:
Miles and Sean
"This might come as a shock to you, but some people actually do things for reasons which are not specifically aimed at obtaining sex."
Sean widened his eyes. "Really? It worries me to hear a healthy twenty-five-year-old male say stuff like that. Either you're ill, you're pathologically screwed in the head, you're a closet gay, or you're lying."

Davy to Sean
"If you get in trouble tonight, I'm going to rip off one of your arms and beat the shit out of you with it," he warned.
Rating: 10 out of 10
Nice to meet you!
Pearl

Netherlands
39, married to my real life romance hero, addicted to TV shows, reading romance novels and Twitter. I'm a chronic (e)book hoarder and my absolute favorite genres within romance fiction are contemporary romance and romantic suspense, but I don't shy away from historical, paranormal or erotic romance either. Even the occasional (urban) fantasy romance, futuristic and sci fi romance may make it to my Mount TBR. This is my corner of the world wide web where I let you know what books I'm hoarding, reading and reviewing.
View my complete profile

My Book-Providers
Reviews by Rating

Reviews by Genre
Reviews by Type

Reviews by Publisher

Fellow Bloggers


GR Reading Challenge
Pearl
has read 10 books toward her goal of 50 books.

On My TBR Shelf
Unforgivable - Laura Griffin
Snapped - Laura Griffin
Darkness at Dawn - Elizabeth Jennings
Sizzle and Burn - Alexis Grant
No Mercy - Lori Armstrong
Animal Magnetism - Jill Shalvis
Crazy for Love - Victoria Dahl
Kink - Saskia Walker/Sasha White
So Sensitive - Anne Rainey
Dark Taste of Rapture - Gena Showalter
The Darkest Secret - Gena Showalter
Vampire in Atlantis - Alyssa Day
Vampire Dragon - Annette Blair
Captive Spirit - Anna Windsor
Chosen by Blood - Virna DePaul
Rebel - Zoe Archer
Stranger - Zoe Archer
A Taste of Desire - Beverley Kendall
Mistress by Midnight - Maggie Robinson
To Desire a Devil - Elizabeth Hoyt
To Tame a Dangerous Lord - Nicole Jordan

Digital TBR Next
Driven - Jayne Rylon (reread)
Shifting Gears - Jayne Rylon
Beg Me - Shiloh Walker
Tempt Me - Shiloh Walker
Jazz Baby - Lorelie Brown
Playboy Prankster - Pamela Britton
Just Like That - Erin Nicholas
Sweet Inspiration - Penny Watson
Breathe - Donna Alward
My Gigolo - Molly Burkhart
Scent of Persuason - Nikki Duncan

Blog Archive