August 4, 2008
7:59 PM
|
Edit Post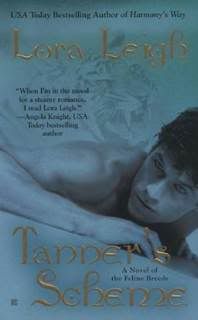 Back cover:
A one-time high-ranking member of the Genetics Council, Scheme Tallant's father will stop at nothing to see the Feline Breeds eradicated. Even if it means killing his own daughter...

After the Breeds' main base is attacked, Tanner Reynolds desires revenge -and knows just how to get it. In a bold move, he kidnaps Scheme Tallant and takes her deep into the Kentucky mountains. Yet when Tanner discovers that Scheme herself is a target in her father's ruthless mission, his vengeance must take a backseat to saving the life of the woman he hopes to claim as his mate. But can Scheme trust Tanner -or is she just a pawn of his passion and ploys?
Scheme Tallant is general Cyrus Tallant's daughter. The general is a Genetics Council member who used to run numerous Labs with a firm and torturous hand. General Tallant is bent on revenge on the Breeds and he's willing to do anything to annihilate them. Even sacrifice his only child. Especially when he discovers she has been betraying him when he thought she was helping him. Secretly she has been working for the Breeds, trying to sabotage as many of her father's actions as she can. When Tanner Reynolds, the Breeds publicity darling, kidnaps her in order to stop the General, she discovers that her father's torture was nothing compared to the agony of not being able to disclose her father's evil plans in time to stop him.

Tanner Reynolds is the Breeds' trump card in the battle against the Genetics Council. The people love him and the Genetics Council and the purist can't touch him because of the repercussions it will have on popular opinion. Tanner has been plotting to kidnap Scheme for years and it's not entirely about her supposed actions against the Breeds. He's obsessed and fascinated by her. But her kidnapping brings things to the surface that make it hard for Tanner to turn her in to Breed Law. Little by little he discovers that Scheme isn't what he thought she was. She is just as much a victim of her vicious father as the Breeds are.
But with betrayal, deceit and hostility between them claiming her as his mate and saving her and the ones she's trying to save, will involve more than Tanner might be willing to relinquish.

From the very first time he appeared in this series and in every following book he was mentioned, Tanner has captivated me and he definitely didn't disappoint me in his own book. He was portrayed as the playful, cheerful, easy-going and calm Breed. The spokesman for the Breeds with a playboy reputation and rumored sexual proclivities.
But his calm and easy to handle veneer is a very good cover for the merciless and cunning primal animal that lies beneath. He has always been able to control his animal side. It was imperative for him to do so because he never wants to return to being the animal he was forced to be in the Genetic Council's labs.
But in order to claim Scheme as his mate he will have to. She challenges his control to the fullest and can only be claimed and mated by the animal he is deep down.

Scheme doesn't know the words quitting or giving up. She's tenacious; she has to be in order to survive. Her father has tried to break her both physically as mentally but her resilience and tenacity have managed to pull her through every ordeal her father has presented her with.
She lives up to the name she was given. Working as a double agent she has perfected the art of deception and manipulation. She can fool anyone. But she hasn't counted on Tanner. His senses are so highly developed he can smell and sense things no other Breeds can. And he knows how to get to Scheme.

Tanner and Scheme are the perfect match. They are the first couple in the series that really start out as opponents at the two sides in the battle. This sets a unique and tense dynamic between them despite the fierce attraction and the fact that they are mates.
Their erotically charged dialogues sizzle with smart bantering and witty challenge from both sides. Though they are extremely strong personalities they are each other's biggest weakness. It seems contradictory but they have the ability to destroy the other, yet can't because that would destroy themselves.
They both love and crave control and don't pass an opportunity to make their mark with one another.
The journey to their happiness is a difficult one. A variety of complications and misery is thrown their way and even the mating heat doesn't manifest in the way it has with the other mated couples.

The supporting cast of characters as always is divers and colorful. In this book Callan's pride makes a bigger appearance as in the previous ones. Which is logical because Tanner is a member of that pride and they are close to him. We see Callan, his son David who is a lovely young boy and a true alpha Breed in the making, Merinus and a very quick mention of Roni and Taber. But Sherra, Kane and Dawn also make a quick drive-by.

But the one who really impressed me in this installment was Cabal, Tanner's genetic twin. He is Tanner's mirror image. They form two halves of a whole with Tanner being the light and likeable one. Cabal is the dark, brooding, complicated one. I for one can't wait to see how he will deal with the mating heat. As much as I was anticipating Tanner's story, I now have another agonizing wait ahead of me, the wait for Cabal's story. The little revelations about him are very, very intriguing.

Jonas' role in this book was more subtle than is previous books but he is still the one manipulating and controlling many events and the pieces on the game board of the battle between the Breeds and the Council. The only one who has a bit of insight in him is Jessica Warden, the Breeds' attorney and his bed partner. She isn't his mate and I'm wondering if she is destined to be a Breeds' mate. If so who it will be and how that's going to play out?

Scheme's father was a secondary character that really repelled me. He is a horrible man. The things he's done to Scheme are truly appalling. He is cold-hearted and cruel. He's a villain who really believes his actions and torments are for the greater good. He believes he's doing the world a favor by wiping out the Breeds and doesn't care who he has sacrifice in order to do so.

All my favorite elements were present in this installment of the Breeds: the intense and erotic mating game and battle of wills between Tanner and Scheme, the manipulating Jonas Wyatt, the characters from the first Feline Breed books and the ongoing storylines. One of these storylines seems to be solved and wrapped up in this book. I say "seems" because with Lora Leigh you never know. I though I had the mating stuff figured out by now, after reading 8 books in the series, but man Lora Leigh ambushed me again by giving it yet another different twist. She just keeps surprising me, showing me I don't get to relax and sit back. I have to stay alert for her inexhaustible imaginative skills. The thing I like so much with her writing is that she takes recurring elements like this mating heat or erotic scenes and uses them differently in every book, creating a stories that keeps enthralling me and pushes me to the next book just to know what she's cooked up for the next couple.

Yet another Breed book that has taken me through the entire scope of emotions. I laughed, I feared, I cried, I was furious and I was turned on! Lora Leigh knows how to make you feel anything and everything reading her books. Especially the ones in the Breeds series.
Quotes
It was all he could do to keep the mocking amusement on his face rather than go to his knees and drool like a cur dog as she walked past.
Bengal Tigers did not drool.

He grinned, a shiverlicious kind of grin that made a woman want to just eat his lips up. Not to mention other parts of his body.

Nice to meet you!
Pearl

Netherlands
39, married to my real life romance hero, addicted to TV shows, reading romance novels and Twitter. I'm a chronic (e)book hoarder and my absolute favorite genres within romance fiction are contemporary romance and romantic suspense, but I don't shy away from historical, paranormal or erotic romance either. Even the occasional (urban) fantasy romance, futuristic and sci fi romance may make it to my Mount TBR. This is my corner of the world wide web where I let you know what books I'm hoarding, reading and reviewing.
View my complete profile

My Book-Providers
Reviews by Rating

Reviews by Genre
Reviews by Type

Reviews by Publisher

Fellow Bloggers


GR Reading Challenge
Pearl
has read 10 books toward her goal of 50 books.

On My TBR Shelf
Unforgivable - Laura Griffin
Snapped - Laura Griffin
Darkness at Dawn - Elizabeth Jennings
Sizzle and Burn - Alexis Grant
No Mercy - Lori Armstrong
Animal Magnetism - Jill Shalvis
Crazy for Love - Victoria Dahl
Kink - Saskia Walker/Sasha White
So Sensitive - Anne Rainey
Dark Taste of Rapture - Gena Showalter
The Darkest Secret - Gena Showalter
Vampire in Atlantis - Alyssa Day
Vampire Dragon - Annette Blair
Captive Spirit - Anna Windsor
Chosen by Blood - Virna DePaul
Rebel - Zoe Archer
Stranger - Zoe Archer
A Taste of Desire - Beverley Kendall
Mistress by Midnight - Maggie Robinson
To Desire a Devil - Elizabeth Hoyt
To Tame a Dangerous Lord - Nicole Jordan

Digital TBR Next
Driven - Jayne Rylon (reread)
Shifting Gears - Jayne Rylon
Beg Me - Shiloh Walker
Tempt Me - Shiloh Walker
Jazz Baby - Lorelie Brown
Playboy Prankster - Pamela Britton
Just Like That - Erin Nicholas
Sweet Inspiration - Penny Watson
Breathe - Donna Alward
My Gigolo - Molly Burkhart
Scent of Persuason - Nikki Duncan

Blog Archive