August 15, 2008
10:54 PM
|
Edit Post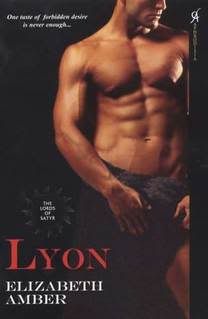 Back Cover:
HE IS ON THE PROWL . . .
The youngest of the Satyr brothers, Lyon enjoys working in the family's Tuscan vineyards, caring for his menagerie of animals and bedding beautiful women. But he knows he must fulfill his destiny of taking the last daughter of King Feydon as his bride. And so he travels to Paris to wed the infamous Juliette Rabelais . . .

FOR HIS MOST LUSCIOUS PRIZE . . .
A celebrated courtesan noted for both her culinary--and carnal talents, Juliette is a voluptuous beauty with a body meant to tease. And with a full moon only days away, Lyon is quickly aroused. But after a night of intimacy, Lyon wonders if Juliette is truly a mistress of sensual pleasure or whether his sexual mastery will be her undoing . . .
Lyon is the last of the Lords of Satyr to find and marry the Fey daughter destined to be his bride.
Lyon has never envisioned his future with one woman only, he craves change and variety and the idea of tying himself with just one woman doesn't sit well with him. Still he travels to Paris to do his duty, like his brothers before him did theirs.
Juliette is a woman with a complicated history and convincing her to go with him to Tuscany and be his wife almost costs Lyon his life.
To summarize the story would spoil too much of it so I can only tell other readers to read it for themselves but despite family intrigue, a protector with plans for revenge, murders and a Nereid with her own agenda Juliette and Lyon find that true love is stronger than any past or the craving for variety.

I must be honest and admit that it took me a while to get in this third installment of the Lords of Satyr.
It was luscious and beautiful in writing weaving magic, emotions, historical scenery and plot together in a paranormal tale of love.
But where in the previous books the erotic scenes had me captivated, in this book they didn't until the second part.
I missed the emotional click I did have with the previous books and I think that was because of two things.

First my expectations of how the character Lyon would be were not met in the first part of the book. After reading about him in NICHOLAS and RAINE I had this playful, roguish image of him and I didn't find this in his story at all.
The whole setting of his book was a dark one where I had expected it to be playful. And for me, certainly the first half was less sensual and more carnal with even a violent vibe to it that I just didn't expect.
I had the feeling Juliette's character and story were dominant throughout the book. Which was understandable plot wise, but where I did find the balance between hero and heroine in RAINE, for me it lacked this in LYON. I just had expected to see more of Lyon. But once I resigned myself to the fact that Lyon was different than I expected, I really enjoyed his story and his journey to love and happiness.

Secondly, and this really has to do with personal preferences and taste, Elizabeth Amber managed to broaden my horizon in the previous books but with this one I couldn't be open-minded enough to accepts some of the characters' actions. There were some actions (both sexually and emotionally) I really was not comfortable with, for example Valmont, Sibela and the two male Shimmerskins. There were things, especially concerning Valmont that almost literally turned my stomach.

But despite the discomfort Elizabeth Amber still managed to fascinate me with an incomparable storyline and love story with mysteries that only fell into place at the very end. What I missed in Lyon's personality in the beginning was made up for in a satisfying way at the end of the book.

When I leave out my own expectations I can only say that she has provided each of the Satyr brothers with a satisfactory and fitting heroine and story. She combines the carnal and lascivious erotic scenes with enthralling and captivating dialogues and emotions. She sets up an intricate and well-written plot and rounds it off beautifully.

For me RAINE was the best book of the three and even if this installment didn't quite meet my expectations it is still a unique and original series that stands out in the genre, entwining history, eroticism and magical legends with ease and fluency.
It's a series I will treasure because it was one of my first encounters with exquisite erotic romance and they are all books that are more than just a sequence of erotic scenes. Everything between the erotic scenes is rich in plot, history, magical beings and emotions.
Quote:
"Don't," he said, correctly reading her expression. "There's no room for shame between us. We have no one else to please in carnal matters. They are private. For us. For pleasure. We hurt no one if we follow our desires. We hurt only ourselves if we refrain."

Nice to meet you!
Pearl

Netherlands
39, married to my real life romance hero, addicted to TV shows, reading romance novels and Twitter. I'm a chronic (e)book hoarder and my absolute favorite genres within romance fiction are contemporary romance and romantic suspense, but I don't shy away from historical, paranormal or erotic romance either. Even the occasional (urban) fantasy romance, futuristic and sci fi romance may make it to my Mount TBR. This is my corner of the world wide web where I let you know what books I'm hoarding, reading and reviewing.
View my complete profile

My Book-Providers
Reviews by Rating

Reviews by Genre
Reviews by Type

Reviews by Publisher

Fellow Bloggers


GR Reading Challenge
Pearl
has read 10 books toward her goal of 50 books.

On My TBR Shelf
Unforgivable - Laura Griffin
Snapped - Laura Griffin
Darkness at Dawn - Elizabeth Jennings
Sizzle and Burn - Alexis Grant
No Mercy - Lori Armstrong
Animal Magnetism - Jill Shalvis
Crazy for Love - Victoria Dahl
Kink - Saskia Walker/Sasha White
So Sensitive - Anne Rainey
Dark Taste of Rapture - Gena Showalter
The Darkest Secret - Gena Showalter
Vampire in Atlantis - Alyssa Day
Vampire Dragon - Annette Blair
Captive Spirit - Anna Windsor
Chosen by Blood - Virna DePaul
Rebel - Zoe Archer
Stranger - Zoe Archer
A Taste of Desire - Beverley Kendall
Mistress by Midnight - Maggie Robinson
To Desire a Devil - Elizabeth Hoyt
To Tame a Dangerous Lord - Nicole Jordan

Digital TBR Next
Driven - Jayne Rylon (reread)
Shifting Gears - Jayne Rylon
Beg Me - Shiloh Walker
Tempt Me - Shiloh Walker
Jazz Baby - Lorelie Brown
Playboy Prankster - Pamela Britton
Just Like That - Erin Nicholas
Sweet Inspiration - Penny Watson
Breathe - Donna Alward
My Gigolo - Molly Burkhart
Scent of Persuason - Nikki Duncan

Blog Archive