July 2, 2007
5:38 PM
|
Edit Post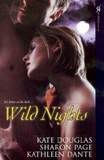 They come in the night , without warning. With one thing on their minds – mortal flesh. Sexy, sensual, and hungry for pleasure, they are the men who bring out the animal in every woman. Let them!
Camille's Dawn – Kate Douglas
A restless, sensual spirit, held captive by one who binds her with both love and hate, Camille yearns for freedom beyond the earthly plane. Her only hope lies in the supernatural powers of an extraordinary shapshifter, the unquenchable desire of her one true love and a magical night of impossible passion...
With this story I caught a glimpse of the Chanku World, a world of shape-shifting wolves, created by Kate Douglas.
It is part of a series, Wolf Tales, but even without reading the previous books you get a good view of this fascinating world.
If you don't mind the graphic and numerous erotic scenes, including a threesome, in the merely 74 pages you encounter a enthralling story of undying love between alpha-males and their mates. It's a beautiful story about Camille, a spirit trapped on the earthly plane, unable to move on to the peace of the spiritual realm. In order for her to move on a Chanku wizard perform a ritual involving Camille's husband Ulrich, her daughter Tia and Luc(ien), the Chanku who killed her in the line of duty.
Camille is kept on the earthly plane by her daughter's grief and feelings of abandonment, her husband's anger and resentment and Luc's feelings of guilt over killing her.
A story of love, redemption, forgiving, grief and sensuality.
As known with antologies, it's too short for depth but it came very close and I expect the full-length books to have lots more potential with both the characters and the storylines.

Midnight Man – Sharon Page
He's a six-foot four inches of maile perfection. Glorious, gorgeous, and blessed with a body and sensuous lips promising wave after wave of ecstasy, Michael Rourke is a Varkyre – the most damned species of vampire. When he wants a woman, she is his. And the woman he wants is Erin Kennedy, a mortal who does not yet know the real meaning of pleasure...
This story holds a promise, a promise of more to come. Sharon Page has a style of writing that pulls you in and fascinates, despite – or maybe because – of the very explicit erotic scenes. If you're in the mood for some hot and very explicit stuff, Page will deliver. This is the story of a vampire with superhuman strength and his feisty human soul mate who is his only way to regain his soul and live as a mortal. She can free his soul with her unconditional love but she's is also the one who can condemn him to a torturous and horrible death.
It's really too bad this was an anthology because some parts were just plain incredible but that was because the story was too short to get into the explaining of things. For example you don't get the whole story on how the two of them meet and start their relationship. With depth and more characterisation it would have made an nice full-length with many possibilities.
It contains lots of s.e.x but along the story it is not the s.e.x but the developement of their relationship, his salvation and her trust that become the focus of it.

Night Pleasures – Kathleen Dante
Alana MacArdy possesses a magical and rare power – and a sizzling s.e.xuality. She comes to Pleasure Quarter to escape from an evil necromancer, but what she finds is Colin Sheridan, a former soldier with fire magic. Together they'll succumb to immortal desire...and reach heights they never would have imagined...
A story with possibilities but for me Kathleen Dante didn't quite manage to keep me into the story. It wasn't until the end that I started to like it and the erotic scenes were bothersome interruptions in stead of being additions to it. The story never reaches it's intended potential because there are to many things that bothered me. For example in the middle of a fighting scene with "zombies" the heroin starts to masturbate to give the hero strength to fight. This was a bit too much for me. Too incredible and farfetched. The characters were just flat, you don't really get to know what drives them, they just have a lot of s.e.x. on moments where I think: stop fooling around and go kick some ass!
Of the three stories it was the one that lacked the most depth and it could not hold my attention.
This was too bad because the plot itself was quite original and could have been worked out so much better.

====
My overall judgement is that where "normal" anthologies aren't a big hit in my book due to lack of depth, this erotic anthology (and maybe others too) is even worse because there you also have the numerous erotic scenes that, when not a functional addition to the story, are just really annoying and a waist of pages. Don't get me wrong, I don't mind erotic scenes and I like my books to be steamy but when you only have between 74 and 120 pages for a story, it leaves very little room for an intriguing story that touches your emotions. In my opinion the author that did this best in this anthology was Sharon Page. Her story stirred my emotions and that's what I need from a book or a story.
Nice to meet you!
Pearl

Netherlands
39, married to my real life romance hero, addicted to TV shows, reading romance novels and Twitter. I'm a chronic (e)book hoarder and my absolute favorite genres within romance fiction are contemporary romance and romantic suspense, but I don't shy away from historical, paranormal or erotic romance either. Even the occasional (urban) fantasy romance, futuristic and sci fi romance may make it to my Mount TBR. This is my corner of the world wide web where I let you know what books I'm hoarding, reading and reviewing.
View my complete profile

My Book-Providers
Reviews by Rating

Reviews by Genre
Reviews by Type

Reviews by Publisher

Fellow Bloggers


GR Reading Challenge
Pearl
has read 10 books toward her goal of 50 books.

On My TBR Shelf
Unforgivable - Laura Griffin
Snapped - Laura Griffin
Darkness at Dawn - Elizabeth Jennings
Sizzle and Burn - Alexis Grant
No Mercy - Lori Armstrong
Animal Magnetism - Jill Shalvis
Crazy for Love - Victoria Dahl
Kink - Saskia Walker/Sasha White
So Sensitive - Anne Rainey
Dark Taste of Rapture - Gena Showalter
The Darkest Secret - Gena Showalter
Vampire in Atlantis - Alyssa Day
Vampire Dragon - Annette Blair
Captive Spirit - Anna Windsor
Chosen by Blood - Virna DePaul
Rebel - Zoe Archer
Stranger - Zoe Archer
A Taste of Desire - Beverley Kendall
Mistress by Midnight - Maggie Robinson
To Desire a Devil - Elizabeth Hoyt
To Tame a Dangerous Lord - Nicole Jordan

Digital TBR Next
Driven - Jayne Rylon (reread)
Shifting Gears - Jayne Rylon
Beg Me - Shiloh Walker
Tempt Me - Shiloh Walker
Jazz Baby - Lorelie Brown
Playboy Prankster - Pamela Britton
Just Like That - Erin Nicholas
Sweet Inspiration - Penny Watson
Breathe - Donna Alward
My Gigolo - Molly Burkhart
Scent of Persuason - Nikki Duncan

Blog Archive