July 6, 2007
5:41 PM
|
Edit Post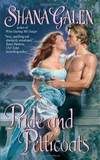 Dear Friend,

You were right: desperation is a dangerous state of mind. It was desperation that drove me to London to salvage my family's reputation and finances in the first place. And it is desperation -- and perhaps a little desire -- that has gotten me into the situation I find myself in now.

You see, I've become ensnared in the investigation of a traitor by Lord Dewhurst -- the most insufferable, sinfully handsome man I've ever met. I know it is shocking, but in order to catch this spy and clear my name, I've no choice but to play the agent's bride. Now I'm desperate again to avoid his seductive words and searing looks. I pray that I can resist him, but I can make no promises. Oh, my dear friend, I know he and I are merely pretending to be wed, but the blush he can send all the way to my petticoats feels far too real!

Yours truly,
Charlotte
After reading about Freddie in "When Dashing met Danger" I was really wondering what twist Shana Galen was going to give his story. I sensed there was more to him than met the eye and turns out there certainly was.

Posing as a dandy with a funny sense for fashion with nothing on his mind but what to wear the next day, Freddie actually is not such a dandy but a cunning spy. And in this role he meets Charlotte, a smart and strong-willed American girl with a deep repulsion for everything English but also with the one thing Freddie has a weakness for: red hair.
They are forced into a scam marriage by circumstances and have to make the best of it.
Their interactions are sparkling and witty. They both give as good as they get and in the meanwhile grow to appreciate each other.

I really had a lot of fun reading this book. It was hilariously witty and I had several laugh-out-loud moments. The scene where Freddie and Charlotte have dinner together for the first time was incredibly funny. I kept seeing Charlotte poking at her food…But underneath all the fun I also enjoyed the growing love and feelings between Freddie and Charlotte and how they both tried to fight it but ultimately caved in.
I also liked that we got a glimpse of Alex and Lucia. They made nice secondary characters together with Freddie's mother and Charlotte's servant Addy.

If I compare these two connected books I must say I liked "When Dashing met Danger" better. I cannot pinpoint as to exactly why but that book had me going through more emotions than this one. But nevertheless I really enjoyed reading "Pride and Petticoats" because I love books that make me laugh.
Now I'll be moving on to the Misadventures in Matrimony-series and I'm looking forward to it.

Nice to meet you!
Pearl

Netherlands
39, married to my real life romance hero, addicted to TV shows, reading romance novels and Twitter. I'm a chronic (e)book hoarder and my absolute favorite genres within romance fiction are contemporary romance and romantic suspense, but I don't shy away from historical, paranormal or erotic romance either. Even the occasional (urban) fantasy romance, futuristic and sci fi romance may make it to my Mount TBR. This is my corner of the world wide web where I let you know what books I'm hoarding, reading and reviewing.
View my complete profile

My Book-Providers
Reviews by Rating

Reviews by Genre
Reviews by Type

Reviews by Publisher

Fellow Bloggers


GR Reading Challenge
Pearl
has read 10 books toward her goal of 50 books.

On My TBR Shelf
Unforgivable - Laura Griffin
Snapped - Laura Griffin
Darkness at Dawn - Elizabeth Jennings
Sizzle and Burn - Alexis Grant
No Mercy - Lori Armstrong
Animal Magnetism - Jill Shalvis
Crazy for Love - Victoria Dahl
Kink - Saskia Walker/Sasha White
So Sensitive - Anne Rainey
Dark Taste of Rapture - Gena Showalter
The Darkest Secret - Gena Showalter
Vampire in Atlantis - Alyssa Day
Vampire Dragon - Annette Blair
Captive Spirit - Anna Windsor
Chosen by Blood - Virna DePaul
Rebel - Zoe Archer
Stranger - Zoe Archer
A Taste of Desire - Beverley Kendall
Mistress by Midnight - Maggie Robinson
To Desire a Devil - Elizabeth Hoyt
To Tame a Dangerous Lord - Nicole Jordan

Digital TBR Next
Driven - Jayne Rylon (reread)
Shifting Gears - Jayne Rylon
Beg Me - Shiloh Walker
Tempt Me - Shiloh Walker
Jazz Baby - Lorelie Brown
Playboy Prankster - Pamela Britton
Just Like That - Erin Nicholas
Sweet Inspiration - Penny Watson
Breathe - Donna Alward
My Gigolo - Molly Burkhart
Scent of Persuason - Nikki Duncan

Blog Archive