July 15, 2007
5:50 PM
|
Edit Post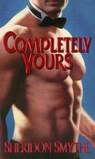 "Your escort will be a perfect gentleman."
That was her sister's promise when Callie Spencer agreed to let one of the men from Mr. Complete squire her around town during her Atlanta business trip.
But one look at that square jaw, those blue, blue eyes and that ripped torso made Callie wish her stud-for-hire would break all the rules. And at first it seemed the all-too-appropriately named Dillon Love would oblige. His burning gaze said he took a very personal interest in their relationship.
But his on-again, off-again seduction made gun-shy Callie want to shoot herself in the foot. Her heart already broken once, by her ex-husband the underwear model, no less. Could she trust another breathtakingly handsome man, even when he promised to be completely hers?
We get reacquainted with the escortservice and employees of Mr. Complete. Luke and Lydia have gone on their honeymoon and Dillon Love (twin brother of Wyatt Love who is an escort at Mr Complete and friend of Luke's) takes over for three weeks. In doing this he discovers a reviewer from a travel magazine that trashed his nightclub a year ago in a terrible review is coming to Atlanta and Mr Complete is providing an escort for her. Taking matters into his own hands he decides to be the escort himself.
Callie Spencer is sent to Atlanta by her sister Fontaine (love that name by the way!) who owns the travel magazine as a decoy because somebody is informing the hotels and restaurants beforehand that they are going to be reviewed. Callie has been wallowing in her broken heart for three years, caused by her cheating underwear model ex-husband and so she's weary of "pretty boys" but she hadn't counted on the sizzling attraction between her and Dillon.
For Dillon the dilemma is falling in love with a woman he's trying to woo to get good reviews for the establishments in Atlanta, especially his own nightclub.
And off course the twins try to pull of the old twin-switch but Sheridon Smythe gives it a nice twist by letting Callie in on it fairly soon in the story so you can sit back and enjoy her show of revenge on the twins, especially Dillon.

I really had a blast reading this book. Sheridon Smythe knows how to blend laugh-out-loud humour, a set of fantastically written characters, sensuality and romance together into a great love-story and pour romantic comedy into a lovely book.
It's fast paced and extremely entertaining.The dialogues and interactions sparkle of the pages and are filled with fun. I smiled almost throughout the whole book. Especially the bantering between the twins Dillon and Wyatt were hilarious. The employees of Mr Complete are funny and scrumptious and Mary Love is a mom to die for. But the character who stole the show again, like in Mr. Complete was the secretary Mrs Scuttle. She's just too much and had me laughing until I cried and almost peed my pants.

This is a perfect book if you want to spend a couple of hours of just plain, unadulterated fun and pleasure.
It's the second book in the Mr. Complete series and can be read stand-alone but if you really want to enjoy it to the fullest I recommend you read Mr Complete first.

Now I have to get my hands on the third book in the trilogy: Completely Irresistible to read Wyatt's (Dillon's twin) story and I'm sure it will be just as entertaining and funny as the previous two.

Nice to meet you!
Pearl

Netherlands
39, married to my real life romance hero, addicted to TV shows, reading romance novels and Twitter. I'm a chronic (e)book hoarder and my absolute favorite genres within romance fiction are contemporary romance and romantic suspense, but I don't shy away from historical, paranormal or erotic romance either. Even the occasional (urban) fantasy romance, futuristic and sci fi romance may make it to my Mount TBR. This is my corner of the world wide web where I let you know what books I'm hoarding, reading and reviewing.
View my complete profile

My Book-Providers
Reviews by Rating

Reviews by Genre
Reviews by Type

Reviews by Publisher

Fellow Bloggers


GR Reading Challenge
Pearl
has read 10 books toward her goal of 50 books.

On My TBR Shelf
Unforgivable - Laura Griffin
Snapped - Laura Griffin
Darkness at Dawn - Elizabeth Jennings
Sizzle and Burn - Alexis Grant
No Mercy - Lori Armstrong
Animal Magnetism - Jill Shalvis
Crazy for Love - Victoria Dahl
Kink - Saskia Walker/Sasha White
So Sensitive - Anne Rainey
Dark Taste of Rapture - Gena Showalter
The Darkest Secret - Gena Showalter
Vampire in Atlantis - Alyssa Day
Vampire Dragon - Annette Blair
Captive Spirit - Anna Windsor
Chosen by Blood - Virna DePaul
Rebel - Zoe Archer
Stranger - Zoe Archer
A Taste of Desire - Beverley Kendall
Mistress by Midnight - Maggie Robinson
To Desire a Devil - Elizabeth Hoyt
To Tame a Dangerous Lord - Nicole Jordan

Digital TBR Next
Driven - Jayne Rylon (reread)
Shifting Gears - Jayne Rylon
Beg Me - Shiloh Walker
Tempt Me - Shiloh Walker
Jazz Baby - Lorelie Brown
Playboy Prankster - Pamela Britton
Just Like That - Erin Nicholas
Sweet Inspiration - Penny Watson
Breathe - Donna Alward
My Gigolo - Molly Burkhart
Scent of Persuason - Nikki Duncan

Blog Archive