July 13, 2007
5:49 PM
|
Edit Post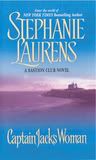 Bored by society's rules and strictures, Kathryn "Kit" Cranmer yearns for adventure –and she finds it on Britain's rugged eastern coastt, dressed as a boy at the head of a rag-tag band of smugglers. But there's another who rules the night: the notorious Captain Jack, the ruthless leader of a rival gang who will allow no trespassers...and who stops Kit's breath with his handsome, etched features and powerful physique.

In no time, Captain Jack sees through Kit's brazen disguise –and tempts her with kisses that compel the beautiful adventuress to surrender her cherished independence for nights of imcomparable bliss, But her lover is much more than he seems –a man of secrets and dangerous mystery– and becoming Captain Jack's woman will carry Kit into a world of sensuous pleasures and unparalleled perils...and to new heights of excitement beyond anything she's ever dreamed.
It has been a while since I read a Laurens and reading Captain Jack's Woman I remembered again why I like her so much.
I enjoyed every page, every character, every turn of events and Laurens is incomparable in her beautifully written erotic scenes. Although I must say in this book they weren't as abundantly present as in several of the Bar Cynsters I read. But that certainly didn't spoil any of my fun.

I loved the story of Jack and Kit.
They're both such strong personalities and so fit for each other. A gaze or the slightest touch enough to light their fire.

Kit is amazing. She's the epitomy of the wild tomboy underneath the neatly polished veneer of a worldly woman of the London society. For her own reasons she doesn't believe in love and enjoys her freedom to do as she pleases when she pleases.
In a way Jack is not much different, a man full of secrets beneath the disguise of an aloof and distant nobleman. A bit overbearing but in a delicious alpha-manner you can't but fall for.

Kit is quite a handful, always planning and plotting her own wild way. Everytime Jack thinks he's got her figured out, she manages to surprise the daylights out of him. But he knows exactly how to handle her: with passion and love!

The smuggling plot was not quite my cup of tea but offered the excitement that balanced excellently with the love-story.
I'm looking forward to reading the novels of the Bastion Club, knowing this one was just the prequel and I liked it a lot, it can only be better.
Quote:
Heavens –it was worse than she'd thought! He was perfectly gorgeous –mind-numbingly, toe-curlingly gorgeous–

Nice to meet you!
Pearl

Netherlands
39, married to my real life romance hero, addicted to TV shows, reading romance novels and Twitter. I'm a chronic (e)book hoarder and my absolute favorite genres within romance fiction are contemporary romance and romantic suspense, but I don't shy away from historical, paranormal or erotic romance either. Even the occasional (urban) fantasy romance, futuristic and sci fi romance may make it to my Mount TBR. This is my corner of the world wide web where I let you know what books I'm hoarding, reading and reviewing.
View my complete profile

My Book-Providers
Reviews by Rating

Reviews by Genre
Reviews by Type

Reviews by Publisher

Fellow Bloggers


GR Reading Challenge
Pearl
has read 10 books toward her goal of 50 books.

On My TBR Shelf
Unforgivable - Laura Griffin
Snapped - Laura Griffin
Darkness at Dawn - Elizabeth Jennings
Sizzle and Burn - Alexis Grant
No Mercy - Lori Armstrong
Animal Magnetism - Jill Shalvis
Crazy for Love - Victoria Dahl
Kink - Saskia Walker/Sasha White
So Sensitive - Anne Rainey
Dark Taste of Rapture - Gena Showalter
The Darkest Secret - Gena Showalter
Vampire in Atlantis - Alyssa Day
Vampire Dragon - Annette Blair
Captive Spirit - Anna Windsor
Chosen by Blood - Virna DePaul
Rebel - Zoe Archer
Stranger - Zoe Archer
A Taste of Desire - Beverley Kendall
Mistress by Midnight - Maggie Robinson
To Desire a Devil - Elizabeth Hoyt
To Tame a Dangerous Lord - Nicole Jordan

Digital TBR Next
Driven - Jayne Rylon (reread)
Shifting Gears - Jayne Rylon
Beg Me - Shiloh Walker
Tempt Me - Shiloh Walker
Jazz Baby - Lorelie Brown
Playboy Prankster - Pamela Britton
Just Like That - Erin Nicholas
Sweet Inspiration - Penny Watson
Breathe - Donna Alward
My Gigolo - Molly Burkhart
Scent of Persuason - Nikki Duncan

Blog Archive