July 3, 2007
5:40 PM
|
Edit Post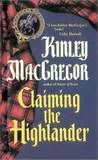 Determined to end a long-running feud, a fiery young Scottish woman convinces the women of her clan to refuse their men everything until they lay down their arms, but she finds her own plans undermined by her growing attraction to a dashing Highlander.

BORN TO BE HIS BRIDE?
It is said that Braden MacAllister, English baron and proud Highland Warrior, can fell an enemy with a single blow – and a woman with a single kiss. But not Maggie, it seems. For the fire-haired beauty, determined to end the longrunning fued that rages between their clan and its common foe, is immune to Braden's attempts to stop her foolishness. But stop her he will, once he gets the meddling minx alone...and favors her with a passionate caress and an irresistible kiss.
No matter how she trembles beneath Braden's sensuous touch...he has given his heart to none. But dare she dream that by assuring peace for her clan she may also be claiming the most magnificent Highlander for herself?
I just fell under the spell of the MacAllister-men and I'm still mesmerized!
Braden, Ewan, Lochlan and Sin are all some fine specimen of the male kind...

Maggie was an awesome heroin: feisty, bold, afraid of nothing and so in love with Braden since she was a little girl. Her memories of how she fell in love with him as a 7 year-old were just so touching and endearing.
And that child's crush grew into a more mature, and for a long time, unrequited, love.

And Braden...the womanizer, with women throwing themselves at him. He has a hard time resisting the lovely woman Maggie has grown to be. Falling not only for her looks but also her strong and willful personality.
Because where all the other women never touched his heart, Maggie does. And selflessly, without asking antything in return but his love.
She makes him see how empty and shallow he has lead his life.
This story of love finds place amidst a journey to stop a fued...

The first pages of this book plastered a smile on my face and it stayed there until the very last word.
The bantering and quipping between the MacAllister brothers is filled with humour and wit, MacGregor's trademark.
It was fast-paced and extremely witty, I laughed a lot, but also got teary-eyed at some point.
There was one tiny little thing that bothered me and that was the thing with Connor. They were to quickly with their assumptions and I wouldn't have minded if that part of the story had been skipped. For me it didn't add anything functional to the rest of the story...
But this doesn't taint my overall liking of the book at all.
Quotes:
Braden rose slowly from the bed. "Perhaps I should be going."
"Perhaps you should be dying,"Rufus said as he pushed past his wife.

She had corrupted him in a way no woman ever had. She had made him noble. Caring. Kind

Nice to meet you!
Pearl

Netherlands
39, married to my real life romance hero, addicted to TV shows, reading romance novels and Twitter. I'm a chronic (e)book hoarder and my absolute favorite genres within romance fiction are contemporary romance and romantic suspense, but I don't shy away from historical, paranormal or erotic romance either. Even the occasional (urban) fantasy romance, futuristic and sci fi romance may make it to my Mount TBR. This is my corner of the world wide web where I let you know what books I'm hoarding, reading and reviewing.
View my complete profile

My Book-Providers
Reviews by Rating

Reviews by Genre
Reviews by Type

Reviews by Publisher

Fellow Bloggers


GR Reading Challenge
Pearl
has read 10 books toward her goal of 50 books.

On My TBR Shelf
Unforgivable - Laura Griffin
Snapped - Laura Griffin
Darkness at Dawn - Elizabeth Jennings
Sizzle and Burn - Alexis Grant
No Mercy - Lori Armstrong
Animal Magnetism - Jill Shalvis
Crazy for Love - Victoria Dahl
Kink - Saskia Walker/Sasha White
So Sensitive - Anne Rainey
Dark Taste of Rapture - Gena Showalter
The Darkest Secret - Gena Showalter
Vampire in Atlantis - Alyssa Day
Vampire Dragon - Annette Blair
Captive Spirit - Anna Windsor
Chosen by Blood - Virna DePaul
Rebel - Zoe Archer
Stranger - Zoe Archer
A Taste of Desire - Beverley Kendall
Mistress by Midnight - Maggie Robinson
To Desire a Devil - Elizabeth Hoyt
To Tame a Dangerous Lord - Nicole Jordan

Digital TBR Next
Driven - Jayne Rylon (reread)
Shifting Gears - Jayne Rylon
Beg Me - Shiloh Walker
Tempt Me - Shiloh Walker
Jazz Baby - Lorelie Brown
Playboy Prankster - Pamela Britton
Just Like That - Erin Nicholas
Sweet Inspiration - Penny Watson
Breathe - Donna Alward
My Gigolo - Molly Burkhart
Scent of Persuason - Nikki Duncan

Blog Archive