July 20, 2007
5:52 PM
|
Edit Post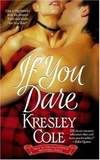 Can a Highlander steal his enemy's bride and make her love him?

Can he extract revenge?
High in the Pyrenees, a band of mercenaries led by Courtland MacCarrick wages war for General Reynaldo Pascal. When Court turns on the brutal general, Pascal orders him killed. Court narrowly escapes and exacts revenge by kidnapping Pascal's exquisite Castilian fiancée.

Can she deny her passions?
Noble heiress Annalía Tristán Llorente despises her towering, barbaric captor almost as much as she does Pascal. Her inexplicable attraction to the Highlander only fuels her fury. Yet nothing will stop her from returning to Pascal—for if she doesn't wed him, she signs her brother's death warrant, as well as her own.

Can there be love between them?
From the moment Court discovers that Anna's prim façade masks a fiery, brave lass, his heart's ensnared and he dares to defy the curse that has shadowed his life—to walk with death or walk alone. But Pascal vows that he'll hunt the two, never stopping until he's destroyed them both. If they survive, can this hardened soldier of fortune convince the only woman he's ever loved that she's meant to be his?
The answer to all of the above questions is a full-hearted YES.
The first in the MacCarrick Trilogy rocked my world...hard!

Court(land) MacCarrick is the youngest brother, a true Higlander: strong, brutal and savage. A mercenary employed by general Reynaldo Pascal, a horrible general who is leading a rebellion to take over Andorra and then Spain in his quest for ultimate power
Annalía Llorente is an amazing heroin: feisty, courageous, smart, defiant and a fighter despite her fragile and delicate appearance. Pascal intends to wed Annalía, who is a descendant of the Spanish Crown in order to achieve his goal.
Court rebels against Pascal which eventually leads to him being beating, knived and thrown in a river to die. He survives and is found by Annalía and there's were the story truly begins!

They start of really not liking each other for obivious reasons. Annalía thinks Court a brute animal, with no manners and loathes him for being a mercenary. Court thinks Annalía an arrogant stuck-up with her defiant behaviour.
But they are thoroughly fascinated by each other at the same time. They clash from the start but underneath you feel the strong attraction that smolders between them. A passion and attraction that is too strong to be denied by either of them. And when they finally act on it, sparks fly of the pages in some erotic scenes that leave you all hot and bothered.

I adored this book. An intense and passionate page-turner. Fast-paced, easy to read. A book that takes you from the Andorran mountains, via Toulouse to London and back to the Andorran mountains and along the way you're submerged in a wonderful love-story enjoying every page and every word.
A perfect combination of history, romance and an exciting and original plot. Masterfully written, making you wish you were there, being saved by a mercenary Highlander who is just as much Alpha as he is honorable.

I'm yearning to read the stories of Hugh and Ethan, Court's two older brothers and I can predict it won't be long because this book left me wanting another taste of the MacCarricks and the women who will break their curse.

If you love Highlanders and you don't have this book...Shame on you and go get it!
Quote:
"Because you're the type of woman who needs to be kissed. Hourly, softly. Fiercely." He skimmed his hands down over her hip and murmured near her ear, "Thoroughly."

Nice to meet you!
Pearl

Netherlands
39, married to my real life romance hero, addicted to TV shows, reading romance novels and Twitter. I'm a chronic (e)book hoarder and my absolute favorite genres within romance fiction are contemporary romance and romantic suspense, but I don't shy away from historical, paranormal or erotic romance either. Even the occasional (urban) fantasy romance, futuristic and sci fi romance may make it to my Mount TBR. This is my corner of the world wide web where I let you know what books I'm hoarding, reading and reviewing.
View my complete profile

My Book-Providers
Reviews by Rating

Reviews by Genre
Reviews by Type

Reviews by Publisher

Fellow Bloggers


GR Reading Challenge
Pearl
has read 10 books toward her goal of 50 books.

On My TBR Shelf
Unforgivable - Laura Griffin
Snapped - Laura Griffin
Darkness at Dawn - Elizabeth Jennings
Sizzle and Burn - Alexis Grant
No Mercy - Lori Armstrong
Animal Magnetism - Jill Shalvis
Crazy for Love - Victoria Dahl
Kink - Saskia Walker/Sasha White
So Sensitive - Anne Rainey
Dark Taste of Rapture - Gena Showalter
The Darkest Secret - Gena Showalter
Vampire in Atlantis - Alyssa Day
Vampire Dragon - Annette Blair
Captive Spirit - Anna Windsor
Chosen by Blood - Virna DePaul
Rebel - Zoe Archer
Stranger - Zoe Archer
A Taste of Desire - Beverley Kendall
Mistress by Midnight - Maggie Robinson
To Desire a Devil - Elizabeth Hoyt
To Tame a Dangerous Lord - Nicole Jordan

Digital TBR Next
Driven - Jayne Rylon (reread)
Shifting Gears - Jayne Rylon
Beg Me - Shiloh Walker
Tempt Me - Shiloh Walker
Jazz Baby - Lorelie Brown
Playboy Prankster - Pamela Britton
Just Like That - Erin Nicholas
Sweet Inspiration - Penny Watson
Breathe - Donna Alward
My Gigolo - Molly Burkhart
Scent of Persuason - Nikki Duncan

Blog Archive