October 7, 2008
8:00 AM
|
Edit Post
This book was released on September 23rd and I reviewed it for REALMS ON OUR BOOKSHELVES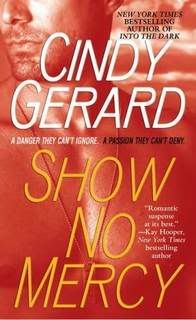 The sultry heat . . .
Only two things can compel journalist Jenna McMillan back to Buenos Aires after terrorists held her captive there just months before: a rare interview with a shadowy billionaire and the memory of the dark and dangerous man who saved her. . . .

Hides the deadliest threats . . .
Bad guys, bombs, and bullets are Gabriel Jones's way of life. But he'll never forget the brash redhead he rescued not so long ago . . . or the passionate kiss they shared before he sent her packing.

And exposes the deepest desires. . . .
Now, forced together by a bombing at the National Congress, Jenna and Gabe confront the urgent longings that simmer between them. But this surprise meeting is no coincidence. A ruthless enemy stalks them with deadly precision. The question is . . . if they make it out alive, will Gabe turn his back on Jenna . . . again?
A horrible experience in Argentina brings undercover operative Gabriel Jones on journalist Jenna McMillan's path when they expose and dismantle a terrorist organization. After going their separate ways Jenna tries to deal with the traumatic experience as best she can. Gabe has never been far from her mind and when Jenna has the chance to go to Argentina again for a story she seizes the opportunity. It's a chance for her to get back into the game but also a chance to possibly see Gabe again
Their first encounter is literally explosive when the man Jenna is supposed to interview and Gabe is trying to protect is attacked by a gunman and a bomb explodes. Nothing is what it seems and no one can be trusted.

Intense and fierce are descriptions that fit Gabe perfectly. He needs to be in control of every situation, both in tactical operations and emotionally with Jenna. Guilt ridden because of things that happened in his past he tries to shut himself off from his feelings but he fails miserably where Jenna is concerned. He seems harsh on the exterior but there's much more to him than that.

Jenna is defiant, sassy, witty and intelligent. All beneath a thin veil of vulnerability that takes away the sharp edges. She's tough and although the experience in Argentina left her a bit shaken she's determined to get into the game. Same thing goes for her relationship with Gabe. She keeps trying even when he pushes her away but when he pushes her too far, she picks herself up and goes on with her life accepting that he doesn't want her.

Sparks fly of the pages when it comes to Jenna and Gabe. Their dialogue and every scene together sizzles with tension - either sexual or otherwise.
The chemistry between Jenna and Gabe is palpable, believable, intense and pulls on your heartstrings. They are both dealing with their own issues and weaknesses that come from previous events and experiences in their past. They both struggle with the budding feelings between them, especially Gabe. Jenna soon accepts her feelings and then has to deal with Gabe's rejection of them.

Cindy's writing skills enable her to write in a way that is never annoying or boring. She gives motivations and explanations for every action taken by either Jenna or Gabe and makes it logical. This is what I truly like in books. In my opinion this is one of Cindy Gerard's strongest qualities. Her ability to write characters with depth, motivation and development that you can easily relate to and sympathize with despite the decisions they make sometimes. Her characters have an immense emotional impact on the reader.

The cast of secondary characters is extensive and they fit into the plot and romance perfectly. They are true additions to the story that complement Jenna and Gabe's characters. They are supportive but also crucial in some plot-developments.
There's an intriguing beginning of a small romance between two of the secondary characters. I hope Cindy Gerard will continue this storyline in the following books because I'm very curious to see where it will lead.
Gabe and Jenna's enemy is formidable. Small amounts of information about him are revealed in little tantalizing doses throughout the story. Not knowing who he was and why he was doing what he did, kept the suspense at an amazing high until the end.

The dialogues are sparkling and vivid and they portray the overall feel of the book. I was just as entranced by them as by the suspense plot, the characters and the emotional avalanche which poured out. Though I didn't experience the incredibly intense emotional rollercoaster I did have with the first Bodyguards book, TO THE EDGE, it proved to be just as great a book.

With Cindy Gerard's eye for detail and her vast knowledge of the subjects touched in the story, she gave me a thrilling and heart-in-your-throat read. This combined with her descriptive talents for both plot and characters, especially on the suspense and the emotions, elevate her books to a very high level in the romantic suspense genre.
The way she builds up the plot, both romantically and suspense-wise is excellent. Slowly and clearly, creating a string of tension that leads to a mind shattering and titillating conclusion. The pace is just right, not too fast and not too slow. I really enjoyed the whole book but truly loved the last part when the answers to all the questions were given, topped of with a satisfying ending.

This is a book that acquires concentration to read so you don't miss a thing. It's is definitely not a light read but intense, mind-blowing and doesn't allow your attention to lessen for a second. It has a well-rounded plot, with well-developed main characters and suspense that so thrilling it takes your breath away.

Cindy Gerard delivers top-notch romantic suspense with this first book in her new BLACK OPS series. It holds a promise for the rest of the series and brings all the components I long for in romantic suspense together in a great way. I can't wait to go back to reading the Bodyguards while waiting for the next two installments in this series about Sam Lang and Johnny Reed.

Nice to meet you!
Pearl

Netherlands
39, married to my real life romance hero, addicted to TV shows, reading romance novels and Twitter. I'm a chronic (e)book hoarder and my absolute favorite genres within romance fiction are contemporary romance and romantic suspense, but I don't shy away from historical, paranormal or erotic romance either. Even the occasional (urban) fantasy romance, futuristic and sci fi romance may make it to my Mount TBR. This is my corner of the world wide web where I let you know what books I'm hoarding, reading and reviewing.
View my complete profile

My Book-Providers
Reviews by Rating

Reviews by Genre
Reviews by Type

Reviews by Publisher

Fellow Bloggers


GR Reading Challenge
Pearl
has read 10 books toward her goal of 50 books.

On My TBR Shelf
Unforgivable - Laura Griffin
Snapped - Laura Griffin
Darkness at Dawn - Elizabeth Jennings
Sizzle and Burn - Alexis Grant
No Mercy - Lori Armstrong
Animal Magnetism - Jill Shalvis
Crazy for Love - Victoria Dahl
Kink - Saskia Walker/Sasha White
So Sensitive - Anne Rainey
Dark Taste of Rapture - Gena Showalter
The Darkest Secret - Gena Showalter
Vampire in Atlantis - Alyssa Day
Vampire Dragon - Annette Blair
Captive Spirit - Anna Windsor
Chosen by Blood - Virna DePaul
Rebel - Zoe Archer
Stranger - Zoe Archer
A Taste of Desire - Beverley Kendall
Mistress by Midnight - Maggie Robinson
To Desire a Devil - Elizabeth Hoyt
To Tame a Dangerous Lord - Nicole Jordan

Digital TBR Next
Driven - Jayne Rylon (reread)
Shifting Gears - Jayne Rylon
Beg Me - Shiloh Walker
Tempt Me - Shiloh Walker
Jazz Baby - Lorelie Brown
Playboy Prankster - Pamela Britton
Just Like That - Erin Nicholas
Sweet Inspiration - Penny Watson
Breathe - Donna Alward
My Gigolo - Molly Burkhart
Scent of Persuason - Nikki Duncan

Blog Archive