October 8, 2008
6:31 PM
|
Edit Post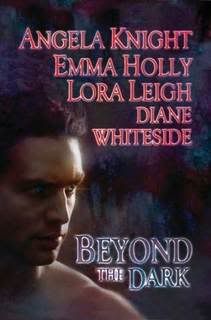 Matthias Slaughter is an assassin for the Breeds; he is a Wolf Breeds who's working with the Felines and Jonas Wyatt. His assignments involve killing high profile Council Members who are still performing horrific experiments on Breeds, despite the discovery of the Breeds and the condemning of the Genetics council.
During one of his assignments he recognizes his mate, Grace Anderson and she turns out to be a witness to one of his assassinations. He kidnaps her in order to convince her of keeping quiet about the killing and to tell her she is his mate.
Matthias is rugged, scarred and dominant, both physical and in his behavior. Still at the same time there's this air of vulnerability and desperate longing over him. He has a gentle and patient side when dealing with Grace. I really felt for him. He touched my heart in a very intense way and so did Grace.

Grace is gutsy, smart, stubborn and loyal. She is also a woman of principals.
Because Matthias came into Grace's life under false pretences and has lied to her, Grace has a hard time trusting him and what he says after she has witnessed him execute someone in cold blood, even if she is in love with him. She has trouble reconciling herself to the idea that he is capable of such a thing and that she could have feelings for someone like that. She makes Matthias look differently at what he's been doing and makes him think about and question his actions in the past. For her he's willing to give it up.

Grace goes into the whole mating thing knowing exactly who and what Matthias is and she is familiar with the rumors surrounding the mating heat too. So she's not completely unknowing but that doesn't mean she gives into it easily. Matthias has to work hard to convince her not only of accepting what he did and why but also of his love for her and hers for him.

There wasn't much room for secondary characters as the story concentrates on Matthias and Grace but of course the ones that were there had intriguing names like Lawe Justice and Rule Breaker and they left a nice impression, not enough to envision there own books but still I wouldn't mind seeing them browse along in other books as secondary characters.
And the mysterious Jonas Wyatt made another brief appearance. His story is in the making and I am eagerly waiting for it.

I really loved this story, it was short and sweet but set up well and Lora Leigh provided some background to the story that, together with the characters, made it better than some of the other short stories in this series. The balance between emotions, plot and love scenes was very good considering the 120 pages it counted.

Lora Leigh brought me to tears with an anthology story, a Wolf Breed anthology story! Me! And I'm really not that fond of both short stories and Wolf Breeds. She proved me wrong with this one. It was so very touching, the way Matthias loves Grace and the way Grace accepted Matthias and his past. Even if you leave out Lora Leigh's signature hot love scenes there was a wonderful and emotional love story that touched me at a very deep level.
What truly did me in was a scene at the end with Matthias and Grace's parents. I had held up quite all right up until that scene, but had to grab the tissues then!
Quotes:
"Stop asking me questions, Grace. We'll talk when we get to the cabin."
"Stop touching me then. And I swear to God, if your fingers go any higher, the first chance I get I'm cutting off your hand."

"Tell your body it can't happen. Tell your heart you don't care. By God, Grace, fix it and then tell me how you've done it, and I'll let you go. Until then, I can't walk away, because it would rip my soul from my body to do so."

Nice to meet you!
Pearl

Netherlands
39, married to my real life romance hero, addicted to TV shows, reading romance novels and Twitter. I'm a chronic (e)book hoarder and my absolute favorite genres within romance fiction are contemporary romance and romantic suspense, but I don't shy away from historical, paranormal or erotic romance either. Even the occasional (urban) fantasy romance, futuristic and sci fi romance may make it to my Mount TBR. This is my corner of the world wide web where I let you know what books I'm hoarding, reading and reviewing.
View my complete profile

My Book-Providers
Reviews by Rating

Reviews by Genre
Reviews by Type

Reviews by Publisher

Fellow Bloggers


GR Reading Challenge
Pearl
has read 10 books toward her goal of 50 books.

On My TBR Shelf
Unforgivable - Laura Griffin
Snapped - Laura Griffin
Darkness at Dawn - Elizabeth Jennings
Sizzle and Burn - Alexis Grant
No Mercy - Lori Armstrong
Animal Magnetism - Jill Shalvis
Crazy for Love - Victoria Dahl
Kink - Saskia Walker/Sasha White
So Sensitive - Anne Rainey
Dark Taste of Rapture - Gena Showalter
The Darkest Secret - Gena Showalter
Vampire in Atlantis - Alyssa Day
Vampire Dragon - Annette Blair
Captive Spirit - Anna Windsor
Chosen by Blood - Virna DePaul
Rebel - Zoe Archer
Stranger - Zoe Archer
A Taste of Desire - Beverley Kendall
Mistress by Midnight - Maggie Robinson
To Desire a Devil - Elizabeth Hoyt
To Tame a Dangerous Lord - Nicole Jordan

Digital TBR Next
Driven - Jayne Rylon (reread)
Shifting Gears - Jayne Rylon
Beg Me - Shiloh Walker
Tempt Me - Shiloh Walker
Jazz Baby - Lorelie Brown
Playboy Prankster - Pamela Britton
Just Like That - Erin Nicholas
Sweet Inspiration - Penny Watson
Breathe - Donna Alward
My Gigolo - Molly Burkhart
Scent of Persuason - Nikki Duncan

Blog Archive