October 5, 2008
7:53 PM
|
Edit Post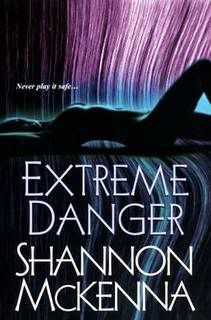 Back Cover:
Nobody's home at the millionaire's estate on remote Frakes Island. And nobody seems to be watching. Becca Cantrell dives in for an illicit midnight skinnydip--and gets hauled out by a towering, hard-muscled guy with burning dark eyes. He seems to be in charge. Good. The man is the embodiment of her most intense fantasies. And she's up for risky thrills . . .

Nick Ward can't tell her that he's spying on a vicious Russian crime boss. Becca could be his worst enemy: an assassin sent to kill him, a call girl sent to distract him, or the worst scenario of all--a clueless innocent. Anyway he looks at it, she's trouble: beautiful, bare, dripping-wet trouble. The kind he can't resist.
She's not scared. After one taste of his hot mouth, Becca soon discovers just how fearless she can be. She'll need it, too--because things are about to explode on Frakes Island, launching Becca and Nick into danger they could never have imagined--and a passion that could destroy them both.
Rebecca (Becca) Cattrell never thought her skinny-dipping in a stranger's pool after fleeing from a cheating fiancé, would land her in a heart pounding adventure where she would have to fight for her life and the life of her family.
Her sudden appearance during Nick Ward's rogue undercover operation to infiltrate an eastern European mafia kingpin is the start of a string of events Nick never could have imagined. His immediate attraction to her is an unwanted development and complication because the lives of innocent children are at stake and with his track record he can't afford any distractions.

Becca sees herself as a goodie two-shoes. She thinks she's just an average non-adventurous kind of girl. But to me she was the perfect mix of innocent determination, sassy defiance and intelligent bravery. She hasn't had an easy life and still has tried to make the best of it as well as she can taking care of her brother and sister and sacrificing her own needs for theirs.
She was again a typical McKenna heroine, giving Nick hell in the emotional department by tumbling into his world and turning it upside down.

I'm sure now that McKenna is trying to fry my brains with an overdose of intense, dominating and scrumptious alpha men. Nick is cynical to the bone and the ultimate hero complete with the tattoos and the battle scars. He's tough and ice-cold but when in the hands of the right woman, in his case Becca, he's a goner. Lost to lust, passion and love, even if he's convinced he isn't capable of such a thing.

Becca and Nick's dialogues match their sexual encounters. They sizzle, they're intense and they're invigorating. I loved the scene where they had to cook for the bad guy of the book, Zhoglo.
I know I'm repeating myself but with each book McKenna manages to repulse me more with the bad guy in it. In this case the intentions of the bad guy could turn readers away since it involves children but she manages to pull it of in a way that was acceptable for me because of how the plot unfolds. But still Zohglo's plans sent horrifying chills running up and down my spine.

This installment of the series had a slightly different vibe to it. The undertone of humor and sarcasm was much more present than in the other books and I think it's because of Nick and Becca's personalities and backgrounds. They both use sarcasm as protection and humor and laughter as a mechanism to cope with difficult things. This gave the book its special vibe distinguishing it from the previous installments. But don't think now that it was all humor and laughter in this book. It was just as intense and thrilling as the other books in the series; the different vibe in the humor just gave it something extra that caught my eye.

The characters and some ongoing secondary plotlines link all the books in the McCloud series but every book is unique both in main characters and main plot. Despite the consistent and amazingly intense writing style and the way McKenna ignites a wide range of emotions, every book stands out on its own with distinctive and unequaled characters, scorching and emotionally charged love scenes and original one-of-a-kind plots including the breath hitching and gut churning moments.

I'm truly enjoying everything McKenna throws at me. From the heart-thudding action to the intense romance to the spine-tingling eroticism. I hope she'll continue to deliver these intense and erotic masterpieces for a long time to come. With the ending of this one I'm itching to get my hands on Tam's book, which will come out next.
Quotes:
The contact was electric. As if every individual nerve was being kissed, loved. The slow, slick stroke of flesh against flesh was the sum of all those uncountable tiny caresses, all those little tender exchanges.

He knew exactly how a guy sweet-talked women into sex, how to be suave and seductive, blah blah, but he was a slavering wolf thing tonight, lunging at the chain. No games, no charm

Nice to meet you!
Pearl

Netherlands
39, married to my real life romance hero, addicted to TV shows, reading romance novels and Twitter. I'm a chronic (e)book hoarder and my absolute favorite genres within romance fiction are contemporary romance and romantic suspense, but I don't shy away from historical, paranormal or erotic romance either. Even the occasional (urban) fantasy romance, futuristic and sci fi romance may make it to my Mount TBR. This is my corner of the world wide web where I let you know what books I'm hoarding, reading and reviewing.
View my complete profile

My Book-Providers
Reviews by Rating

Reviews by Genre
Reviews by Type

Reviews by Publisher

Fellow Bloggers


GR Reading Challenge
Pearl
has read 10 books toward her goal of 50 books.

On My TBR Shelf
Unforgivable - Laura Griffin
Snapped - Laura Griffin
Darkness at Dawn - Elizabeth Jennings
Sizzle and Burn - Alexis Grant
No Mercy - Lori Armstrong
Animal Magnetism - Jill Shalvis
Crazy for Love - Victoria Dahl
Kink - Saskia Walker/Sasha White
So Sensitive - Anne Rainey
Dark Taste of Rapture - Gena Showalter
The Darkest Secret - Gena Showalter
Vampire in Atlantis - Alyssa Day
Vampire Dragon - Annette Blair
Captive Spirit - Anna Windsor
Chosen by Blood - Virna DePaul
Rebel - Zoe Archer
Stranger - Zoe Archer
A Taste of Desire - Beverley Kendall
Mistress by Midnight - Maggie Robinson
To Desire a Devil - Elizabeth Hoyt
To Tame a Dangerous Lord - Nicole Jordan

Digital TBR Next
Driven - Jayne Rylon (reread)
Shifting Gears - Jayne Rylon
Beg Me - Shiloh Walker
Tempt Me - Shiloh Walker
Jazz Baby - Lorelie Brown
Playboy Prankster - Pamela Britton
Just Like That - Erin Nicholas
Sweet Inspiration - Penny Watson
Breathe - Donna Alward
My Gigolo - Molly Burkhart
Scent of Persuason - Nikki Duncan

Blog Archive