October 21, 2008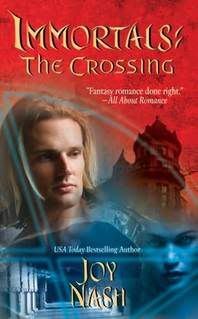 Back Cover:
For Manannán mac Lir, a musician and Celtic demigod, life had become a blur of post-gig parties, expensive whisky, and cheap sex. And then the baby almost died--a baby he had sworn to protect. On the hunt for the would-be killer, Mac finds Artemis Black, a stunningly dangerous woman who's inexplicably able to intertwine life magic with death magic. For the safety of his people, he should destroy her. But the aching vulnerability in her eyes calls to him. And the raw desire she inspires has nothing to do with a spell. Their love may be forbidden, but Mac and Artemis can't go back once they've made...THE CROSSING
Mac is the son of the seagod Lir and Niniane, queen of the Sidhe. He hasn't been his happy-go-lucky self since teaming up with the Immortals to save their brother Tain. He doesn't enjoy his fame as a musician, the attention or women and feels he doesn't enjoy life anymore. He goes to Kalen and Christine (main couple from book 3) to figure out what is wrong with him and what to do about it. But before he has a chance to do so, he stumbles upon Artemis, a witch connected to all four elements (earth, water, fire, air) and able to practice both life and death magic. She has been stealing life-essence from faerie-villages and as guardian of Celtic magical creatures Mac confronts her and together they embark on a journey that has an outcome nobody could ever imagine.

Artemis and Mac's first encounter sets the tone for their book. It's intense and explosive. They meet under the most difficult circumstances but they are truly meant for each other. Both Mac and Artemis are longing to share the love they have to give.
The attraction is instant for Mac, even if she is connected to death magic. Artemis just wants to get rid of him because he is impeding her important quest. She isn't stealing life essence for the fun of it. She must do it to save someone very important to her.

Mac is a character that appealed to me a great deal in THE AWAKENING (book 3) but somehow Joy Nash's heroes don't seem to keep my attention. They don't come of the pages as the heroes in the other books do. I had the same problem with Kalen in his book. Though Mac did do a bit better than Kalen, there were some actions that were so out of character they puzzled me even when the explanation for them was given.

The heroines on the other hand do have that magnetic pull on me. As I liked Christine in her book, I also liked Artemis in this book. She needs balance of her abilities because without it things can turn ugly for her. Her attraction to Mac disturbs this balance and even though she has a powerful motive for her actions it doesn't excuse the fact that she causes harm with her death magic. She is strong, loyal and loving and her actions are well motivated. I could really relate to her.

The main players are Artemis and Mac and their journey and alongside them a parade of magical creatures passes through: sidhe, faeries, golems, harpies and demons. They form an extensive compilation of secondary characters, but all with very minor parts except for yet again an Ancient demon (Old One) that represents the evil. The secondary cast is elaborate but never intrusive. They completed the book and complemented the main characters.

Balance is crucial for Artemis and it's the main theme of the book. Balance between light and dark, balance between life and death.
I must say Joy Nash did an amazing job with the plot of this book. It kept me turning the pages as fast as I could, wondering how it was all going to end.
But this was also due to the writing style of this installment. It was magical and luscious but flowing and easy to read at the same time. I flew through the pages.

The dosage of information was perfect, providing little bits and pieces of information at a time, enticing the reader to learn more and know why the characters take certain actions. I liked how Joy Nash portrayed their journey into Hell and it's many levels, although at the end it seemed like she rushed it a bit in order to wrap things up. Still the plot was unpredictable, original and very well put together.

This book is connected to the Immortals series through Mac's character but it can be perfectly read as a stand-alone. I even will go as far and say that it's better as a stand alone than as part of the series. And I would recommend this as a great book, even, or maybe especially, for readers who are not that into the Immortals series.

Comparing it to the other installments it's much better than the other book by Nash in the series but compared to the books by Ashley and Popp I still have to classify Nash at the bottom of the list.
This has made rating this book very difficult. As a stand-alone it definitely falls in the 4-star category but I must also take into account that the book is part of a series and within that series it doesn't reach the level of the other books.

Overall I think Joy Nash did a great job with this book. I loved Artemis, I liked Mac, I enjoyed their story and their journey, I admired the plot and I had fun with the secondary characters.
Quotes:
The woman was a perfect, pure, high note. His long life was like a song that had been waiting for that single tone to complete it.

Mac to Artemis: "Immortality is vastly overrated (...). A meandering song that had no hope of ever achieving that last beautiful note. The final tone that gives the whole melody a deeper meaning"

Nice to meet you!
Pearl

Netherlands
39, married to my real life romance hero, addicted to TV shows, reading romance novels and Twitter. I'm a chronic (e)book hoarder and my absolute favorite genres within romance fiction are contemporary romance and romantic suspense, but I don't shy away from historical, paranormal or erotic romance either. Even the occasional (urban) fantasy romance, futuristic and sci fi romance may make it to my Mount TBR. This is my corner of the world wide web where I let you know what books I'm hoarding, reading and reviewing.
View my complete profile

My Book-Providers
Reviews by Rating

Reviews by Genre
Reviews by Type

Reviews by Publisher

Fellow Bloggers


GR Reading Challenge
Pearl
has read 10 books toward her goal of 50 books.

On My TBR Shelf
Unforgivable - Laura Griffin
Snapped - Laura Griffin
Darkness at Dawn - Elizabeth Jennings
Sizzle and Burn - Alexis Grant
No Mercy - Lori Armstrong
Animal Magnetism - Jill Shalvis
Crazy for Love - Victoria Dahl
Kink - Saskia Walker/Sasha White
So Sensitive - Anne Rainey
Dark Taste of Rapture - Gena Showalter
The Darkest Secret - Gena Showalter
Vampire in Atlantis - Alyssa Day
Vampire Dragon - Annette Blair
Captive Spirit - Anna Windsor
Chosen by Blood - Virna DePaul
Rebel - Zoe Archer
Stranger - Zoe Archer
A Taste of Desire - Beverley Kendall
Mistress by Midnight - Maggie Robinson
To Desire a Devil - Elizabeth Hoyt
To Tame a Dangerous Lord - Nicole Jordan

Digital TBR Next
Driven - Jayne Rylon (reread)
Shifting Gears - Jayne Rylon
Beg Me - Shiloh Walker
Tempt Me - Shiloh Walker
Jazz Baby - Lorelie Brown
Playboy Prankster - Pamela Britton
Just Like That - Erin Nicholas
Sweet Inspiration - Penny Watson
Breathe - Donna Alward
My Gigolo - Molly Burkhart
Scent of Persuason - Nikki Duncan

Blog Archive