October 14, 2008
5:22 PM
|
Edit Post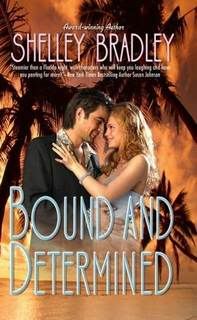 Back cover blurb:
Kerry Sullivan is running out of time-and patience. With her brother wrongfully accused of embezzling millions, she can't face one more humiliating hang-up from the man she's begging for help. Rafael Dawson may be one of the top electronic security experts in the country - and the only man who can prove her brother's innocence–but his phone manners are appalling. Damn Yankee. Too bad kidnapping the man isn't an option. Or is it?

There's nothing Kerry wouldn't do for her brother. There are lots of things she longs to do to Rafe Dawson when he's lying tied-up and naked in her secret hideaway. Rafe is certainly something to look at, but Kerry's brother's life is riding on her pulling off the impossible: getting this man who's always in control to lose it. But when the tables get turned, Kerry finds herself at Rafe's mercy. And the only way to get her way is to let him have his way–with her…
Trying to prove her brother's innocence when he's charged with embezzlement from the bank he works at, Kerry Sullivan needs the help of big time computer-security expert Rafael "Rafe" Dawson. But every time she tries to enlist his help he blows her of without listening to her story. Kerry decides to take matters into her own hands and abducts him in order to make him listen. When Rafe discovers his kidnapper is the same woman who has been phone-stalking him the past few weeks he comes up with a plan to escape. He bargains her into agreeing to a deal and the deal they strike soon turns into very hot and seductive.

If you pick this book up expecting a nice contemporary romance read with a bit of suspense, forget it! This is downright erotic romance. It's explicitly hot and Shelley Bradley tells it like it is, she doesn't embellish and doesn't tone down on the raw sexual attraction between Rafe and Kerry.

Both Rafe and Kerry haven't had easy childhoods but they each deal with it in very different ways.
Kerry hangs on to the people who haven't left her and she will do anything for them. She is loyal, brave, determined and sometimes a bit naive and willing to see the good in people even when it's clear that some are just plain evil. But she rises to the occasion when needed.

Rafe is a bit overbearing. He is alpha to the bone and just makes you melt for his rugged and raw sensuality. He is determined to proving to a father who never loved him or approved of him that he isn't the good-for-nothing son his father always pegged him for. He is building his own multi-million business to rub it in his father's face. But soon after meeting Kerry he discovers there's more to life than proving his worth to an unloving father.

I loved reading both characters and their fiery interactions. They had some on-liners that had me laughing out loud and some love scenes that were sizzling, intense and lascivious. The first part of the book is little more than erotic scenes linked together by the introduction of Kerry, Rafe and their backgrounds, together with the small beginning of a suspense plot. But the plot didn't have the upper hand in this book. It was the romance and the love scenes that dominated.
Sometimes the phrasing and one-liners were edging toward tumbling over the top and could've been toned down a bit, even if only in quantity. Sometimes it was really dangerously on the edge of turning cliché and shallow. But still Shelley knows how to rev it up. The interactions between Rafe and Kerry, both sexually and emotionally are intense and mesmerizing.

With the second part of the book she more than makes up for the first part both in the emotional department as action wise, picking up on the plot and feelings going beyond the instant sensuality between Rafe and Kerry and she finishes it with a satisfying conclusion. Next to the explicitness there are heartfelt emotional struggles, a suspense plot that's not elaborate but still well written and surprising. The main characters evolve from two people just going at it like bunnies, to a couple that fits each other perfectly and they are fleshed out nicely despite the abundance of eroticism. The story of initial lust and passion grows into something more profound and heart breaking.

Actually, contrary to my obsessive habit of reading books in the correct order, I read book 2 of this series (STRIP SEARCH) before I read this one (due to some logistic problems with receiving this book) but book 2 couldn't have prepared me for what I found in this book even if the books are related. And even though book 2 was explicit and hot too, I really think this book wins in all categories but still I can't say which one I liked more.

To date there are only two books in this series but I really hope Shelley Bradley will one day continue with another story in this setting. The books that are published and which I've read make me want more of her hot writing and her mafia-minded plots. For a contemporary romance the balance was slightly tipped towards the erotic side too much, which can turn away moderate contemporary romance readers but if classified as an erotic romance it provides all the elements needed and gives the reader who's into that genre a great book.
Quotes:
A woman thought of just one thing when she looked at a man like Rafe Dawson --and it had nothing to do with firewalls or passwords. (...) He looked good enough to eat...or at least nibble on for prolonged periods.

Rafe groaned. Her kissed didn't demand or submit. It invited, lured, teased with enough of her taste to whet his appetite, but not enough to satisfy.

Nice to meet you!
Pearl

Netherlands
39, married to my real life romance hero, addicted to TV shows, reading romance novels and Twitter. I'm a chronic (e)book hoarder and my absolute favorite genres within romance fiction are contemporary romance and romantic suspense, but I don't shy away from historical, paranormal or erotic romance either. Even the occasional (urban) fantasy romance, futuristic and sci fi romance may make it to my Mount TBR. This is my corner of the world wide web where I let you know what books I'm hoarding, reading and reviewing.
View my complete profile

My Book-Providers
Reviews by Rating

Reviews by Genre
Reviews by Type

Reviews by Publisher

Fellow Bloggers


GR Reading Challenge
Pearl
has read 10 books toward her goal of 50 books.

On My TBR Shelf
Unforgivable - Laura Griffin
Snapped - Laura Griffin
Darkness at Dawn - Elizabeth Jennings
Sizzle and Burn - Alexis Grant
No Mercy - Lori Armstrong
Animal Magnetism - Jill Shalvis
Crazy for Love - Victoria Dahl
Kink - Saskia Walker/Sasha White
So Sensitive - Anne Rainey
Dark Taste of Rapture - Gena Showalter
The Darkest Secret - Gena Showalter
Vampire in Atlantis - Alyssa Day
Vampire Dragon - Annette Blair
Captive Spirit - Anna Windsor
Chosen by Blood - Virna DePaul
Rebel - Zoe Archer
Stranger - Zoe Archer
A Taste of Desire - Beverley Kendall
Mistress by Midnight - Maggie Robinson
To Desire a Devil - Elizabeth Hoyt
To Tame a Dangerous Lord - Nicole Jordan

Digital TBR Next
Driven - Jayne Rylon (reread)
Shifting Gears - Jayne Rylon
Beg Me - Shiloh Walker
Tempt Me - Shiloh Walker
Jazz Baby - Lorelie Brown
Playboy Prankster - Pamela Britton
Just Like That - Erin Nicholas
Sweet Inspiration - Penny Watson
Breathe - Donna Alward
My Gigolo - Molly Burkhart
Scent of Persuason - Nikki Duncan

Blog Archive