October 11, 2008
9:22 AM
|
Edit Post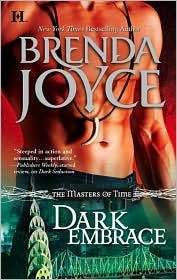 Back Cover blurb:
Aidan, the Wolf of Awe, has abandoned the Brotherhood and forsaken his vows. Feared by all and trusted by none, he hunts alone, seeking vengeance against the evil that destroyed his son. He has not saved an Innocent in sixty-six years--until he hears Brianna Rose's scream of terror across centuries, and leaps to modern-day Manhattan to rescue her…

Brie spends her time fighting evil from the safety of her laptop—and fantasizing about the medieval Highlander she met just once. She is also a gifted empath. Still, her life is pretty ordinary—until she awakens one night consumed with Aidan's pain and rage—which she is feeling across centuries! And when Aidan suddenly appears in the city and takes her hostage, Brie cannot believe how dark and dangerous he has become. She knows she should be afraid, but instead, she will fight across time for his redemption… and his love.
Aidan, the Wolf of Awe, is on a path of self-destruction ever since his demon father killed the only person he truly loved, his nine-year old son. He used to be a Master of Time but since his son's murder he is consumed by hatred, rage, despair, revenge and pain. He has forsaken his vows as a Master to save and protect the Innocent, hates the gods that did this to him and his only goal for the last 66 years has been to avenge his son.
His salvation comes in the form of a twentieth century computer-geek, Brianna (Brie) Rose.
The Rose women are all gifted with empathic powers and Brie also has visions. She feels Aidan's pain and suffering over time and space and is determined to save him from turning as evil as his father. When Aidan hears her cry for help when she's attacked by evil he leaps to her aid and decides to hold her imprisoned in his time when he finds out she has a connection with his dead son. Brie has had a crush on Aidan since she first laid eyes on him and she feels she is the one who can bring him back to goodness. But Aidan refuses her help and her love. He has no room in his heart for anything but his revenge.

Aidan is testy, rude and has an aura of utter darkness surrounding him.
But Brie stirs his soul back to life little by little. She chips away at the darkness surrounding his heart and brings him back to being the man he used to be.
Brie is loyal and giving. Despite the harsh ways Aidan tries to scare her away from him, her determination to love and help him ultimately wins from his determination not to let her.
The build-up of the tension and desire between Brie and Aidan is done gradually and realistically. I liked that despite his strong attraction to Brie, Aidan was fighting it. It fit his background story and it wouldn't have been believable if he had given into her earlier in the story. The graduality of it gave him time to accept and embrace his feelings and it gave Brie time to adjust to her own feelings and his.

There are many secondary characters. The main ones being the main couples from the previous two books: Malcolm (Aidan's half-brother), Claire, Royce and Allie (Brie's best friend). Masters MacNeil and Seoc make a brief appearance and there are also the other two Rose women: Brie's cousins Tabitha (Tabby) and Samantha (Sam), they are the heroines of the following two books in this Rose Trilogy within the Masters of Time series.
Let's not forget Moray, the demon from book 1 and Aidan's father. Throughout most of the book I was wondering what his motives were, besides just being pure evil. I couldn't figure out what he wanted and why and when I came to the end of the book I actually still didn't know. It hasn't been cleared up so I suspect this wasn't the last of him and he'll be back in future books of the series.
And last but not least a new secondary character is introduced: Nick Forrester. He is head of the CDA (Center for Demon Activity) and Brie's boss. There is so much more to him than meets the eye and I wouldn't be surprised if he turns out to be the hero of a future book.

I had some ambivalent feelings when I finished this book. I didn't quite know what to think of it. I can't say it was bad, I thought it was better than the previous book. Certainly I was able to connect to Brie's character more than to Allie's who annoyed me again in this book by the way. But I didn't feel it was as good as the first book in this series. I missed some intensity and sexual tension. The descriptions were there, the plot was there, the great characters were there, the love story was there and the pace was all right but the sum of all those elements put together didn't blow me away.
And again the time leaping provided a bit of confusion for me. Not with Aidan and Brie but with some secondary characters and again it was not until the end that some of it made sense. While reading, it was hard to find a logical chronological sequence in some parts because you know there are rules with the time traveling but they are not explained clearly.

Still it was a wonderful story of faith, loss, grief, love, courage and desire. Despite not being overwhelmed by the romance and the plot I still liked the book. Even with the confusing time traveling there were quite a few fun moments that made me smile and emotional dialogues that touched my own emotions. I'm looking forward to the other stories in the Rose Trilogy.
Rating: 7 out of 10
Nice to meet you!
Pearl

Netherlands
39, married to my real life romance hero, addicted to TV shows, reading romance novels and Twitter. I'm a chronic (e)book hoarder and my absolute favorite genres within romance fiction are contemporary romance and romantic suspense, but I don't shy away from historical, paranormal or erotic romance either. Even the occasional (urban) fantasy romance, futuristic and sci fi romance may make it to my Mount TBR. This is my corner of the world wide web where I let you know what books I'm hoarding, reading and reviewing.
View my complete profile

My Book-Providers
Reviews by Rating

Reviews by Genre
Reviews by Type

Reviews by Publisher

Fellow Bloggers


GR Reading Challenge
Pearl
has read 10 books toward her goal of 50 books.

On My TBR Shelf
Unforgivable - Laura Griffin
Snapped - Laura Griffin
Darkness at Dawn - Elizabeth Jennings
Sizzle and Burn - Alexis Grant
No Mercy - Lori Armstrong
Animal Magnetism - Jill Shalvis
Crazy for Love - Victoria Dahl
Kink - Saskia Walker/Sasha White
So Sensitive - Anne Rainey
Dark Taste of Rapture - Gena Showalter
The Darkest Secret - Gena Showalter
Vampire in Atlantis - Alyssa Day
Vampire Dragon - Annette Blair
Captive Spirit - Anna Windsor
Chosen by Blood - Virna DePaul
Rebel - Zoe Archer
Stranger - Zoe Archer
A Taste of Desire - Beverley Kendall
Mistress by Midnight - Maggie Robinson
To Desire a Devil - Elizabeth Hoyt
To Tame a Dangerous Lord - Nicole Jordan

Digital TBR Next
Driven - Jayne Rylon (reread)
Shifting Gears - Jayne Rylon
Beg Me - Shiloh Walker
Tempt Me - Shiloh Walker
Jazz Baby - Lorelie Brown
Playboy Prankster - Pamela Britton
Just Like That - Erin Nicholas
Sweet Inspiration - Penny Watson
Breathe - Donna Alward
My Gigolo - Molly Burkhart
Scent of Persuason - Nikki Duncan

Blog Archive