December 21, 2008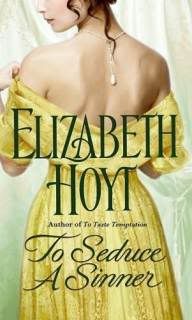 Back Cover:
THE ONE THING HE CANNOT REVEAL

For years, Melisande Fleming has loved Lord Vale from afar . . . watching him seduce a succession of lovers, and once, catching a glimpse of heartbreaking depths beneath his roguish veneer. When he's jilted on his wedding day, she boldly offers to be his.

TO THE ONE WOMAN HE MOST DESIRES

Vale gladly weds Melisande, if only to produce an heir. But he's pleasantly surprised: A shy and proper Lady by day, she's a wanton at night, giving him her body—though not her heart.

IS HIS DEEPEST NEED . . . 

Determined to learn her secrets, this sinner starts to woo his seductive new wife—while hiding the nightmares from his soldiering days in the Colonies that still haunt him. Yet when a deadly betrayal from the past threatens to tear them apart, Lord Vale must bare his soul to the woman he married...or risk losing her forever.
When his bride-to-be leaves the Viscount Vale --Jasper Renshaw-- at the altar, Melisande Fleming steps in and offers to marry him instead. While Jasper thinks Melisande does this out of desperation of being left on the shelf, Melisande is motivated by a secret love she's felt for Jasper for many years and she decides to seize her chance. While in the background the search for the traitor of Spinner's Falls continues and Jasper has to deal with the trauma after the massacre in the Colonies, Melisande fights to never let Jasper know how much she loves him. Her attempt to keep her feelings hidden from Jasper fails and Jasper soon discovers how much more there is to Melisande, than just her accommodating nature. In the course of their marriage Jasper's feelings for Melisande grow too, resulting a strong and happy marriage that conquers all their secrets and troubles.

Jasper is a realist with a quirky sense of humor, he's a foot-in-mouth kind of man, saying exactly what he wants when he wants, even if it sometimes gets him into trouble.
Melisande is a loyal, plain and intelligent woman who doesn't hesitate to do what she needs to get what she wants when she sets her mind to it. She is resolute and tenacious. She is not without a past and secrets of her own, that I knew from the beginning of the story but the revelation of her secrets still took me a bit by surprise.

Melisande and Jasper are total opposites, as Hoyt likes to write her main characters. While Melisande unnoticeably blends into the crowd never the center of attention, Jasper is flamboyant, lively, ever-present and noticed by everyone. Wherever he goes or is he's the center of attention. These differences are displayed in both their appearances and their personalities.
Jasper and Melisande's romance is an unconventional one. Their initial marriage of convenience gradually grows into a heart-felt and loving relationship with mutual admiration and respect where both of them give and receive equally.

Melisande may seem timid and colorless but underneath the plain exterior is a vibrant, bold and sensual woman and when that woman comes out Jasper is unable to resist her. Just as Melisande, Jasper is a multi-layered character. Outwardly and initially he is flamboyant, assertive and cheerful but deep down there's a trauma that influences his emotional state which he has to deal with. Deep down he has to face feelings of guilt and inadequacy over what happened to his regiment after they were betrayed in the War. This makes him rude and unsubtle sometimes, especially during his wedding night. I thought Samuel (hero of book 1 in this series) was boorish and disgraceful at times but in this particular scene Jasper outdid him. There is an explanation for Jasper's behavior to be found in his post-war trauma, but still it was a scene I really did not like and certainly not what I'm used to by Elizabeth Hoyt. Luckily it was just this small scene that made me frown and I was utterly pleased with the rest of the book.

All the elements I love in Elizabeth Hoyt's writing were present in this second installment of the Legend of the Four Soldiers series. In this book the humor and banter I missed a little in the previous book was back in full force. The dialogues between Melisande and Jasper, but also dialogues between the servants and the hilarious scenes with Melisande's little terrier, Mouse, and Jasper fighting for male dominance all caused lots of smiles on my face and provided me with the necessary lightness as opposed to intensity of the emotions and the seriousness of the plot.

This plot, involving the search for the traitor that sold the regiment out to the French and the Indians in the Colonial War, is continued from the first book. At a certain point I thought the mystery of the traitor had been solved but only a small element of it has been cleared and I'm curious to know more, which no doubt will happen in the next book.

There's also a small side story, a secondary romance, going on between Melisande's lady's maid Sally and Jasper's valet Pynch. It's very subtle, but it's absolutely there and I enjoyed reading it.
I also enjoyed the small fairytale at the beginning of every chapter. By now they are an ever-recurring element in Elizabeth Hoyt's historicals and like all the others, this one, called LAUGHING JACK, also contains parallels with the main story. In fact in this book I got three stories for the price of one, which is never a bad deal.

The love scenes are explicit, unembellished and sensual and, with the exception of the wedding night scene, they were all trademark Elizabeth Hoyt. They blend effortlessly into the time period and the story, fitting the characters, their development and Hoyt's overall writing style that is raw, blunt and outspoken. The imperfection of Elizabeth Hoyt's characters never fails to endear me. They take their flaws and make the best of it. The fact that they are flawed and don't let this frustrate them is something I adore every time I read her books.

Again this was an Elizabeth Hoyt book that entertained me and stirred my emotions. For me it was the perfect fusion of strong characters, a compelling romance and an intriguing plot. I'll be waiting for the next book in this series with bated breath.
Quote:
And at that moment he knew he was lost. Lost and blind and going down for the third time without any hope for salvation and he didn't give a damn. He would give anything to unravel this woman. He wanted to search out her innermost secrets and bare her soul. And when he knew her secrets, knew what she kept hidden away in her heart, he would guard it and her with his life. She was his, to protect and to hold.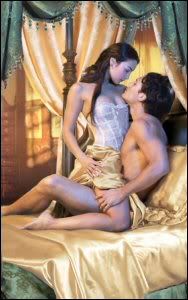 Nice to meet you!
Pearl

Netherlands
39, married to my real life romance hero, addicted to TV shows, reading romance novels and Twitter. I'm a chronic (e)book hoarder and my absolute favorite genres within romance fiction are contemporary romance and romantic suspense, but I don't shy away from historical, paranormal or erotic romance either. Even the occasional (urban) fantasy romance, futuristic and sci fi romance may make it to my Mount TBR. This is my corner of the world wide web where I let you know what books I'm hoarding, reading and reviewing.
View my complete profile

My Book-Providers
Reviews by Rating

Reviews by Genre
Reviews by Type

Reviews by Publisher

Fellow Bloggers


GR Reading Challenge
Pearl
has read 10 books toward her goal of 50 books.

On My TBR Shelf
Unforgivable - Laura Griffin
Snapped - Laura Griffin
Darkness at Dawn - Elizabeth Jennings
Sizzle and Burn - Alexis Grant
No Mercy - Lori Armstrong
Animal Magnetism - Jill Shalvis
Crazy for Love - Victoria Dahl
Kink - Saskia Walker/Sasha White
So Sensitive - Anne Rainey
Dark Taste of Rapture - Gena Showalter
The Darkest Secret - Gena Showalter
Vampire in Atlantis - Alyssa Day
Vampire Dragon - Annette Blair
Captive Spirit - Anna Windsor
Chosen by Blood - Virna DePaul
Rebel - Zoe Archer
Stranger - Zoe Archer
A Taste of Desire - Beverley Kendall
Mistress by Midnight - Maggie Robinson
To Desire a Devil - Elizabeth Hoyt
To Tame a Dangerous Lord - Nicole Jordan

Digital TBR Next
Driven - Jayne Rylon (reread)
Shifting Gears - Jayne Rylon
Beg Me - Shiloh Walker
Tempt Me - Shiloh Walker
Jazz Baby - Lorelie Brown
Playboy Prankster - Pamela Britton
Just Like That - Erin Nicholas
Sweet Inspiration - Penny Watson
Breathe - Donna Alward
My Gigolo - Molly Burkhart
Scent of Persuason - Nikki Duncan

Blog Archive