December 28, 2008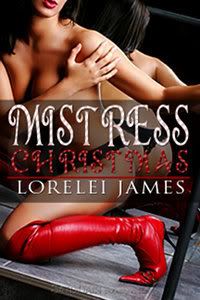 Back Cover:
...All signs point North for not-so-Saint-Nick...
In a rare moment of recklessness, mild-mannered accountant Holly North lets her best friend guilt her into filling in as Mistress Christmas at Sugar Plums, a Christmas-themed strip club. Fearing she'll be recognized—or worse, considered a fraud—she dons a velvet mask along with the Mrs. Claus-meets-dominatrix costume. She's shocked at how deliciously wicked anonymity feels.
Detective Nick West is determined to discover how his friend was supposedly robbed after a lap dance at Sugar Plums. His visions of revenge vanish faster than a flying sleigh upon his first peek at Mistress Christmas—a leggy brunette with smoky eyes and a lush mouth begging for hours beneath the mistletoe.

Their attraction flares hotter than a fireplace on a cold winter evening, and Nick is only too happy to oblige when Holly blurts out her one Christmas wish...For a naughty secret Santa to sweep her away for a night of anonymous sexual pleasure.
When accountant Holly North decides to help her friend and client out and fill in for her regular stripper Mistress Christmas at the gentleman's club her friend owns, she doesn't know Mistress Christmas is going to be under investigation by detective Nick West. His friend was drugged and robbed by the stripper during after a lap dance and Nick wants to catch her in the act. Instead he catches Holly who makes him a tempting offer: to indulge themselves in one night of unadulterated pleasure. What starts as a one-night stand between strangers ends in a love for life between two soul mates.

Even though it was rather short (117 pages) I enjoyed the story. It was a nice mix of erotica, romance and a tiny plot. Main thing was the one night stand between Holly and Nick and the development of their feelings during that night. It was light and breezy and too short for depth or real character development but Ms, James does know how to write erotic scenes that ignite the pages and make you tingly all over. She alternates light, witty banter and sexy innuendo with intensity and genuine feelings. While hero and heroine explore each other, the reader gets to know them a bit better.
There are very few secondary characters and they weren't necessary for the story since it mainly concentrated on Holly and Nick.
Lorelei James's MISTRESS CHRISTMAS gave me exactly what I was looking for on Christmas Day: A light, quick and sexy Christmas read with a happy ending.

I really liked this first taste of Lorelei James' writing. She writes tasteful but steaming hot erotica and I can't wait to read her longer stories (on the sexy McKay cowboys) I've been collecting for a while now.

Nice to meet you!
Pearl

Netherlands
39, married to my real life romance hero, addicted to TV shows, reading romance novels and Twitter. I'm a chronic (e)book hoarder and my absolute favorite genres within romance fiction are contemporary romance and romantic suspense, but I don't shy away from historical, paranormal or erotic romance either. Even the occasional (urban) fantasy romance, futuristic and sci fi romance may make it to my Mount TBR. This is my corner of the world wide web where I let you know what books I'm hoarding, reading and reviewing.
View my complete profile

My Book-Providers
Reviews by Rating

Reviews by Genre
Reviews by Type

Reviews by Publisher

Fellow Bloggers


GR Reading Challenge
Pearl
has read 10 books toward her goal of 50 books.

On My TBR Shelf
Unforgivable - Laura Griffin
Snapped - Laura Griffin
Darkness at Dawn - Elizabeth Jennings
Sizzle and Burn - Alexis Grant
No Mercy - Lori Armstrong
Animal Magnetism - Jill Shalvis
Crazy for Love - Victoria Dahl
Kink - Saskia Walker/Sasha White
So Sensitive - Anne Rainey
Dark Taste of Rapture - Gena Showalter
The Darkest Secret - Gena Showalter
Vampire in Atlantis - Alyssa Day
Vampire Dragon - Annette Blair
Captive Spirit - Anna Windsor
Chosen by Blood - Virna DePaul
Rebel - Zoe Archer
Stranger - Zoe Archer
A Taste of Desire - Beverley Kendall
Mistress by Midnight - Maggie Robinson
To Desire a Devil - Elizabeth Hoyt
To Tame a Dangerous Lord - Nicole Jordan

Digital TBR Next
Driven - Jayne Rylon (reread)
Shifting Gears - Jayne Rylon
Beg Me - Shiloh Walker
Tempt Me - Shiloh Walker
Jazz Baby - Lorelie Brown
Playboy Prankster - Pamela Britton
Just Like That - Erin Nicholas
Sweet Inspiration - Penny Watson
Breathe - Donna Alward
My Gigolo - Molly Burkhart
Scent of Persuason - Nikki Duncan

Blog Archive