December 29, 2008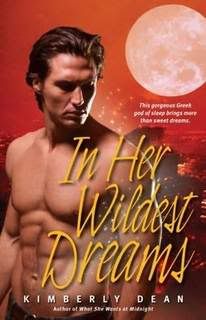 Back Cover:
SLEEPWALKING CAN BE DANGEROUS…
Shea Caldwell fears sleep. As a child, she'd suffered greatly from sleepwalking, never knowing where she'd wander or what she might do. Her sleep disorder had worsened until one terrible night when she'd done something that could never be forgiven. She's lived with the guilt ever since – only now her somnambulism is back.

ONLY HE CAN SAVE HER…
Derek Oneiros is a Dream Wreaker, a spirit of the night that bestows dreams on sleeping humans. By day, he works with the beautiful Dr. Caldwell. By night, he watches over her as she sleeps. When an evil Somnambulist invades her dreams, the only way for Derek to save her from total possession is to possess her himself.

BUT WILL IT BE ON TIME?
It's a struggle for power, with Shea caught in the middle. The Somnambulist's control over her is growing. Can Derek's love save her? Or will she forever be a tool for the evil of the night?
Research scientist Shea Caldwell is succesful and happy, until a sleeping disorder from her past comes back to haunt her. She doesn't want to believe her childhood problems are back but when her sleepwalking puts her on the trail of someone threathening her professional life she hires Derek Oneiros, security specialist, to investigate the matter, not knowing he is a Dream Wreaker who can also solve her sleeping problems. Derek and Shea know each other professionally and are attracted to each other but obstacles and misunderstandings keep them apart until the chemistry between them can't be denied any longer.

This second book I've read of Kimberly Dean, which is also the second book in the Dream Wreakers series, has left me with ambivalent feelings. I am not highly enthusiastic, but I did like the book. There were parts that were intriguing and read like clockwork, especially the ones concerning the suspense plot, the sleepwalking and the concept of the Dream Wreakers and dreams. I was truly fascinated by the way Ms Dean weaves mythology and the science of sleep and dreams into these books. She is also able to mix seemingly separate subplots together towards one mutual conclusion.
The first part of the book was a bit too slow-paced, dragging on a bit. This changed when Shea and Derek really joined forces to fight the problems haunting Shea and when some of Derek's brothers joined in the action. In the main characters there was definitely attraction and sexual tension but for me it lacked intensity in the emotions between them. The intensity just wasn't there enough for me, maybe this is because I'm a spoiled reader with some favorite authors who crack the intensity up to a very high level. Another thing that struck me was that the book is put out as an erotic romance and although the love scenes were wonderfully written, hot and fitting the story, enriching it, for me they were no more explicit than in the average historical or paranomal romances written lately.
I can say that I really liked the book, the plot and the worldbuilding but it didn't blow me away. It was a nice, average read for me, as with book 1. It did again leave me curious about the other Dream Wreakers' stories because the bantering and bond between the Oneiros brothers, especially the antipoles Derek ("The Machine") and Zane ("the Screw-Up") was great to read.

In conclusion, I like Kimberly Dean's worldbuilding and storytelling, but I miss something in her main couples to keep me enthralled to their romance.

Nice to meet you!
Pearl

Netherlands
39, married to my real life romance hero, addicted to TV shows, reading romance novels and Twitter. I'm a chronic (e)book hoarder and my absolute favorite genres within romance fiction are contemporary romance and romantic suspense, but I don't shy away from historical, paranormal or erotic romance either. Even the occasional (urban) fantasy romance, futuristic and sci fi romance may make it to my Mount TBR. This is my corner of the world wide web where I let you know what books I'm hoarding, reading and reviewing.
View my complete profile

My Book-Providers
Reviews by Rating

Reviews by Genre
Reviews by Type

Reviews by Publisher

Fellow Bloggers


GR Reading Challenge
Pearl
has read 10 books toward her goal of 50 books.

On My TBR Shelf
Unforgivable - Laura Griffin
Snapped - Laura Griffin
Darkness at Dawn - Elizabeth Jennings
Sizzle and Burn - Alexis Grant
No Mercy - Lori Armstrong
Animal Magnetism - Jill Shalvis
Crazy for Love - Victoria Dahl
Kink - Saskia Walker/Sasha White
So Sensitive - Anne Rainey
Dark Taste of Rapture - Gena Showalter
The Darkest Secret - Gena Showalter
Vampire in Atlantis - Alyssa Day
Vampire Dragon - Annette Blair
Captive Spirit - Anna Windsor
Chosen by Blood - Virna DePaul
Rebel - Zoe Archer
Stranger - Zoe Archer
A Taste of Desire - Beverley Kendall
Mistress by Midnight - Maggie Robinson
To Desire a Devil - Elizabeth Hoyt
To Tame a Dangerous Lord - Nicole Jordan

Digital TBR Next
Driven - Jayne Rylon (reread)
Shifting Gears - Jayne Rylon
Beg Me - Shiloh Walker
Tempt Me - Shiloh Walker
Jazz Baby - Lorelie Brown
Playboy Prankster - Pamela Britton
Just Like That - Erin Nicholas
Sweet Inspiration - Penny Watson
Breathe - Donna Alward
My Gigolo - Molly Burkhart
Scent of Persuason - Nikki Duncan

Blog Archive