December 17, 2008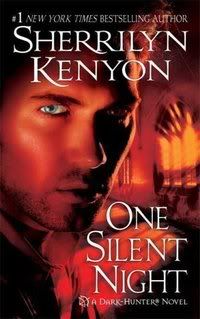 Back Cover:
While the world carries on unawares, Stryker, who leads an army of demons and vampires, is plotting an all out onslaught against his enemies--which, unfortunately for us, includes the entire human race.

To avenge his sister, Stryker prepares to annihilate the Dark-Hunters. But things go awry when his oldest enemy returns. Enter his ex-wife. Zephyra. Just when he thought nothing could stop him, he's now embroiled in a centuries old war with a shrew who gives new meaning to pain and a shrew who is the only woman he's ever really loved.
They killed his sister and they must die. When Stryker sprouts a plan to kill his enemies Acheron and Nick Gautier it causes major changes in the pecking order of the gods and demons and the main players are going to have to come out of their comfort zone and join forces to survive. The whole plan backfires when Artemis sends his ex-wife Zephyra to kill him and when some people don't turn out to be who we think they were. Now Stryker finds himself having to form an alliance with his greatest enemies in order to save the ones he loves.

I must honestly say that I had quite some trouble getting into the main couple characters in this book. Stryker, for me, just isn't hero material, always having seen him as the really bad guy with no emotional sensibility whatsoever. A cunning, conniving and manipulating man who would kill anyone if he feels like it and if it suits his purposes. He was not a character I could easily sympathize with in the beginning.
One thing I did miss was interaction between Urian and Stryker. I had hoped that in his own book Stryker would come face to face him, but unfortunately this wasn't the case.

Zephyra to me was determined and headstrong but also very vengeful. Of course her urge for revenge is motivated but still I had trouble concurring that with the image of a likeable heroine.

And again, as is becoming repetitive in Kenyon's most recent books with the exception of ACHERON, other (secondary) characters outshined Stryker and Zephyra in the book. I was more intrigued by scenes around Jared, Nick, Savitar, Apollymi and even War and Kessar than I was by the romance between Stryker and Zephyra.

Even though at first I couldn't really relate to either Styker or Zephyra, the dynamics between them was very nice. Neither of them gave each other an inch despite the feelings that were still between them.
As I progressed in the book they did start to grow on me a bit more. Especially in their interactions and their behavior towards each other. I definitely could empathize better with them after Stryker's motive for leaving Zephyra was given. In that scene I understood them and their feelings so much better than from the spiteful dialogues before where it seemed they were talking at cross-purposes. This scene made me more susceptible to his character, and Zephyra's reaction to it also redeemed her in my eyes.

I find it very difficult to review this book. I can't say it was a bad book but it wasn't mind-blowing material either. I liked a lot of aspects, like the sarcastic interactions, the quick-witted banter, the plot developments and the roles of some secondary characters. But I disliked some other aspects, like the personalities of the hero and heroine and the place of their romance in the book).

Certainly after reading ACHERON I was expecting something intense and rattling but regrettably it just left me with a small feeling of satisfaction of having finished another installment in the Dark-Hunter series and looking forward to the next one.

I absolutely liked the second half of the book better than the first and had both some laugh-out-loud moments and some emotional moments but alas it didn't come close to the Dark-Hunter books I devoured page for page, leaving me wanting more.

The one sure thing about Kenyon's books is that every one leaves you wanting the next one though! In this one it were Jared and the unexpected yet intriguing developments surrounding Nick Gautier that guide me to the next books without any hesitation, despite that the book I have just finished didn't rock my world
Quote:
Stryker and Zephyra:
"I always knew your were good at handling a man's sword, love, but I had no idea that extended to those made of steel, too."
"At least this sword doesn't disappoint. I don't have to worry about it going soft on me."
"I never went soft on you."
"Trust me baby, you weren't
that
good. I was just a better actress than you were actor."

Nice to meet you!
Pearl

Netherlands
39, married to my real life romance hero, addicted to TV shows, reading romance novels and Twitter. I'm a chronic (e)book hoarder and my absolute favorite genres within romance fiction are contemporary romance and romantic suspense, but I don't shy away from historical, paranormal or erotic romance either. Even the occasional (urban) fantasy romance, futuristic and sci fi romance may make it to my Mount TBR. This is my corner of the world wide web where I let you know what books I'm hoarding, reading and reviewing.
View my complete profile

My Book-Providers
Reviews by Rating

Reviews by Genre
Reviews by Type

Reviews by Publisher

Fellow Bloggers


GR Reading Challenge
Pearl
has read 10 books toward her goal of 50 books.

On My TBR Shelf
Unforgivable - Laura Griffin
Snapped - Laura Griffin
Darkness at Dawn - Elizabeth Jennings
Sizzle and Burn - Alexis Grant
No Mercy - Lori Armstrong
Animal Magnetism - Jill Shalvis
Crazy for Love - Victoria Dahl
Kink - Saskia Walker/Sasha White
So Sensitive - Anne Rainey
Dark Taste of Rapture - Gena Showalter
The Darkest Secret - Gena Showalter
Vampire in Atlantis - Alyssa Day
Vampire Dragon - Annette Blair
Captive Spirit - Anna Windsor
Chosen by Blood - Virna DePaul
Rebel - Zoe Archer
Stranger - Zoe Archer
A Taste of Desire - Beverley Kendall
Mistress by Midnight - Maggie Robinson
To Desire a Devil - Elizabeth Hoyt
To Tame a Dangerous Lord - Nicole Jordan

Digital TBR Next
Driven - Jayne Rylon (reread)
Shifting Gears - Jayne Rylon
Beg Me - Shiloh Walker
Tempt Me - Shiloh Walker
Jazz Baby - Lorelie Brown
Playboy Prankster - Pamela Britton
Just Like That - Erin Nicholas
Sweet Inspiration - Penny Watson
Breathe - Donna Alward
My Gigolo - Molly Burkhart
Scent of Persuason - Nikki Duncan

Blog Archive