December 27, 2008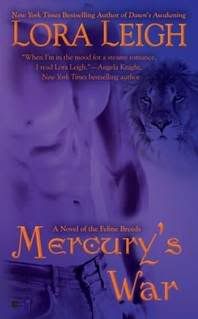 Back cover:
Nothing matches Lora Leigh's latest entry in the series about genetically altered Breeds with feline DNA--and the humans who awaken their desire...

There's trouble at Sanctuary. Someone has been slipping secure information to a pharmaceutical company. Now it's up to Ria Rodriguez to pose as a clerk and uncover the leak. And she has no idea of the danger she's about to encounter.

Years ago Mercury Warrant--who, according to his file, is one of the greatest Breeds ever created--thought he lost his mate, and he's had to live with the idea that he'll never know true bonding. Then he's tapped to protect the mysterious Ria--and finds himself falling in love.
But Ria is a woman of many secrets, and she fears being consumed by her feelings for Mercury. Little does she know that she has every right to be afraid. Because the woman believed to be Mercury's true mate is back from the grave, and she's not about to let Ria--or anyone else--get in her way...
Gloria "Ria" Rodriquez, is not who or what she seems to be. As the Vanderales' paper pusher she is sent to Sanctuary as a clerk to find out if the funding of Sanctuary should be continued. But in reality she is there to investigate the traitor who has been leaking information in order to get rich. But there's so much more to her than meets the eye. She is extremely smart, loyal and a self-sufficient loner with sharp instincts. She tries to accommodate people so they will let her do want she's hired to do, but she's also a loner. Hurt early in life she has abandonment issues and when her boundaries are crossed she can turn from complacent into a fierce opponent to reckon with.

Mercury is assigned to look out for Ria's safety and his savage, sexy and straightforward character and behavior work as a catalyst on Ria's feelings. He is blunt and a true predator in a very sexy way. He is the epitome of the animalistic Breed the Genetic Council sought to create. He is the most primal, feral Breed I've encountered in the series so far. The one who comes closest to the Feline genes he was infused with. But his primal instincts, the beast inside has been subdued after he went berserk after losing his intended mate in the Labs. Ria is the one to trigger his inner beast into revealing itself, in a way I never saw coming.

Merc's previous mating makes it hard for Ria to give into her feelings for him. Like Mercury she also has always felt like an outsider without a place to belong, without someone to turn to and lean on. They both find what they search for, the sense of belonging in each other.
Against the backdrop of the ongoing battle to protect the Breeds' freedom and their secrets a search for a traitor leaking those secrets leads to a love story that is unique in all its aspects. There are a lot of complications blocking the way. Complications Ria and Mercury have to overcome first and nothing is accomplished without sacrifices and battles.

The secondary characters are almost all familiar characters from previous books. Callan Lyons, Dane Vanderale, Jonas Wyatt and Dr. Ely Morrey play significant and crucial roles as supporting characters, both to the plot and to Ria and Mercury's romance.
A lot of interesting information on the First Leo, his family, Dane and Jonas is disclosed in this book. This information has definitely whetted my appetite for much more. I think this is just the tip of the iceberg and I can't wait to see what will come of this in the end.

Again Lora Leigh hooked me with a tempting prologue that held a promise for the rest of the book. She definitely made good on that promise.
This installment of the Breeds series proved that the mating heat is irrevocably tied to the animal inside the Breeds. Without the animal's freedom there is not mating heat. It took me a while to understand this with all the other things going on in the book, but once I did I understood Mercury and Ria's journey and why their relationship had to develop the way it did. Their passion, even without the mating heat, seemed fiercer, more intense.
Because of the interesting and surprising developments where the mating heat is concerned this book had a different vibe than the other Breed books. In those books the mating heat was the compelling force bringing the couple together. In this book emotions and feelings between Ria and Mercury started without mating heat being in the picture, making it more complicated but not less inevitable or less strong. Lora Leigh enables the reader to follow the slow awakening of Mercury's inner beast out of the confinement it was placed in a long time ago. This awakening, seen through the small but enticing bits that portray the animal's point of view, follows the progression of Mercury's feelings for Ria.

From start to finish this book had my heart pounding like a jackhammer. When it wasn't the sexual tension or the amazingly hot love scenes between Mercury and Ria, it was the thrilling suspense of the plot or the revelations surrounding the Vanderales. I also got more knowledge of the rules of Breed Law, with which Lora Leigh adds another layer to the world of the Breeds. In this book Lora Leigh built the tension and emotions up in a tremendous way. Feeding me the emotions slowly, giving me bits and pieces of the plot, which gradually unfolded, and finishing with a conclusion that was the culminating point in the book. I've said it before and I'll keep repeating myself as long as she keeps writing books like these. She manages to give every book its own unique feel and still it attributes to the series as a whole.

I loved this book right from the beginning and then a certain turn of events happened and I was speechless with the emotional impact this had on Ria and on me as a reader. I almost actually felt her pain, her suffering, I felt her shatter into millions of pieces and then she turned it around, got a grip and literally fought for her man and I was in her corner cheering her on and at the same time in awe of Lora Leigh's writing talent. The way she described these events and emotions in the last third of the book was amazing. It was an emotional hurricane coming off the pages.
The second part of this book was the most intense and emotional part of it and probably of the entire series I've read so far. For me only DAWN'S AWAKENING as a whole reached the same intensity. The second half of MERCURY'S WAR took me into the eye of an emotional twister and when I emerged from it I was emotionally torn apart but simultaneously thoroughly satisfied with another superb book from one of my favorite authors in one of my favorite series. The balance of all the parts was mixed perfectly together: emotions, characters, romance, eroticism and plot were stirred and out came an overwhelming story of love, acceptance, loyalty, betrayal and commitment.

With every book more and more is revealed of this intriguing world. You'd think with this many installments repetitiveness and predictability are dangers that lie around the corner but the contrary is true as each book is better (with a few minor exceptions). Every installment in this series adds to the quality of it with its own unique plotline in the interlinked story arc that winds itself through the books, with its own couple who display different degrees of mating and reactions to the mating heat, with its erotic scenes that never miss their mark together with the intense emotions that come along with them. With each book she expands the Breed world and adds to the reader's knowledge of it. At the same time she comes up with not only new, intriguing revelations that shed a different light on everything you already knew but she also raises new mysteries and new questions you want answers to. For me the best ones in the series up till now are DAWN'S AWAKENING and MERCURY'S WAR, both as regards the emotionally strong characters and the intriguing plots. But I'm also utterly convinced there are some stories scheduled or in the making (Cassie, Jonas, Cabal) that will rival with my favorite ones.

Lora Leigh and her Breeds provide the ultimate reading pleasure, satisfying needs that arose from the moment I read the very first sentence of the first story I read in this series. Every installment after that has only fed the addiction, the need for more, the craving for those alpha Breeds and their stubborn mates who have the ability to set the pages on fire and rattle my emotions to the fullest.
Quotes:
If she kept twitching her ass like that he was going to f**k it. So help him God, he was going to take her to her knees, hike that plain brown skirt to her hips, and show her the folly of teasing a fully grown, hungry male Lion Breed.

"You're not serious, Mercury. Breed males don't wait for their mates to make the first move. When did you lose your senses?"
"When you screwed up my mind and my soul with every emotion I swore I'd never feel for a woman," he snarled back at her. "When I realized you'll walk away before you'll fight for any damn thing you want. A man has his pride, and a Breed has even more. You want it, mate? Come and get it."

Nice to meet you!
Pearl

Netherlands
39, married to my real life romance hero, addicted to TV shows, reading romance novels and Twitter. I'm a chronic (e)book hoarder and my absolute favorite genres within romance fiction are contemporary romance and romantic suspense, but I don't shy away from historical, paranormal or erotic romance either. Even the occasional (urban) fantasy romance, futuristic and sci fi romance may make it to my Mount TBR. This is my corner of the world wide web where I let you know what books I'm hoarding, reading and reviewing.
View my complete profile

My Book-Providers
Reviews by Rating

Reviews by Genre
Reviews by Type

Reviews by Publisher

Fellow Bloggers


GR Reading Challenge
Pearl
has read 10 books toward her goal of 50 books.

On My TBR Shelf
Unforgivable - Laura Griffin
Snapped - Laura Griffin
Darkness at Dawn - Elizabeth Jennings
Sizzle and Burn - Alexis Grant
No Mercy - Lori Armstrong
Animal Magnetism - Jill Shalvis
Crazy for Love - Victoria Dahl
Kink - Saskia Walker/Sasha White
So Sensitive - Anne Rainey
Dark Taste of Rapture - Gena Showalter
The Darkest Secret - Gena Showalter
Vampire in Atlantis - Alyssa Day
Vampire Dragon - Annette Blair
Captive Spirit - Anna Windsor
Chosen by Blood - Virna DePaul
Rebel - Zoe Archer
Stranger - Zoe Archer
A Taste of Desire - Beverley Kendall
Mistress by Midnight - Maggie Robinson
To Desire a Devil - Elizabeth Hoyt
To Tame a Dangerous Lord - Nicole Jordan

Digital TBR Next
Driven - Jayne Rylon (reread)
Shifting Gears - Jayne Rylon
Beg Me - Shiloh Walker
Tempt Me - Shiloh Walker
Jazz Baby - Lorelie Brown
Playboy Prankster - Pamela Britton
Just Like That - Erin Nicholas
Sweet Inspiration - Penny Watson
Breathe - Donna Alward
My Gigolo - Molly Burkhart
Scent of Persuason - Nikki Duncan

Blog Archive