December 7, 2007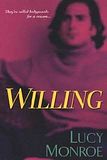 Josie McCall has been raised to be a soldier, and she could be the best—if she wanted it. Instead, she left her dad's mercenary school behind for a normal job in computers. But now that someone has torched the school and her dad is MIA from the hospital, Josie's going to use every bit of her merc training to find him and hunt down the culprits who took him. Josie knows a lot about explosives, hand-to-hand combat, and tracking. What she doesn't know about is sex. She has no idea what to do with the volcanic attraction she feels for her dad's new partner, Daniel Black Eagle. And that feels more dangerous than any bomb…

Daniel knows exactly what he'd like to do about that attraction. The brooding explosives expert can't get within five feet of Josie without wanting to touch, taste, and protect her—even if he's sure she would happily drop-kick him if she knew one sizzling moment of his fantasies. But he'll save it for later. Right now, he's got his hands full figuring out who set that bomb and took Josie's dad. Daniel's sure of one thing, though—he's not letting Josie McCall out of his sight for a single second. Convincing the cutest, most desirable trained soldier he's ever met that she needs a bodyguard isn't going to be easy. But if she'll let him, he'll show her he's willing to do whatever it takes to keep her safe, and along the way, he'll make her feel every inch a woman…
Two tough mercenaries down, one to go!

When her father's training facility blows up, her father disappears from the hospital and her own life is threatened, female mercenary Josie McCall has no choice but to team up with her father's former student and now his partner in the facility, Daniel Black Eagle (Nitro). She has known him since she was a young girl and always hid her feelings for him thinking he didn't return them. But now while searching for her father and the person responsible for the destruction of her father's facility, she has to work closely with Nitro and she discovers things she could never have imagined.

The prologue set the stage and promised another heart wrenching story. And it was. An emotional gem dressed in a coat of suspense and passion.
Another nicely balanced mix of suspense and romance.
This trilogy seems to have a recurring theme: the feelings of not belonging overcome by finding an intense and strong love.

Josie is both innocent and tough at the same time. This makes her a lovely character. She's very capable in the field of bombs and fighting, and yet at the same time so naïve where sexual desires are concerned. But she's a quick learner. The way Nitro introduces her the world of sensuality and desire is breathtaking and to die for. No gallant knight could have done it in a better way. It's the way any woman would wish to have been introduced into the pleasures of lovemaking.
Nitro is tough and at the same time so caring and gentle for Josie. But he has to sort out his emotional heritage before he can accept his love for Josie.

Nitro and Josie are perfectly matched main characters. The chemistry between them is magnetic and hot. It seemed to start in book one but in the first chapters you realize their attraction started much earlier. Danger and fear accelerate the mutual attraction and feelings into sexual tension and eventually into an intense love.
They are drawn to each other like moths to a flame, unable to resist yet still trying to protect their hearts, trying not to be vulnerable because they are supposed to be hardened "soldiers." But it's inevitable.

Contrary to book one this book focuses more on the developing relationship and passion between the main characters and a bit less on the suspense. This provides a nice diversity in the trilogy; giving each installment it's own unique vibe, not only in characters but also in the "touch and feel."
The book provides both romance and suspense, both intense emotions and fun moments, both beautiful love and steamy lust, both tough soldiers and caring soul mates.
The love scenes are exquisitely written. Hot and sensual but intense and emotional at the same time. Lucy Monroe knows how to write those scenes like no other.
The secondary characters were enjoyable and a true addition. Especially Hotwire was a treat, oozing with southern charm and I can't wait to dive into his story.

In the field of romantic suspense I have discovered a trilogy that satisfies my appetite for strong alpha males, lovely heroines, steamy passion and a suspenseful plot. Thumbs up for Lucy Monroe!
Quote:
Even less had she anticipated the leashed force of his passion vibrating from his body to hers combined with a kiss so caring and gentle, she was ready to melt in a puddle of devastating emotion right there on the footpath.

Nice to meet you!
Pearl

Netherlands
39, married to my real life romance hero, addicted to TV shows, reading romance novels and Twitter. I'm a chronic (e)book hoarder and my absolute favorite genres within romance fiction are contemporary romance and romantic suspense, but I don't shy away from historical, paranormal or erotic romance either. Even the occasional (urban) fantasy romance, futuristic and sci fi romance may make it to my Mount TBR. This is my corner of the world wide web where I let you know what books I'm hoarding, reading and reviewing.
View my complete profile

My Book-Providers
Reviews by Rating

Reviews by Genre
Reviews by Type

Reviews by Publisher

Fellow Bloggers


GR Reading Challenge
Pearl
has read 10 books toward her goal of 50 books.

On My TBR Shelf
Unforgivable - Laura Griffin
Snapped - Laura Griffin
Darkness at Dawn - Elizabeth Jennings
Sizzle and Burn - Alexis Grant
No Mercy - Lori Armstrong
Animal Magnetism - Jill Shalvis
Crazy for Love - Victoria Dahl
Kink - Saskia Walker/Sasha White
So Sensitive - Anne Rainey
Dark Taste of Rapture - Gena Showalter
The Darkest Secret - Gena Showalter
Vampire in Atlantis - Alyssa Day
Vampire Dragon - Annette Blair
Captive Spirit - Anna Windsor
Chosen by Blood - Virna DePaul
Rebel - Zoe Archer
Stranger - Zoe Archer
A Taste of Desire - Beverley Kendall
Mistress by Midnight - Maggie Robinson
To Desire a Devil - Elizabeth Hoyt
To Tame a Dangerous Lord - Nicole Jordan

Digital TBR Next
Driven - Jayne Rylon (reread)
Shifting Gears - Jayne Rylon
Beg Me - Shiloh Walker
Tempt Me - Shiloh Walker
Jazz Baby - Lorelie Brown
Playboy Prankster - Pamela Britton
Just Like That - Erin Nicholas
Sweet Inspiration - Penny Watson
Breathe - Donna Alward
My Gigolo - Molly Burkhart
Scent of Persuason - Nikki Duncan

Blog Archive