December 15, 2007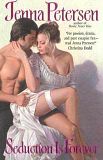 Master spy Emily Redgrave hasn't been the same since a night six months ago when she was cut down by a would-be assassin's bullet. Though she is physically recovered, she's still haunted by memories of the trauma and regrets for what almost happened. She's desperate to re-enter the field and regain her confidence. When she's assigned to follow and protect Grant Ashbury, the Earl of Westfield, she reluctantly accepts, knowing this 'babysitting' duty could very well lead to more advanced cases.

What she doesn't know is that Grant is a troubled spy in his own right. And he's just been assigned to follow her by his own superior officers. But as the two chase each other around London, they inadvertently uncover a real case and a magnetic desire that draws them together in shocking, scandalous ways. Can Grant and Emily overcome their past traumas and work together?

And just who is the mysterious Lady M?
As the last single lady spy, Emily Redgrave feels her only devotion is her work for the Crown but since her injury her fellow spies and superiors watch over her constantly, making her feel incompetent. She's thrilled when she finally gets a case again: protecting Grant Ashbury, Lord Westfield, and finding out who's threatening him. When she finds out the latest assignment is a ruse in order to protect her, and the man she's protecting turns out to be a fellow spy, she's furious. During the case she stumbles upon a real and dangerous case and partners up with Grant. Who knew the partnership would grow into something so much more than she intended to...

What a wonderful ending to a great trilogy. This is truly a case of saving the best for last!
The story starts relatively slow and easygoing, building up gradually to a satisfying conclusion with a nice twist at the end, where all questions are answered and you're not left wondering. Maybe just hoping for some connecting books with some of the secondary characters from the three books.

I loved Emily and Grant to pieces...Their interactions were intense and sparkling. Their blossoming love was palpable despite the fight they put up to deny it. They were true partners in the case as well as in love. The really complemented each other, finding in each other what they didn't know they were looking for.
And the secondary characters are perfect. Visible enough to be complementary to the storyline and the main characters but never overbearing. I liked the bond between Grant and his brother. The bond between Emily, Anastasia and Meredith is strong despite Emily feeling left out after their marriages and her injury.

The plot was thrilling. The romance was so emotional it had me wiping tears at the end.
The case they had to solve was well written and intriguing. The mix of action and emotion was perfectly balanced
Jenna Petersen's writing is easy to read and fast-paced, despite the strong emotions displayed between hero and heroine. It pulled me in bit by bit until I just couldn't stop reading and kept reading to find out what would happen next, either with the case or with the relationship.

The Lady Spies have gained themselves a place on my list of favorite heroines being strong, brave, fiery, sensual and loyal. They certainly are no regular Regency ladies.
And their men are downright yummy, being strong and manly but also unafraid to show their emotions when it comes to the woman they love.

I loved all the installments in this trilogy equally. Every book has it's own uniqueness and together they form a perfect whole. This is a first for me. In series/trilogies there is always a book I like more or less. This proves to me the consistency of Jenna Petersen's writing and I wonder what she has in store for us next.
Quote:
He wanted to walk across that room, back Emily into a dark corner, and press his body against hers until there was no space between them. He wanted to fill himself with the scent of her hair. Taste her skin until he was drunk on its flavor.

Nice to meet you!
Pearl

Netherlands
39, married to my real life romance hero, addicted to TV shows, reading romance novels and Twitter. I'm a chronic (e)book hoarder and my absolute favorite genres within romance fiction are contemporary romance and romantic suspense, but I don't shy away from historical, paranormal or erotic romance either. Even the occasional (urban) fantasy romance, futuristic and sci fi romance may make it to my Mount TBR. This is my corner of the world wide web where I let you know what books I'm hoarding, reading and reviewing.
View my complete profile

My Book-Providers
Reviews by Rating

Reviews by Genre
Reviews by Type

Reviews by Publisher

Fellow Bloggers


GR Reading Challenge
Pearl
has read 10 books toward her goal of 50 books.

On My TBR Shelf
Unforgivable - Laura Griffin
Snapped - Laura Griffin
Darkness at Dawn - Elizabeth Jennings
Sizzle and Burn - Alexis Grant
No Mercy - Lori Armstrong
Animal Magnetism - Jill Shalvis
Crazy for Love - Victoria Dahl
Kink - Saskia Walker/Sasha White
So Sensitive - Anne Rainey
Dark Taste of Rapture - Gena Showalter
The Darkest Secret - Gena Showalter
Vampire in Atlantis - Alyssa Day
Vampire Dragon - Annette Blair
Captive Spirit - Anna Windsor
Chosen by Blood - Virna DePaul
Rebel - Zoe Archer
Stranger - Zoe Archer
A Taste of Desire - Beverley Kendall
Mistress by Midnight - Maggie Robinson
To Desire a Devil - Elizabeth Hoyt
To Tame a Dangerous Lord - Nicole Jordan

Digital TBR Next
Driven - Jayne Rylon (reread)
Shifting Gears - Jayne Rylon
Beg Me - Shiloh Walker
Tempt Me - Shiloh Walker
Jazz Baby - Lorelie Brown
Playboy Prankster - Pamela Britton
Just Like That - Erin Nicholas
Sweet Inspiration - Penny Watson
Breathe - Donna Alward
My Gigolo - Molly Burkhart
Scent of Persuason - Nikki Duncan

Blog Archive