December 11, 2007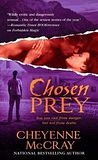 Peril
Lyra Collins has made a life for herself in a sleepy artists' community in Arizona . Having escaped from a cult five years ago, she keeps a low profile, making a living as an artist. But when a mysterious man with a dark, dangerous look appears on her doorstep, she knows it's time to run again.

Passion
Former cop Dare Lancaster didn't mean to lead a bunch of fanatical cult members straight to Lyra's door. But now that he's gotten her into this mess, he's determined to get her out. The frantic heat their bodies generate whenever they're together makes him want to save her.

Prophecy
Neal Barker's grandfather was the first Prophet Jericho, and Neal now rules the Temple of Light commune unchecked. According to his visions, he and Lyra are destined to produce the new Messiah, so he will stop at nothing to make her his own. But soon Dare will discover just how far he'll go to protect Lyra-and never let her go.
When the cult she was trying to escape hunts her down and finds her. Lyra is afraid she will be dragged back to the hell on earth she was running from.
The leader of the cult has pronounced her the chosen one to give birth to the new Messiah and tough she managed to escape him and his followers, she wasn't able to stay hidden enough for them not to find her.
But fortunately the private investigator who found her, Dare Lancaster, proclaims himself her protector and with his help she manages to escape a faith she fears like nothing else. In the process of running they find it unable to run from the feelings and attraction between them...

After reading this book I had an ambivalent feeling. It was good and I liked it but it wasn't mind-blowing.
I loved the action and the love scenes but it was the character development that I found a bit lacking. The romance between Dare and Lyra starts of gradually but at some point it picks up speed and in my opinion things go to fast from that moment on. Considering Lyra's past I couldn't get a grip on the way her feelings for Dare all of a sudden were as deeply as described. It went from being afraid of being intimate with a man to having no limits whatsoever almost overnight. And this was something that didn't go well with me.
But still I liked the book.
The love scenes were beautiful and sensual, intense and very explicit but not distasteful.

The suspense was exciting in a nicely paced and action-filled plot. Cheyenne McCray has a vivid and flowing writing style and does a great job of accurately describing the ways of the cult and the anxiety Lyra feels being hunted down by them.
The main characters are very compelling, despite the little discrepancies concerning the development of their relationship. Dare is a true former cop, rough and rugged. Guilt ridden because of his past and because he's the one who led the cult to Lyra.
Lyra is brave and strong, not willing to be used by Neal, the cult leader. Neal is a seriously depraved man. There were scenes with him that really gave me chills. McCray did an excellent job of penning down evil in its truest form. Nick, Dare's partner, is an intriguing character and I'm very curious to read his story. There certainly much more than meets the eye with him. His story will be part of a new series by McCray (release TBA).

In conclusion although I enjoyed myself with this book and I loved the plot and the action, I must say I liked McCray's paranormal Magic-series better.

Nice to meet you!
Pearl

Netherlands
39, married to my real life romance hero, addicted to TV shows, reading romance novels and Twitter. I'm a chronic (e)book hoarder and my absolute favorite genres within romance fiction are contemporary romance and romantic suspense, but I don't shy away from historical, paranormal or erotic romance either. Even the occasional (urban) fantasy romance, futuristic and sci fi romance may make it to my Mount TBR. This is my corner of the world wide web where I let you know what books I'm hoarding, reading and reviewing.
View my complete profile

My Book-Providers
Reviews by Rating

Reviews by Genre
Reviews by Type

Reviews by Publisher

Fellow Bloggers


GR Reading Challenge
Pearl
has read 10 books toward her goal of 50 books.

On My TBR Shelf
Unforgivable - Laura Griffin
Snapped - Laura Griffin
Darkness at Dawn - Elizabeth Jennings
Sizzle and Burn - Alexis Grant
No Mercy - Lori Armstrong
Animal Magnetism - Jill Shalvis
Crazy for Love - Victoria Dahl
Kink - Saskia Walker/Sasha White
So Sensitive - Anne Rainey
Dark Taste of Rapture - Gena Showalter
The Darkest Secret - Gena Showalter
Vampire in Atlantis - Alyssa Day
Vampire Dragon - Annette Blair
Captive Spirit - Anna Windsor
Chosen by Blood - Virna DePaul
Rebel - Zoe Archer
Stranger - Zoe Archer
A Taste of Desire - Beverley Kendall
Mistress by Midnight - Maggie Robinson
To Desire a Devil - Elizabeth Hoyt
To Tame a Dangerous Lord - Nicole Jordan

Digital TBR Next
Driven - Jayne Rylon (reread)
Shifting Gears - Jayne Rylon
Beg Me - Shiloh Walker
Tempt Me - Shiloh Walker
Jazz Baby - Lorelie Brown
Playboy Prankster - Pamela Britton
Just Like That - Erin Nicholas
Sweet Inspiration - Penny Watson
Breathe - Donna Alward
My Gigolo - Molly Burkhart
Scent of Persuason - Nikki Duncan

Blog Archive