April 26, 2007
7:29 PM
|
Edit Post
The first (english) review I wrote: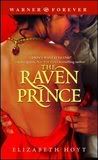 I read this book in February 2007
THERE COMES A TIME IN A LADY'S LIFE...
Widowed Anna Wren is having a wretched day. After an arrogant male on horseback nearly squashes her, she arrives home to learn that she is in dire financial straits. What is a gently bred lady to do?

WHEN SHE MUST DO THE UNTHINKABLE...
The Earl of Swartingham is in a quandary. Having frightened off two secretaries, Edward de Raaf needs someone who can withstand his bad temper and boorish behavior. Dammit! How hard can it be to find a decent secretary?

AND FIND EMPLOYMENT.
When Anna becomes the earl's secretary, both their problems are solved. Then she discovers he plans to visit the most notorious brothel in London for his "manly" needs. Well! Anna sees red—and decides to assuage her "womanly" desires . . . with the earl as her unknowing lover.
Elizabeth Hoyt starts her debut in a great way: a near collision that throws Edward from his horse into a pool of mud covering Anna in said mud.The tone is immediately set when Edward bursts into cursing, he's got sort of a short fuse…but Anna stands her ground and answers him cool and collected.
Circumstances lead to Edward hiring Anna as his secretary and immediately you notice there's something smoldering between the two of them, and they both have their different reasons for not wanting or daring to do something with it.

Edward is a scarred man, both inside and out, with a terrible temper and little patience. But at the same time he's endearing in the way he tries to involve Anna in his daily business, so that he can spend lots of time with her.
Anna is a widow, hurt by her deceased husband and therefore she doesn't trust men. She's feisty, open-minded and liberated, she knows when to bite back en sometimes just doesn't care what "people" think or find appropriate.

It's a Regency, but one with an edge. Certainly not the standard, usual Regency.
The underlying, smoldering attraction is very well written.
The story's composition is fluent and I couldn't find anything disturbing in it. Side characters and side stories (of course something has to be solved and in this case Anna is being blackmailed…) are well placed but are never overbearing. You're never sidetracked from the real story, that of Anna and Edward.
A nice touch is that every chapter starts with a piece of a story: "The Raven Prince". This is a book that belonged to Edward's sister, Anna finds it in his library on her first day working for Edward.
The love scenes are beautiful but also pretty explicit, but again they are not disturbing because they are complementary and not the focus of the book.
The romantic relation and feelings are always on the foreground and the love scenes just underline them.

This first historical by Elizabeth Hoyt for me certainly creates high expectations for the next books in this series: The Leopard Prince (april 2007) and The Serpent Prince (september 2007)

Nice to meet you!
Pearl

Netherlands
39, married to my real life romance hero, addicted to TV shows, reading romance novels and Twitter. I'm a chronic (e)book hoarder and my absolute favorite genres within romance fiction are contemporary romance and romantic suspense, but I don't shy away from historical, paranormal or erotic romance either. Even the occasional (urban) fantasy romance, futuristic and sci fi romance may make it to my Mount TBR. This is my corner of the world wide web where I let you know what books I'm hoarding, reading and reviewing.
View my complete profile

My Book-Providers
Reviews by Rating

Reviews by Genre
Reviews by Type

Reviews by Publisher

Fellow Bloggers


GR Reading Challenge
Pearl
has read 10 books toward her goal of 50 books.

On My TBR Shelf
Unforgivable - Laura Griffin
Snapped - Laura Griffin
Darkness at Dawn - Elizabeth Jennings
Sizzle and Burn - Alexis Grant
No Mercy - Lori Armstrong
Animal Magnetism - Jill Shalvis
Crazy for Love - Victoria Dahl
Kink - Saskia Walker/Sasha White
So Sensitive - Anne Rainey
Dark Taste of Rapture - Gena Showalter
The Darkest Secret - Gena Showalter
Vampire in Atlantis - Alyssa Day
Vampire Dragon - Annette Blair
Captive Spirit - Anna Windsor
Chosen by Blood - Virna DePaul
Rebel - Zoe Archer
Stranger - Zoe Archer
A Taste of Desire - Beverley Kendall
Mistress by Midnight - Maggie Robinson
To Desire a Devil - Elizabeth Hoyt
To Tame a Dangerous Lord - Nicole Jordan

Digital TBR Next
Driven - Jayne Rylon (reread)
Shifting Gears - Jayne Rylon
Beg Me - Shiloh Walker
Tempt Me - Shiloh Walker
Jazz Baby - Lorelie Brown
Playboy Prankster - Pamela Britton
Just Like That - Erin Nicholas
Sweet Inspiration - Penny Watson
Breathe - Donna Alward
My Gigolo - Molly Burkhart
Scent of Persuason - Nikki Duncan

Blog Archive