April 28, 2007
7:19 PM
|
Edit Post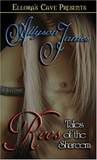 The Shareem. Males created to be tall, muscled, sexy, and…enhanced. They come in one of three levels—pure sensual pleasure, games and wicked fun, or the ultimate barbarian complete with whip. They know how to bring a woman to ecstasy and exactly how to keep her there.
When Lady Talan d'Urvey reads the diary of a woman who spent one wicked week with a Shareem, she longs to experience the same carnality in one last fling before she takes her vow of celibacy. She goes in search of a Shareem and finds Rees, tall and blond, with Shareem-blue eyes. Just looking into those eyes makes Talan wild with need.
But Rees is a Shareem experiment that never should have been made. Rees is all the Shareem levels rolled into one, and then some. Rees is uncontrollable, Rees is unpredictable. Even Rees's creators could never, ever be sure exactly what he would do…
Well, what can I say about this book.
Not the first erotica on my bookshelves but it is the first one I've read, the others still lie there unread...but maybe not for long.

It was easy to read, of course there were quite some erotic scenes but it wasn't all about the bed scenes. There was also the story between a man created to please women and a woman wanting to discover how it's like to be pleased by a man. And along the way they discover that there's more between them than just wanting to teach and learn about sex.

I can't quite put my finger on it but something was missing or off and I can't describe what it was exactly. Maybe it was a lack of intensity, maybe it was a lack of emotions, maybe it was a lack of witty humor, maybe it was a combination of all of the above.
I only got pulled into the story at the very end when Rees lost it and was afraid of hurting Talan and Rio was called in.
That was when I thought: "Yes! This is what I want to read."

But still I can't say I didn't like the book. I was intrigued by these Shareem and their levels, I was intrigued by the friendship between Rees and Rio, so there is certainly more to be explored here and I most definitely won't dismiss Ms James or the erotica genre after just reading this one.
I can't say it was a keeper for me but it surely was a nice and fun read when your in the mood for something different.

Nice to meet you!
Pearl

Netherlands
39, married to my real life romance hero, addicted to TV shows, reading romance novels and Twitter. I'm a chronic (e)book hoarder and my absolute favorite genres within romance fiction are contemporary romance and romantic suspense, but I don't shy away from historical, paranormal or erotic romance either. Even the occasional (urban) fantasy romance, futuristic and sci fi romance may make it to my Mount TBR. This is my corner of the world wide web where I let you know what books I'm hoarding, reading and reviewing.
View my complete profile

My Book-Providers
Reviews by Rating

Reviews by Genre
Reviews by Type

Reviews by Publisher

Fellow Bloggers


GR Reading Challenge
Pearl
has read 10 books toward her goal of 50 books.

On My TBR Shelf
Unforgivable - Laura Griffin
Snapped - Laura Griffin
Darkness at Dawn - Elizabeth Jennings
Sizzle and Burn - Alexis Grant
No Mercy - Lori Armstrong
Animal Magnetism - Jill Shalvis
Crazy for Love - Victoria Dahl
Kink - Saskia Walker/Sasha White
So Sensitive - Anne Rainey
Dark Taste of Rapture - Gena Showalter
The Darkest Secret - Gena Showalter
Vampire in Atlantis - Alyssa Day
Vampire Dragon - Annette Blair
Captive Spirit - Anna Windsor
Chosen by Blood - Virna DePaul
Rebel - Zoe Archer
Stranger - Zoe Archer
A Taste of Desire - Beverley Kendall
Mistress by Midnight - Maggie Robinson
To Desire a Devil - Elizabeth Hoyt
To Tame a Dangerous Lord - Nicole Jordan

Digital TBR Next
Driven - Jayne Rylon (reread)
Shifting Gears - Jayne Rylon
Beg Me - Shiloh Walker
Tempt Me - Shiloh Walker
Jazz Baby - Lorelie Brown
Playboy Prankster - Pamela Britton
Just Like That - Erin Nicholas
Sweet Inspiration - Penny Watson
Breathe - Donna Alward
My Gigolo - Molly Burkhart
Scent of Persuason - Nikki Duncan

Blog Archive